Media personality Sheilla Nduhukire and businessman Derrick Kakonge have held a giveaway ceremony in Rushere town, Kiruhura district.
A giveaway is where a bride is ceremonially delivered to the bridegroom (at a wedding).
The Banyakore marriage involves several ceremonies including a Giveaway known as 'Okuhingira' where the family, relatives and friends of the bride present her with gifts such as cows and other items to take to her matrimonial home.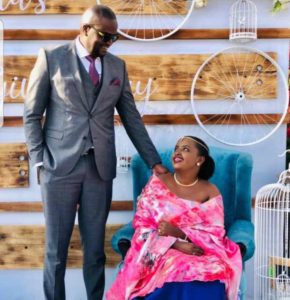 Nduhukire, the National Medical Stores Public Relations Manager, on Saturday, June 16, officially left her parents' home to join her new husband. Kakonge is the CEO of Security Plus.
Rt Rev Dr Sheldon Mwesigwa, the Bishop of Ankole Diocese, presided over the ceremony.
Present at the event were media personalities, businessmen, religious leaders and government officials, among others.
Nduhukire, a daughter of Bishop of North Ankole diocese Steven Namanya, in March this year took Kakonge to her parents in a private ceremony known as 'Okugamba Obugenyi'.