The NRM flag bearer for the Omoro County MP seat, Andrew Ojok Oulanyah, wrapped up the second day of his campaigns, canvassing support in Lwala and Tegot parishes in Akidi Subcounty, Lanenober, Teopok parishes in Lakwana Subcounty and Loyoajonga parish in Lakwaya Sub-county where he addressed five rallies attended by mammoth crowds.
Ojok asked the people of Omoro to vote for him to ensure continuity of services to the constituency that will lead to the development of the young district as per the NRM agenda.
Ojok, who seeks to replace his father, the late Jacob L'Okori Oulanyah, told the voters that the NRM party is founded on five pillars; Patriotism, Pan-Africanism, Socio-economic transformation and Democracy.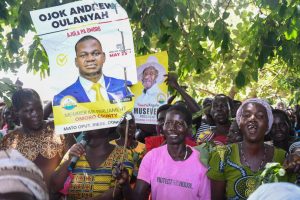 He stated that it is against these pillars that the party is driving the development agenda for the country.
He stated that voting for legislators who are anti-NRM is self-defeating for the voters and will only delay service delivery in Omoro.
"Let's avoid voting for the opposition parties since they do not sit at the table where the national cake is shared. Only NRM will ensure continuity," Ojok said, emphasizing the need to vote for someone who represents the people's ideas.
He further asked the people of Omoro to remain united.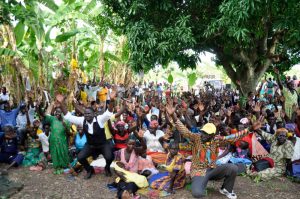 During the campaign meetings on Tuesday, the NRM candidate was joined by Omoro Woman MP Catherine Lamwaka and Eng. Andrew Olal, the runner-up in the 2021 elections won by the late Oulanyah.
Speaking to voters, Eng Olal emphasized the need to elect a candidate from the ruling party.
"If we want development for our district, then we have to vote for the party in power which is NRM and our candidate is Andrew Ojok Oulanyah," Olal said.
Lamwaka noted, "When you sent me to Parliament, I was young and did not know what to do but I learnt through people like Oulanyah Jacob. So, let's vote for Ojok and we shall show and guide him on what to do in order to deliver services to our people."
She added: "Let's vote for Ojok to continue with the work that his late father Jacob Oulanya had started."
The Omoro Woman MP told the mammoth crowd that was eagerly listening to the campaign message that the NRM national chairman, President Yoweri Museveni will be in Omoro district on 24th May to campaign for Ojok.
The people of Omoro will on 26th May vote for their next Member of Parliament to fill the vacancy left behind following the death of Jacob Oulanyah.
The Omoro county by-election has attracted six candidates including; NRM's Andrew Ojok, Onen Jimmy Walter (Independent), Odonga Terence (Independent), Tolit Simon Akecha (NUP), Kizza Oscar (ANT), and Odong Justine (FDC).