The second Uganda-European Union Business Forum kicked off on Wednesday, October 26, 2022, at Speke Resort Munyonyo under the theme: "Mobilizing quality investments and boosting trade between Uganda and the European Union".
The hybrid forum that was officially opened by President Yoweri Kaguta Museveni, was organized by the European Union Delegation to Uganda, the Private Sector Foundation of Uganda (PSFU), the Uganda Investment Authority (UIA) and a host of Ugandan and European Agencies in close partnership with the Government of Uganda.
The business forum was organised by Sustainable Business For Uganda (SB4U), a fruit of a partnership between the EU, the Government of Uganda (GoU), and the Private Sector Foundation Uganda (PSFU), funded by the EU.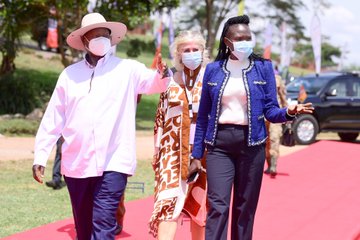 Speaking at the two-day event, President Museveni called upon the European businesses to take advantage of Uganda's profitability to invest in agriculture and value addition.
"I have been commissioning different factories and Chinese and Indians are investing here, how come the Europeans with whom we share a similar language (English) are not doing the same? Uganda is profitable, peaceful and pleasant and so ready for business," he wondered.
Museveni said Uganda has a number of incentives that it gives to investors regardless of their origin.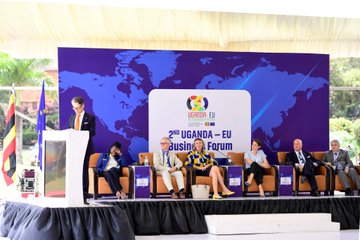 He said the country has a number of opportunities including; a high rate of return on investment, a peaceful environment, among other benefits.
"The Chinese and Indians are investing and doing business in Uganda and Africa, why can't Europe do the same? It is not in order. There are big opportunities in investing and doing business in Uganda."
The State Minister for Investment and Privatization, Evelyn Anite, hailed President Museveni for transforming Uganda into the best investment destination in Africa.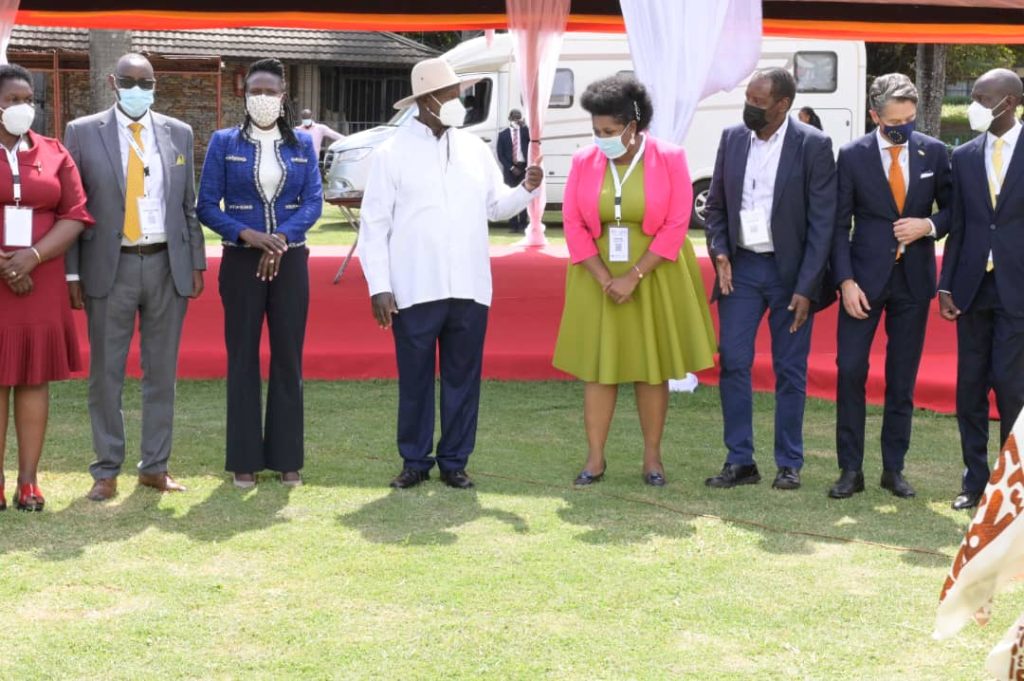 She also urged European investors to invest and do business in Uganda.
Anite also revealed that the European Union will support Uganda's Oil and Gas developments.
The Ambassador of the European Union Delegation in Uganda, H.E Jan Sadek, stated: "I truly believe that this kind of initiative is key to mobilize higher levels of private investments and to create new business opportunities in priority sectors in Uganda."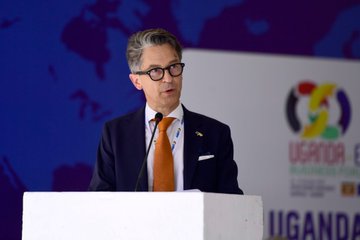 He added that the EU has a key role to play in enabling European investors to have a deeper understanding of the business environment and investment climate prevailing in Uganda.
"The message we are conveying to European companies and investors is: Come to Uganda, seize the opportunities offered by the Pearl of Africa and the region. We will all benefit from those partnerships".
Speaking at the event, Stephen Asiimwe, Executive Director of Private Sector Foundation Uganda (PSFU), also invited investors to come and make business in Uganda, saying the business investment in the country is ripe.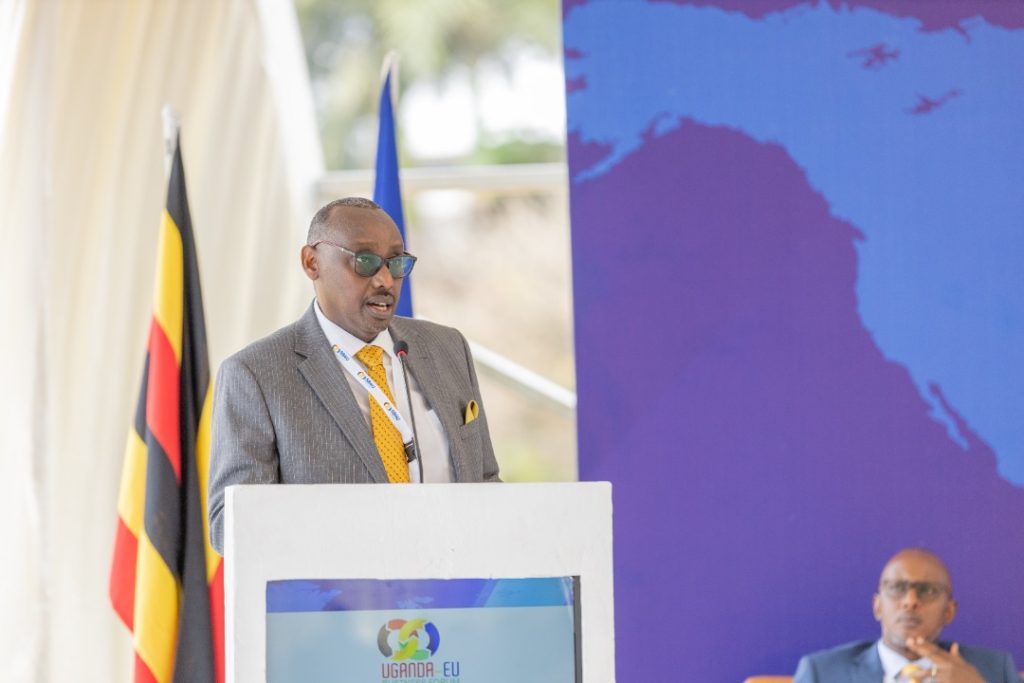 He said they will use the two days to interrogate areas of investment but also understand the different investment portfolios.
The forum was also attended by Mrs Caroline Adriaensen, the Head of Cooperation European Union Delegation to Uganda, and Mr. Robert Mukiiza, Director General of Uganda Investment Authority (UIA), among others.
Some of the directors of the PSFU board who attended include; Sarah Kagingo who represents professional services, Badru Ntege (ICT), Dan Kazibwe (Creatives), Dr Julian Omalla (Skilling) and Stephen Asiimwe, the CEO.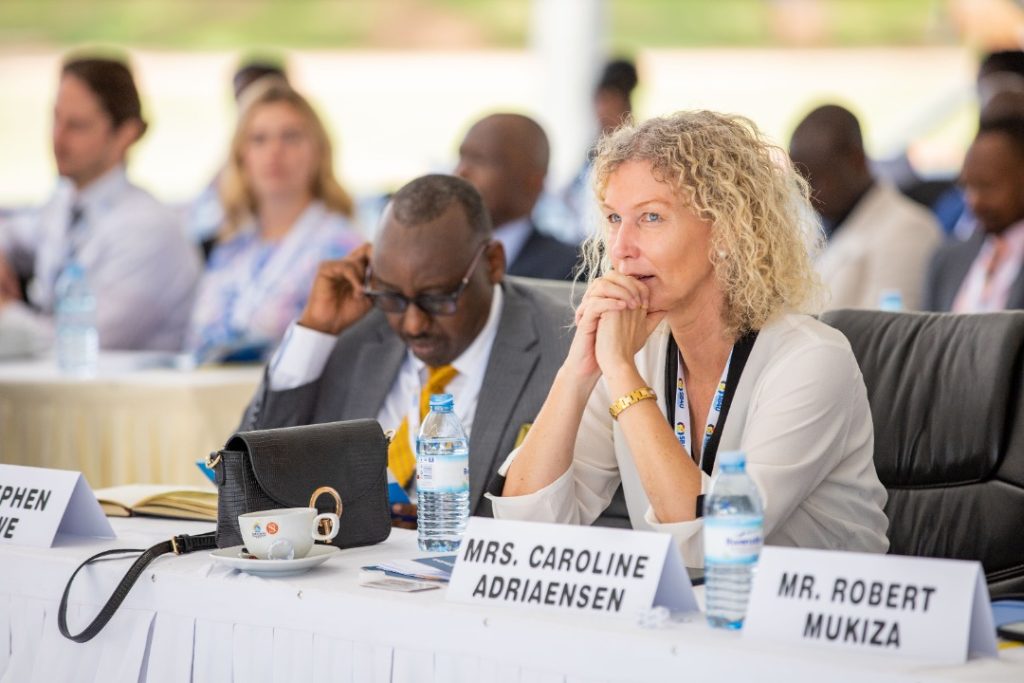 During the first day of the forum, there were break-up workshops, an exhibition, and pitching sessions of Ugandan companies seeking partnerships with European companies in various ventures.
The Forum's overarching objective is to enhance Uganda's visibility as an investment and export destination of choice and will be centered on Two Plenary Sessions and 11 Thematic Parallel Sessions providing a platform to accelerate Uganda's economic transformation by mobilizing quality investments from local entrepreneurs, the Ugandan diaspora and foreign direct investment from the EU Member States.