Aggressive supporters of former FDC President Kizza Besigye have Wednesday clashed with Police in Rukungiri which attempted to block Besigye from accessing the main stadium for a scheduled rally. Reports say the opposition leader was was blocked at Kahengye along Ntungamo – Rukungiri Road as he proceeded to town.
This prompted Besigye to disembark from his vehicle and trek on towards Rukungiri town in company of supporters, many of them dressed in red with red ribbons tied around their heads. Rukungiri is Besigye's home town.
Within no time, people began swelling and chanting for the police officers to clear the way. The angry crowd chanted slogans in protest of the proposed Age limit removal. Rounds of tear gas were fired to disperse the crowd but Police's efforts were futile with the relentless crowd.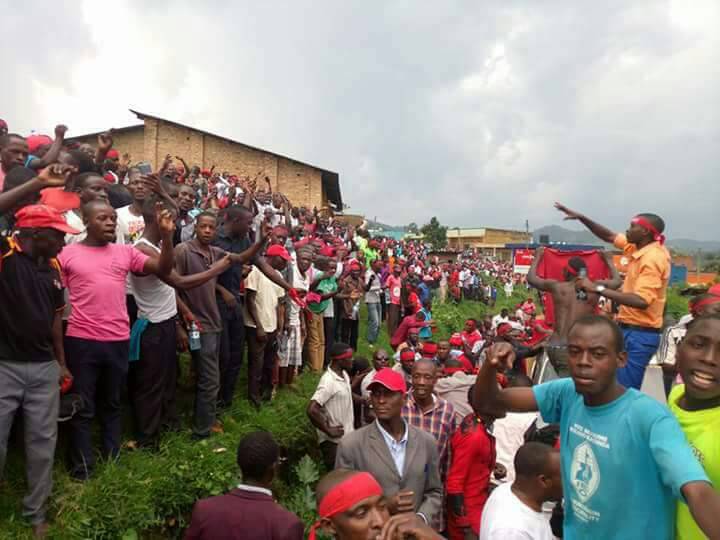 One person is confirmed to have died in the alleged shootings by police, while the other is reported to have died on reaching Nyakibale hospital.
Police later convinced the four time Presidential candidate to get back into his car and was escorted to the venue as the residents sung heroic songs and the famous 'Toka Kwa Barabara' song.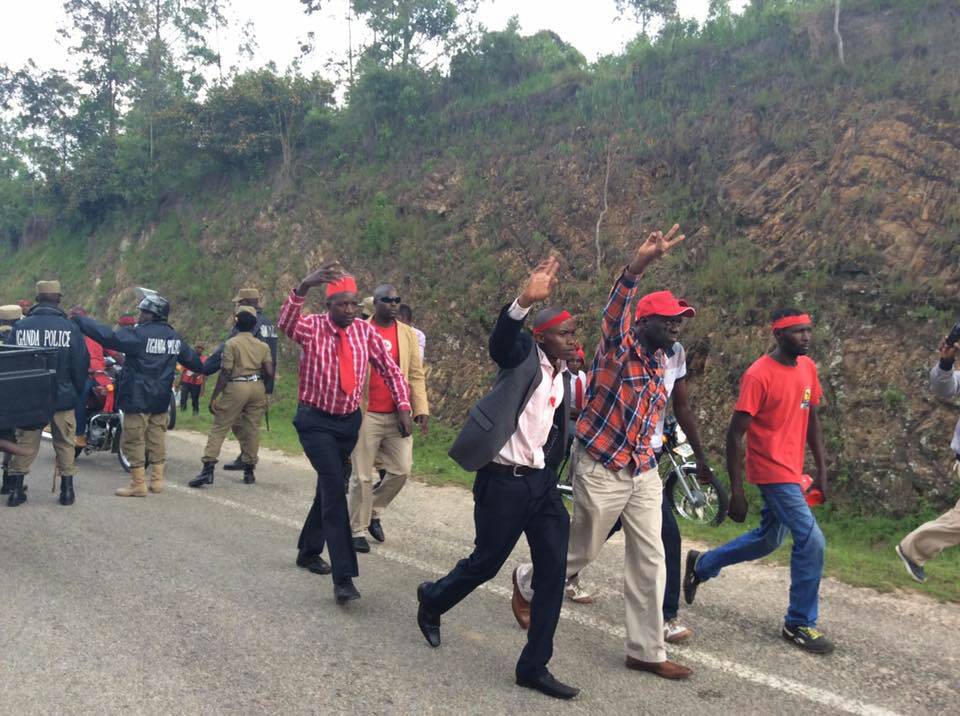 Besigye was accompanied by other opposition politicians including Kampala Lord Mayor and FDC mobilizer Ingrid Turinawe who joined Rukungiri Municipality MP Oland Mugume Kaginda for a consultation meeting to popularize their fight against the Age Limit Bill.
As several MPs return to their constituents to seek their views on the contentious issue, there is growing fear that tension may intensify in the wake of outright confrontation of MPs supporting the amendment. Similar clashes between opposition and police ensued Tuesday in Kasubi near Kampala when Police attempted to stop a consultation meeting that they claimed stretched beyond the 6pm time deadline.