Kampala, Uganda – Yet to be identified assailants have hurled petrol bombs at vehicles in Kampala.
An explosion was heard at about 9pm and fire seen at the parking lot of Georgian House which houses Uganda Registration Services Bureau (URSB).
Moments later, Police reported an attack in Nakulabye suburb where former Jinja District RDC Eric Sakwa's vehicles was also hurled with a petrol bomb as he parked on the road side.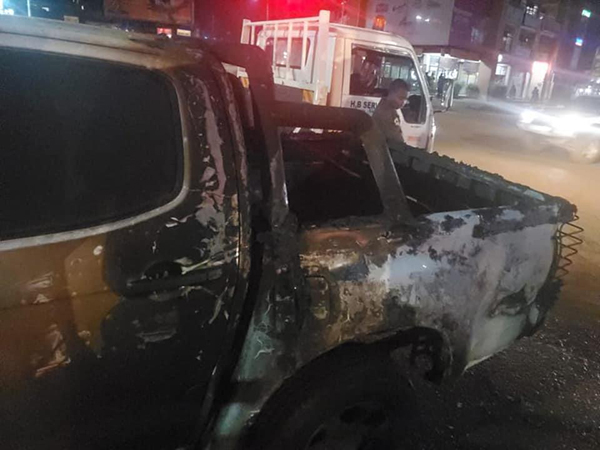 Kampala Metropolitan Police spokesperson Luke Owoyesigire has said Sakwa survived the attack.
"Motor vehicle UG 3348C belonging to the former RDC of Jinja, a one Eric Sakwa has been petrol bombed at Nakulabye, the scene has been visited by Old Kampala Police team, investigations are ongoing," Luke said.
He said that three cars were burnt at URSB.
"Cars parked in their parking lot got burnt, fire and rescue have extinguished the fire, we have one eye witness and statements are being recorded," he said.
Courtesy video of the fire at URSB:
It is alleged that the bombers were riding on a motorcycle.
No person has died in the attacks.
According to Police, Uganda's security forces have since jointly kicked off investigations into the attacks.
The military has also heightened deployment and patrols in the capital and neighboring suburbs.
The alleged domestic terrorism comes just a day to President Yoweri Museveni's inauguration.
Museveni will be sworn in on 12th May and the day has since been declared a public holiday. 4000 dignitarieshave been invited.
Joint security spokesmen, while addressing the media earlier, warned of planned events to disrupt Museveni's swearing in, including a parallel occasion by the opposition leader Robert Kyagulanyi alias Bobi Wine in Iganga Town.
Some of his supporters on social media had coined a slogan 'Tajja kulayira' understood as a threat to disrupt President Museveni's inauguration.
Security has since deployed at Bobi Wine's home in Magere, Wakiso District. In a post on social media, he described the situation as tense.
"The situation is tense. All vehicles coming to or leaving my home are being searched," he said.
Speaking on Spotlight Uganda, Monday night, where he discusssed the functions of defence forces in securing Uganda, the Chief of Defence Forces, Gen David Muhoozi said security on the day of Museveni's inauguration has been taken care of. The moderator had asked him to comment on social media posts that the swearing- in would either not happen or be disrupted.
"The swearing -in will happen. It is being held in the context of COVID-19 and so it is restrictive. Ordinarily, it would be open gate. On its security aspects, I inform the country that whatever should be done has been done," Gen Muhoozi said.
He added, "whatever we do is legitimate, it has to be done. Certainly we (UPDF) cannot be bystanders or onlookers when it comes to anarchy."