Parliament has said that the ongoing consultations by MPs in line with the proposed amendment of the constitution to scrap Presidential age limits have not been sanctioned as procedure requires.
Chris Obore who heads Communications and Public Affairs in Parliament revealed on his facebook account that the Speaker of Parliament advised the legislators to consult widely on the contentious Bill but facilitation to do so hasn't been commissioned.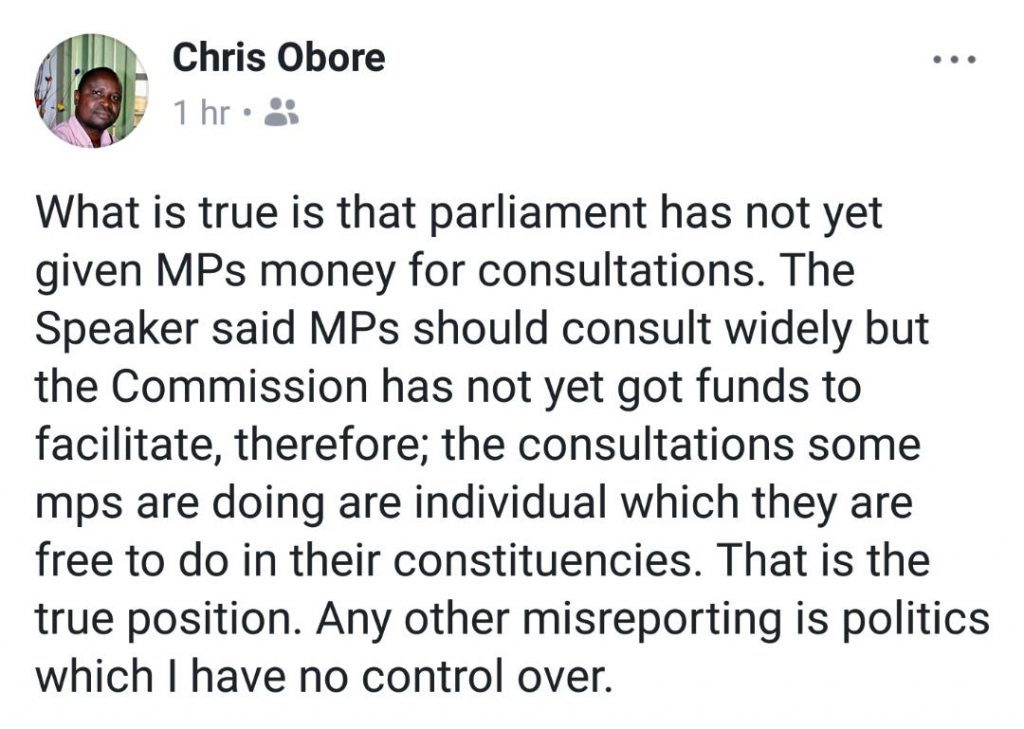 Several MPs both for and against the Age Limit Bill have already set out to their constituencies to meet the electorate and local leaders hoping to popularize their stand.
"What is true is that Parliament has not yet given MPs money for consultations," Obore stated.
"The Speaker said MPs should consult widely but the Commission has not yet got funds to facilitate them, therefore; the consultations some MPs are doing are individual which they are free to do in their constituencies. That is the true position," he said.
Sources say each MP will be facilitated with Shs 20 million to fund mobilization and other costs involved in the consultation process, but those on the opposition side have since vowed to reject the money. They claimed the facilitation is a disguised bribe by the ruling party to arm twist them into rallying behind the amendment.
When officials at the Ministry of Finance were asked on Thursday whether the funds for consultations have been released, they said the budget required by Parliament has been fully disbursed.
Keith Muhakanizi, the Secretary to the Treasury said; "All the money for Parliament has been released. We recently appropriated half year expenditure and Parliament has already got the 50% of the annual budget."
It is unclear therefore what could be holding Parliament back from availing the funds to the MPs.