Parliament has stopped the 'Nyege Nyege' festival, an annual social event scheduled to take place next week in Jinja city, over claims of immorality at the past events.
During Tuesday, September 6, plenary, Tororo Woman MP, Hon Sarah Opendi, said the event is a breeding ground for sexual immorality.
Commenting on the same, the Speaker of Parliament, Anitah Among, noted that the country can't lose its morals under the guise of promotion of tourism.
"We are talking about morality of this country; we are talking about our children. You are trying to promote tourism at the expense of our children?" she said.
"We are not going to allow this function to take part," she added.
Efforts by the Minister of State for Tourism, Hon Martin Mugarra, to defend the event as a hub of tourism met resistance from the House.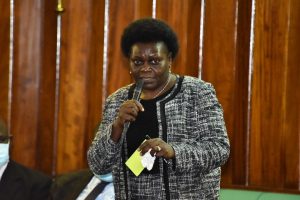 Mugarura said over 8,000 foreigner tourists had already booked tickets for the event.
Earlier, Hon. Akello Rose Lilly, the Minister of State for Ethics and Integrity, informed the House that they had given some conditions to the organizers of the event if the it is to happen.
Among them are; children below 18 shouldn't attend and that nobody should go to the event naked but all this fell on deaf ears.
The event was set to take place in Jinja from September 15 to 18, 2022, on the Nile River banks at Itanda Falls.
The annual event is organized by Talent Africa.