Uganda might have won global acclamation for its hospitable approach to refugees, spectacular tourism attractions among them landmark geographical features, wildlife, culture and food variety but this week it added its dramatic politics to the list. Events that unfolded in Parliament on Wednesday where MPs engaged in a brawl with operatives from Uganda's security detail quickly made headlines in major international news outlets.
As they say, bad news (in this case, bad scenes) travel faster than good news. It's not everyday that Members of Parliament behave like some idle ghetto dwellers fighting over money or high school students who have been told they won't have lunch.
Ordinarily, MPs who in Uganda are often referred to as 'Honorables' should conduct themselves in the most respected manner, but unfortunately, the scenes filmed by local media on Wednesday depicted the opposite. Soon, photos and videos of the chaos would be shared widely on social media and the world was watching.
Comedian Trevor Noah who hosts U.S. comedy TV show, the Daily Show in one of his episodes made fun of the stunts that characterized the 'physical debate' on the proposed amendment to remove the Presidential age limit. He singles out a moment when a security operative is seen standing on the mantle table where he makes a 360 degrees spin before jumping off.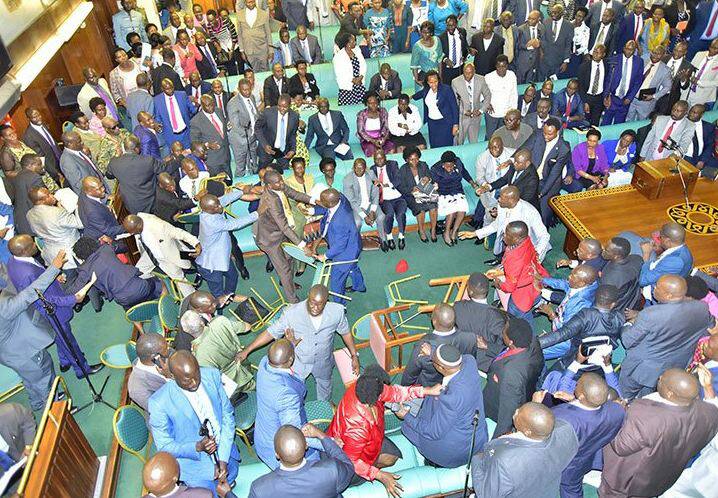 "Who does a spin in the middle of a fight? That's insane. Looks like a Ugandan Michael Jackson," Trevor Noah joked.
The daily show which on average attracts 15 million viewers each night also showed a scene where one of the MPs is hurling a chair in the air and the Seargent at Arms grabs it before it lands.
Trevor Noah takes the joke a notch higher, saying that he [Seargent at Arms] could make a good player with American football club New York Giants.
"But my favorite part of all is one Representative just standing there the whole time, waving the national flag. He's like 'When this is a painting, they will definitely include me'," Noah said.
But that isn't all the story has gone. Other news agencies like ABC News, Reuters, CGTN and the BBC too reported about the drama attracting numerous comments, some of them laced with satire.
UK's Sky News tweeted a one minute and a half long video titled 'Uganda Parliament Brawl' which so far has over 700 comments, and has been retweeted and liked over 4,000 times.
"That is superb. Love all the threatening to throw chairs like school kids.️ It's the guy in red [MP Odonga Otto] who got my attention. All threats with no action. I'd be dead into politics if ours was like that," Edward Beckham commented on the video.
Another one commented; "The woman sitting down screaming, wondering why in God's name did she enter politics," while Marcel said; "The guy wearing the headband though and the one waving the flag like you do to upset a bull. Comedy gold. What are they thinking?"
Uganda isn't the first country to be in the news over a brawl in Parliament. In February, fights broke out in the South African Parliament as opposition Economic Freedom Fighters party demanded President Zuma to step down. Nigeria, Ukraine, Georgia, Turkey and Taiwan too have witnessed brawls in Parliament.