Oxfam in Uganda,  has launched a 10 year (2021-30) Uganda Country Strategic Framework (CSF), dubbed 'Together Against Inequality' which will provide a road map towards ending inequality in Uganda.
Speaking at the launch held at Kampala Serena hotel, the Oxfam in Uganda Country Director, Francis Odokorach noted that 'together against inequality' as a strategy, is not merely a title but a great opportunity, and responsibility rallying everyone to come together and make Uganda a more equal and fairer country for everyone to live and enjoy their rights.
Odokorach noted that there is no greater time than now to rethink strategies but, time for people in Uganda who were marginalised before the coronavirus appeared.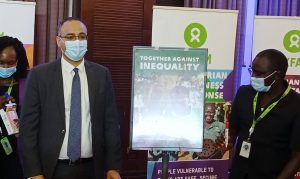 He added, "These have been disproportionately impacted by the pandemic and related measures to curb it like the lockdowns, studies are showing that inequality deepened during the pandemic,  this inequality is not inevitable, it is a question of power, and policy choices."
A recent report by Oxfam, 'Inequality Kills', shows that the wealth of the world's 10 richest men has doubled since the pandemic began.
At the same time, the incomes of 99% of humanity are worse off because of Covid-19. The 2021 DFI,  Oxfam and partner commitment to reducing inequality index report,  showed that Uganda ranks low in addressing inequality.
Odokorach noted that Covid-19 created new and bigger challenges that need sustained joint efforts to address.
"Across our country today many people feel unsupported, unheard, and frustrated, this must change," he said.
He revealed that the CSF focuses on challenging the systems that perpetuate inequality and injustice in Uganda,  where the significant shifts to be realized will be operational through three or four year horizon plans.
Elaborating on the strategic framework, Odokorach noted that it commits to six new shifts including a new pillar in gender justice and women's rights that will allow Oxfam to work with women and girls in all their diversity, undertaking urban programming, transformative approach to partnerships, transformative education that promotes education that enables learners to know their rights, practice critical thinking, and use their vouce to challenge and change the status quo, an integrated approach to programming and embracing digital integration tapping into the power of vibrant youth across the country to build strong movements against poverty and injustice.
Odokorach said that the shifts will be realized through 4 pillars, "Humanitarian response and preparedness, governance and accountability, resilient livelihoods,  gender Justice, and Women's rights, the shifts alongside the approaches, Oxfam believes we will go a long way in confronting the drivers of inequality in the country."
Meanwhile, Dr Fred Muhumuza an Economist and policy analyst, said inequality in Uganda is embedded in global systems, advising international agencies like OXFAM to engage at that level to address global inequality.
He added, "I am glad that the Country strategy of Oxfam has intentions to engage the academia, government, private sector and CSOs to generate sufficient knowledge to tackle inequalities including taxation inequalities,"
Odokorach called on the various stakeholders,  especially government to urgently respond to the critical issues the country is facing.
Commenting at the event, Ngala Parvin the Oxfam regional director said that the new strategy puts women at the center of social development, responsive to the recent realities of society and addresses the drivers of inequality.
She called for support from all stakeholders in achieving the strategy's vision.
Proscovia Vikman from Buganda Kingdom, said, "Let us identify positive cultural norms and enhance them to build resilience in our communities. I am glad that the strategy is looking at various areas that affect the average person who needs water, healthcare, and education."