Gabriel Aredo, a player for Warriors Rugby Club, is under fire for assaulting a New Vision sports journalist Johnson Were.
The incident happened on Sunday during a semi-final rugby game between Kobs and Heathens at Bugembe stadium in Jinja district.
Human Rights Network for Journalists (HRNJ) and Uganda Sports Press Association (USPA) have condemned the player for this act of violence.
"HRNJ-Uganda condemns the brutal act in which journalist Were Johnson was attacked by a rugby player Gabriel Aredo during a semi-final rugby game between Kobs and Heathens in Jinja. HRNJ is following up on the matter," said HRNJ Coordinator, Robert Ssempala.
USPA President Patrick Kanyomozi has cautioned members and all sports journalists to stay away from rugby games.
According to Kanyomoz, journalist Were who doubles as USPA General Secretary was covering the Kyabazinga 7s Rugby circuit.
Reports say the incident was sparked by a confrontation between Erasmus Aredo, the Chairperson of the Nile Special 7s organising committee and former Rugby Cranes player, Alex Mubiru.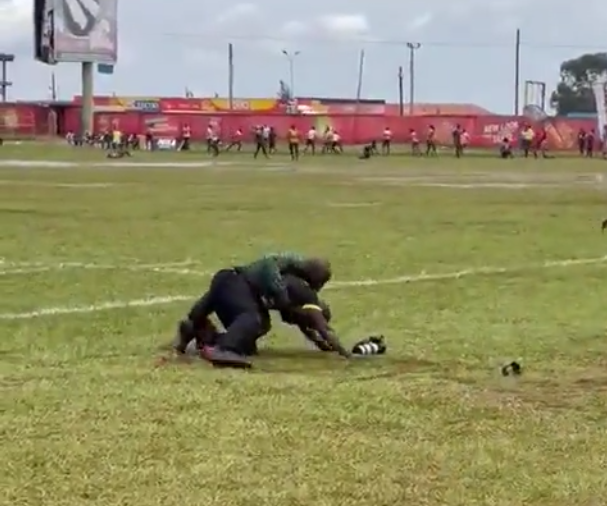 Were was taking pictures when Erasmus' brother Gabriel joined the scuffle.
"On realising that he [Were] was capturing images of the ugly incident, he [Aredo] charged at him [Were] with an intention of grabbing his camera, hence the physical assault which left the camera lens seriously damaged," narrated Kanyomozi.
Kanyomozi strongly condemned the attack on his colleague and senior executive member and called upon Uganda Rugby Union to bring the culprit to book and hold everyone involved accountable.
"In the meantime, we advise our members to stay away from Rugby games until this matter is resolved to its logical conclusion. This is for their safety and it takes immediate effect," he added.
He said the matter is before police and that the association will further take it up with sponsors Nile Special.