Colleagues, Friends and acquaintances on Thursday gathered to celebrate the life of former Speaker of Parliament Jacob Oulanyah during a memorial service held at the NRM party headquarters in Kyadondo.
The memorial service organized by the NRM party Secretariat management and the staff was attended by several dignitaries from the NRM, Opposition and other walks of life.
It started with prayers before tributes were moved by various speakers, all hailing the late Oulanyah for having a lasting impact on the country.
The 1st NRM National Vice Chairman, Alhaji Moses Kigongo who was the Chief mourner said apart from being loyal to his party, Oulanyah helped to spread its gospel to Northern Uganda.
"Besides the many things that the Rt Hon Jacob Oulanyah did, he was very loyal to the NRM party. He worked so hard to win support for the party in Northern Uganda. We shall forever celebrate his life for this. He did a great job for the party especially in the northern region when they had not accepted the movement in the region. That's why we won the north in the just concluded general elections," Alhajji Kigongo said.
Adding, "NRM vice chairperson for Northern Uganda's legacy is worth celebrating and that it is prudent for all to emulate his works on earth."
On her part, the 2nd National Vice Chairperson Rt Hon Rebecca Alitwala Kadaga characterised the late Speaker as a hardworking patriot who worked tirelessly towards the reclamation of Northern Uganda by the NRM.
"He was a hands-on person. He had started some programs to consolidate support in the north." Kadaga stated.
The NRM Secretary-General, Rt Hon Richard Todwong described the deceased former speaker as one filled with humility but was also forgiving.
"When he joined NRM, he came with very interesting examples of humility and forgiveness. He would forgive anybody. He would reach out to those he disagreed with on phone and speak to them. For those who didn't support him in the last speakership election, by the time he was feeling weak he was calling them and asking to work together and forget the past," Todwong told the hybrid gathering.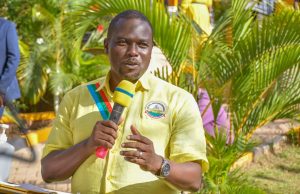 He added that Oulanyah represented unity in whatever he did, noting that the same attributes ought to be followed by the NRM members if they are to take the party forward.
"The Rt. Hon Jacob Oulanyah should be a sign of unity to us. We should forgive one another and reconcile. It will take us far and if we do not do it, we will be hurting our party."
The NRM Secretary General also applauded the national party chairman, HE President Yoweri Museveni for loving the late Oulanyah that he allowed him to serve the country to enable him to exhibit his rare qualities.
"President Museveni allowed him to shine and excel and because of that, we have realized the potential he had. We thank the President and the NRM party for loving him and giving him a platform to shine," he said.
The NRM Deputy Secretary-General, Hon Rose Namayanja described the deceased speaker as a straightforward person who would not hesitate to say what he meant. "Even in his death, we learn a lot from him," she said.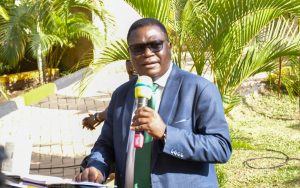 Giving a keynote speech, opposition Democratic Party president Norbert Mao described the late speaker Oulanyah as one with whom they had enjoyed friendship since 1988.
"Friends are relatives we choose. When you chose friends they become your relatives. He became my relative. He was a true brother to many of us. Jacob always believed in the procedure. He lived a life of courage both physical and moral to take tough decisions that many may fear to take. He taught us that we should all cooperate for the larger good of our country. Let us continue with his legacy by denouncing politics of confrontation," Mao said.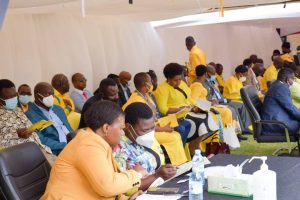 Speaking at the same event, Sarah Kagingo the former press secretary to Oulanyah, described him as a man who was defined by merit and competence.
"He was above board and advocated for a people cantered-Parliament, we normally Troll people without paying attention to the things people struggle with, the Rt Hon. Jacob Oulanyah his right to privacy and decided to chose to keep quiet about his health, we can never chastise him for that," she said.
The memorial service was also attended by the NRM Vice-chairperson for Eastern Uganda Mike Mukula, the NRM Entrepreneurs League chairperson, Robert Mwesigwa Rukaari, Godfrey Kiwanda, the NRM vice Chairperson for Buganda, Special Presidential Advisor for special duties Odrek Rwabwogo, NRM National Treasurer, Amb Barbara Nekesa Oundo, NRM director for Communication and public relations Hon Emmanuel Dombo and NRM Electoral Commission chairperson, Dr Tanga Odoi among others.