A group of politicians dubbing themselves a new opposition coalition have thrown their weight behind the candidacy of former Terego county MP, Kassiano Wadri in his bid for the Arua municipality by-election.
The elections slated for August 15 seek to find a new legislator for Arua municipality following the assassination of the former MP, Ibrahim Abiriga months ago.
Kassiano Wadri, formerly of the FDC recently announced that he would vie for the Parliamentary seat on an Independent ticket. He will be facing among others, FDC candidate, Bruce Musema in the race.
On Thursday, a coalition of opposition politicians addressed the press in Kampala declaring their decision to support Wadri. They included FDC's Paul Mwiru (MP Jinja East), People's Development Party (PDP) President, Dr Abed Bwanika, former MP, Mike Mabikke, Francis Gonahasa (MP Kabweri county) and DP's Samuel Lubega.
They said that Wadri is more deserving to represent the people of Arua Municipality in Parliament because he is grounded and understands the opposition dynamics better.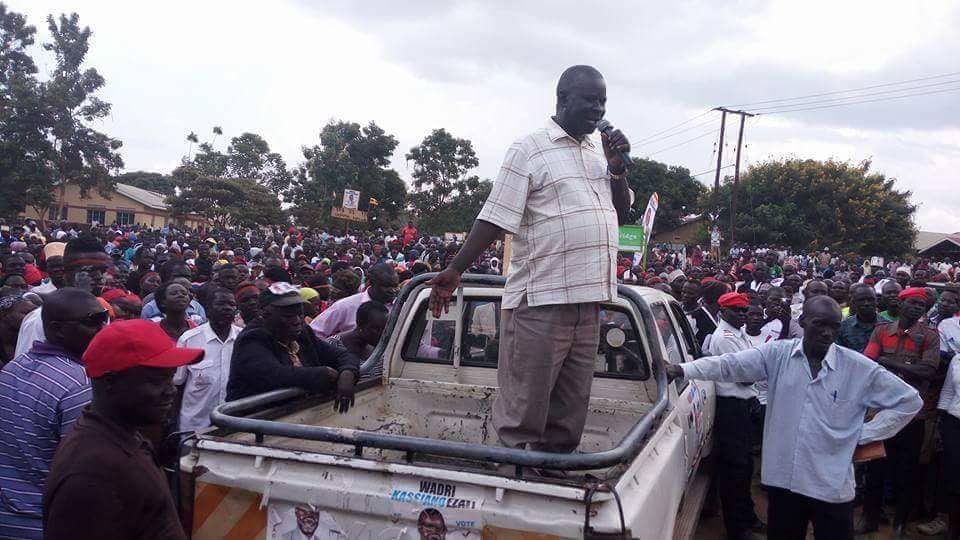 "Our teams have been on the ground. We think and we are convinced that he [Kassiano Wadri] is the only candidate that can represent not only Arua but the people of West Nile who need representation," Dr Abed Bwanika said.
On his part, Jinja East MP, Paul Mwiru said that recent events in electoral process have demonstrated that the electorate have gone against the interests of political parties.
"It is crystal clear that when we have thought as individuals that we can walk it alone, we have been disproved by the public. Even when we are not united, the public unites the ballot boxes," he said.
"They (public) did it in Bugiri and we felt we owe them an apology. And that apology cannot be delivered in any other way other than all of us being in Arua," he said.
It should be recalled that weeks ago, Mwiru, who is deputy spokesperson for FDC told reporters that the party had chosen Musema as the flag bearer in the by-election. He said at the time that Musema was positioned to win the Arua municipality seat. His statement on Thursday therefore comes out as a complete contradiction.
Read More: No Primaries for FDC in Arua By-election, Bruce Musema Declared Flag Bearer
Sam Lubega, the National Coordinator for Democratic Party (DP) said that for the opposition to survive the dictatorship of the ruling NRM, they (opposition) must unite for the common goal.
"We have a challenge here. How do we overcome a dictator, how do we survive a dictator? Because it's an animal and a monster. We have come together as a people as a community so that our institutions are not decimated beyond repair," Lubega said.
Former Makindye East MP, Mike Mabikke said that the coalition seeks to reconstruct forces for change, and that its role is what was responsible for securing victory for the opposition in elections held in Rukungiri, Jinja East, Bugiri and Kyadondo East.
"We are rebuilding forces for change. What binds this alliance together is that we are organized differently and we are going to do things differently. It is not business as usual," Mabikke said.
"We are reconstructing a new opposition alliance for Uganda," he said.
He explained that where an individual candidate is strong, the coalition will ensure that this individual is the single opposition candidate to be fielded against the ruling NRM.
"What we want is to score victory for the opposition alliance. Whether the person is an opposition candidate or an Independent, as long as he can score for the broader opposition alliance," Mabikke added.
He revealed that the coalition members will be leaving for Arua municipality to drum up support for Kasiano Wadri.
"We have decided that the candidate to support in Arua is Wadri. We believe that he is grounded and he understands that Uganda requires change, and that this change can not be brought about by one single party or individual but the collective effort".
Former FDC President, Gen Mugisha Muntu made the first step by taking to Arua Municipality on Wednesday August 8, where he campaigned for Kassiano Wadri among a plethora of cheering people.
Kassiano Wadri, a former Chairman of the Public Accounts Committee (PAC) of Parliament lost his Parliamentary seat in the 2016 general elections to NRM's Moses Angundru.