The Uganda Peoples' Defence Force (UPDF) Chief of Military Intelligence, Maj Gen James Birungi, has today met his Armed Forces of the Democratic Republic of Congo (FARDC) counterpart, Maj Gen Mandiangu Mbala Michel in Kampala.
The meeting took place at the Ministry of Defence and Veteran Affairs Headquarters in Mbuya.
Maj Gen Birungi congratulated DR Congo upon their admission to the East African Community and thanked his counterpart for honoring his invitation.
He observed that it is important to have such engagements on matters of mutual interest and national security amongst the two sister countries.
On his part, Maj Gen Mbandiangu said the meeting is an opportunity to update themselves on the joint operations the two countries are engaged in, particularly Operation Shujaa in Eastern DRC against the Allied Democratic Forces (ADF) terrorists.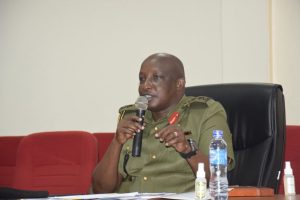 The meeting was also attended by the Deputy Chief of Military Intelligence, Brig Gen Abdul Rugumayo, Assistant Deputy CMI In Charge of Intelligence, Brig Gen Tom Kabuye, Senior UPDF Officers, the FARDC Director of External Relations, FARDC Director Analysis, among others.