By Godwin Agaba
This is a matter of great national importance that deserves your urgent attention!
In 2017, my political science professor and former CIA agent in Charge of African desk , Dr. Daniel Young, gave me an assignment  to investigate how baseball, a traditionally white game crossed the US border . Young had read a story about baseball in Rwanda. My findings were that a Rwandan went to Colombia University and loved baseball while there. He decided to introduce it in his country.
Just recently, Uganda hosted BBC Olympic broadcaster, Rob Walker, who enjoyed an incredible tour of the country.
Walker went viral after complimenting Uganda during the 2020 Tokyo Olympics after Ugandan athlete PeruthChemutai won gold (women 3000metre steeplechase) and also commented when Ugandan Joshua Cheptegeiwon 10,000 meters at the world championship, and Jacob Kiplimo winning two medals at the Commonwealth games.
The Uganda Tourism Board (UTB) arranged for Walker to pay a visit and explore the country. Walker spent 11 days in Uganda and his visit was covered by local and international press. That is the power of sports!
For football (soccer) lovers who follow English Premiership (EPL), many have never been in UK but they know almost every UK city, the distances, the surroundings only by following their beloved UK-based teams. That's how UK was successfully able tomarket the country by promoting the game of football and invite investors.
These days, there is a competition of American and Arab billionaires competing to own English football clubs.  
Any Government that is not investing in sports ismissing a big opportunity and Uganda is precisely in this situation. The way sports is managed in Uganda is a sad story. Clubs can't compete internationally for lack of funds , there is no sports infrastructure to talk of; currently the national football team has no stadium to host home  games . Where is the problem?
In 2014, Uganda became the first African country to participate in the World Lacrosse Championships in Denver, Colorado, USA. In 2018, they participated in their second World Lacrosse Championships in Israel. For both of these games, their qualification was automatic, and not "mathematical" as it is usually in football.
In November last year, they made history when they beat Kenya by one point in triple overtime, 9-8, becoming the first African nation to qualify officiallyfor the World Lacrosse Championships due in June this year in San Diego, California. But how have these accolades been harnessed to market Uganda and earn big to supplement other sources of foreign exchange and to create opportunities for young, hopeful people?
As we talk, there is a risk of the national team missing out on the San Diego games. Reason? Lack of funding and other necessary support!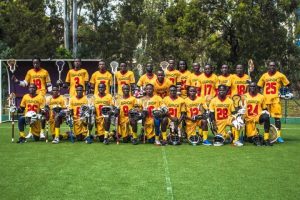 Participating in the Championships would be an experience of a lifetime for players, providing an opportunity for young men who have most probably never  traveled outside of their home country to represent Uganda on the world stage. Traveling abroadand training/playing at such a high level will have a lifelong impact on these athletes.
It will provide an opportunity to expand the sport in Uganda. International competitions garner a lot of interest and attention, encouraging players to train hard, and capturing the attention of a new generation of players in Uganda.
Hon. Peter Ogwang, the State Minister for Sports, this is your time to shine by standing with this great team with a surprising record of excellent yet uncelebrated performance! I have seen you with our athletes at international games and I think you are fit to see more success during your term. Consider Lacrosse as your next grand job as Minister.  
There are partners out in the world reaching out for the cause of Lacrosse through crowd funding, and such gestures need special recognition for the love they have for Uganda and its people. One of them is World Lacrosse, a US-based nonprofit organization serving as the fiscal sponsor for the Ugandan Men's National team. Thanks to those who have contributed so far!
There is also the African Association of Lacrosse (AAL) founded in 2021 to support the growth of the game across the face of Africa. Uganda has a chance to be the giants of Lacrosse in Africa and make use of international tournaments to invite the world to "Explore Uganda" and attract more "Bob Walkers" to grow the value of Uganda's endowments and talents on the world market. That's worth a lot more than gold.
Yours Sincerely ,
Godwin Agaba ( is a Ugandan American ,a diehard fan of Manchester United .From Ohio, USA.
Email: goddieonly@gmail.com