Mengo July 3, 2022: The Kabaka of Buganda, His Majesty Ronald Mwenda Mutebi II, on Sunday flagged off over 80,000 runners for the 2022 'Kabaka Birthday Run' held at Bulange in Mengo.
The Kabaka Run is an annual marathon that is held in celebration of Kabaka's birthday under different themes.
This year, just like the previous year, the Run has been held under the theme, "Men against AIDS to Save the Girl Child", with the aim of continuing to create awareness about HIV/AIDS and encourage men to get tested, get treated and eventually protect women against infection.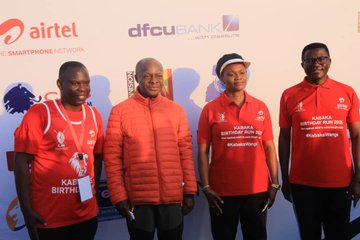 Kabaka Mutebi, who turned 67, arrived at Mengo Palace in Kampala in the company of the Nnabagereka Sylvia Nagginda where hundreds of his subjects gathered and eagerly waited for him to flag off his birthday run.
Among them was the German ambassador to Uganda, Matthias Schauer.
According to reports, by 5am on Sunday morning, all junctions connecting to the palace had been sealed off by security personnel with public vehicles blocked from accessing the roads that lead to the palace.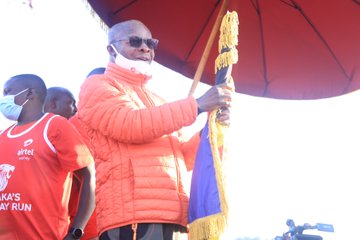 The first runners were flagged off at 7:56am.
The 10km and 5km races started from the palace, went to Kampala suburbs and ended at the palace grounds.
Kabaka wants a healthy population
"I want to thank you all for joining me in this effort to kick HIV/AIDS out of Uganda by 2030," said the Kabaka in a message read for him by the Katikkiro (Prime Minister) of Buganda Kingdom, Charles Peter Mayiga.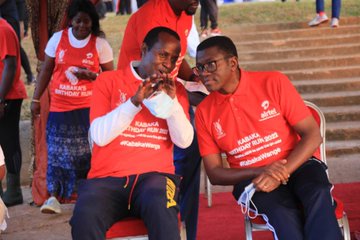 Mayiga encouraged the runners to prevent new infections, get tested, seek treatment, or abstain from sex.
He said going for HIV testing is the only way to know one's status and that regular testing and early diagnosis allow those living with the virus to be treated early and achieve better treatment outcomes.
"The Kabaka wants a healthy population that can develop and grow coffee. With early and effective treatment, people living with HIV can lead lives no different from others," Mayiga told the runners.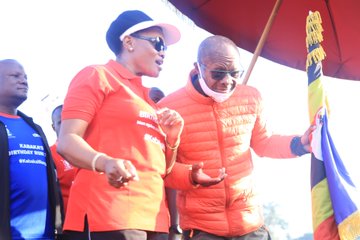 "We are impressed by the number of participants who took part in this year's edition of the Kabaka Birthday Run. We aimed to sell 80,000 kits and all were sold out, which is a sign of commitment our people have shown towards supporting the Kingdom initiatives, and we appreciate it," he noted.
He added: "We would not have been able to walk this journey alone. With support from our sponsors, Airtel Uganda, and partners like UNAIDS, among others who have contributed towards this noble cause of fighting the spread of HV/AIDs, the run has consistently been held."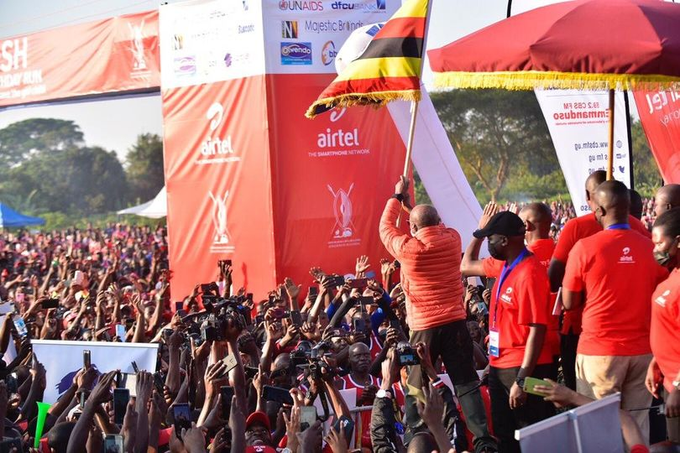 Partners and sponsors speak
Speaking at the event, Airtel Uganda Managing Director, Manoj Murali, said a healthy human capital is important for the transformation of any society.
"We are proud to support efforts aimed at ending the HIV/AIDS pandemic by 2030 because this economy needs a healthy workforce," Manoj noted.
Manoj recognized the efforts of the Kabaka, through his able Kingdom leaders, that has steered the Kingdom towards to success through collaborations and activities like the Kabaka Run, Masaza Cup, among many other engagements that foster economic growth within and beyond the kingdom. He pledged Airtel's continuous support.
According to Manoj, Airtel Uganda will continue to innovate and deliver affordable solutions that make it easy for the customers to connect, do business and transform themselves.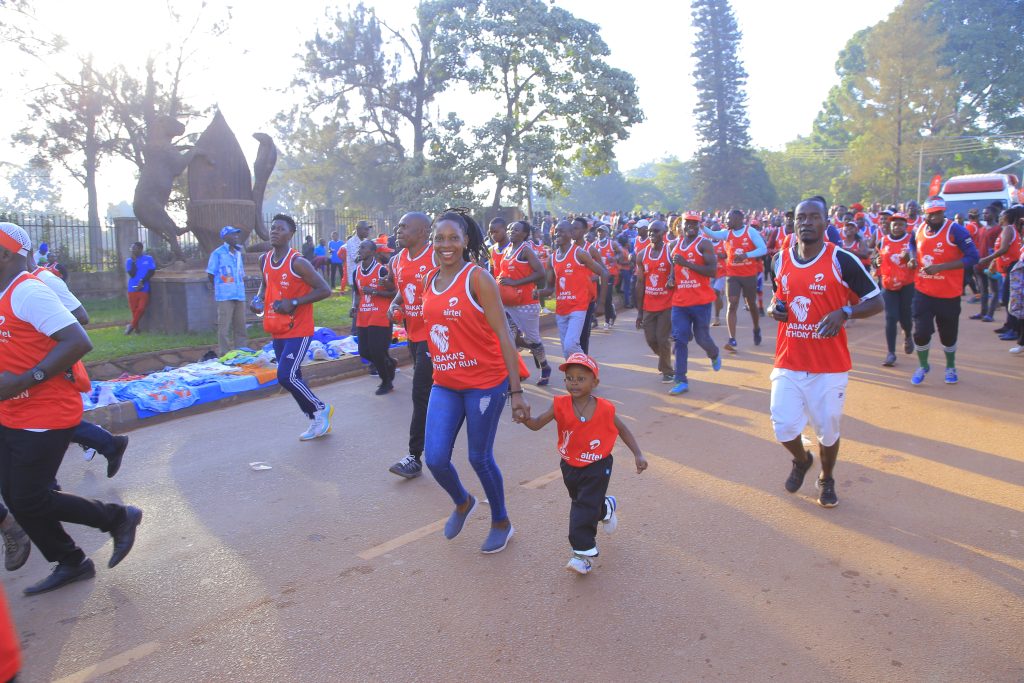 He used the opportunity to highlight ongoing Uganda Needs More of You campaign that shines a light on Ugandans who are using technology to transform their communities.
"I invite you to participate in the ongoing UGNEEDSMOREOFYOU campaign by dialing *162* to vote one of the three compelling stories of Ugandans doing amazing things," Manoj concluded.
In a bid to re-affirm their commitment to support and give back to the community, I&M Bank Uganda also joined corporate participants, fielding over 50 members of staff as runners.
I&M Bank Executive Director and Chief Operations Officer, Sam Ntulume, lauded Buganda Kingdom for spearheading a great initiative that is tremendously transforming lives in society and pledged to continue supporting the run.
"It is our honour to be part of this noble cause that not only gives us an ultimate opportunity to drive awareness against HIV/AIDS but also resonates with our corporate social responsibly," said Ntulume.
Ntulume said that participating in the run will also go a long way in cementing the bank's relationship with the Buganda Kingdom and opening doors for engagement with other partners.
Annette Nakiyaga, the bank's Head of Marketing & Corporate Communications, noted that the run was also an opportunity to promote collegiality and teamwork amongst I&M staff, on top of highlighting fitness.
The 2022 Kabaka Birthday Run had participants from different areas of the country including Masaka, Mukono, and Luwero, among others.