Kampala Deputy Lord Mayor, Doreen Nyanjura, Soroti Woman MP Anna Adeke and four other members of Forum for Democratic Change (FDC) party were Tuesday denied bail.
The women activists, who were arrested for protesting skyrocketing prices of essential commodities and the continued detention of Dr Kizza Besigye, were further remanded to Luzira until June 7, 2022.
Besigye's Red Card Front pressure group Women Brigade leaders Adeke and Nyanjura on Monday led other women activists including; Wokuri Madanda, Alice Amony, Susan Nanyonjo and Miriam Kizito to protest at Mulago Roundabout.
They were arrested and detained at Wandegeya Police Station.
They were later produced at Law Development Centre (LDC) Court, charged with inciting violence and remanded to Luzira prison.
On Tuesday, they returned to court and applied for bail.
The prosecution asked for more time to study documents presented by their sureties.
The magistrate sent the back on remand and ordered them to return to court on June 7, 2022 for further hearing of their application.
Their lawyer Sam Muyizi, told the press outside court that courts must fight to get out of captivity.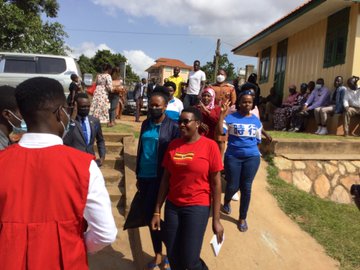 "They are working to implement orders of NRM," Muyizi said.
"After LDC court denied our leaders bail, it's now clear that courts are intentionally abusing the bail system and eroding the presumption of innocence doctrine. The courts are increasingly demonstrating that they are mercenaries of the NRM regime. We shall find you in court," said Red Card Front in a social media statement.
FDC also tweeted citing alleged unfairness: "Our women leaders have been denied bail and remanded until 7th June 2022, the cadre magistrate says, he needs time to study documents presented by the sureties."
Lawyer Sam Muyizi: Courts must fight to get out of captivity. They are working to implement orders of NRM.
NOTE: Muyizi speaking after LDC Court declined to grant bail to our leaders @AdekeAnna, @DoreenNyanjura, @WMadanda, Susan Nanyonjo, Alice Amony & Mariam Kizito. #FreeBesigye pic.twitter.com/8oiW8Heikz

— The Red Card Front (@redcard_ug) May 31, 2022