NTV Uganda is mourning the passing away of its journalist Edward Muhumuza.
Muhumuza perished in a Saturday accident along Entebbe Expressway.
"NTV is saddened to announce the passing of our journalist, Edward Muhumuza, in a car accident," the television announced.
It added: "Our hearts go out to his family and friends. May he rest in peace."
"We have registered a FATAL accident today morning 25th March 2023, at around 7:30 am involving one occupant who police identified as Mr Muhumuza Edward a staff of NTV Uganda," tweeted Kampala Entebbe Expressway management.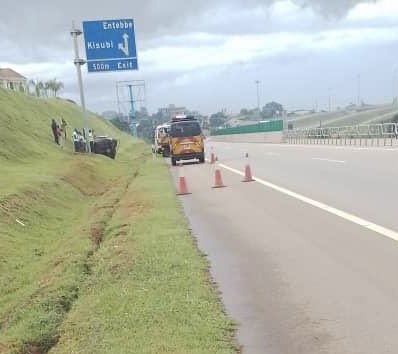 Muhumuza was exiting the Expressway and was opposite the Mpala Toll station.
"Our intervention team together with Entebbe Police have confirmed that the victim was at a high speed when he lost control of the vehicle. Unfortunately, he was unable to make it and he lost his life on the spot. Our condolences go out to his family, friends and the entire. May his soul Rest in Peace."
According to his Twitter profile, the award-winning journalist was a Bible student, Current Affairs, Environment, Sports news addict & Social Media enthusiast.
In December 2022, Muhumuza won an award for the best Land and Property Reporting at Uganda National Journalism Awards.