The government of Nigeria has indefinitely suspended the operations of microblogging and social networking service, Twitter, in Nigeria following the former's decision to delete one of President Muhammadu Buhari's tweets deemed to have violated twitter rules.
The country's minister of Information and Culture, Alhaji Lai Mohammed, announced the suspension in a statement on Friday in Abuja, citing what he called persistent use of the platform for activities capable of undermining Nigeria's corporate existence.
Mohammed said the Federal Government has also directed the National Broadcasting Commission (NBC) to immediately commence the process of licensing all OTT and social media operations in Nigeria.
Twitter had on Wednesday, June 2, deleted President Muhammadu Buhari's tweet, in which he threatened to treat Nigerians "misbehaving" in "the language they understand."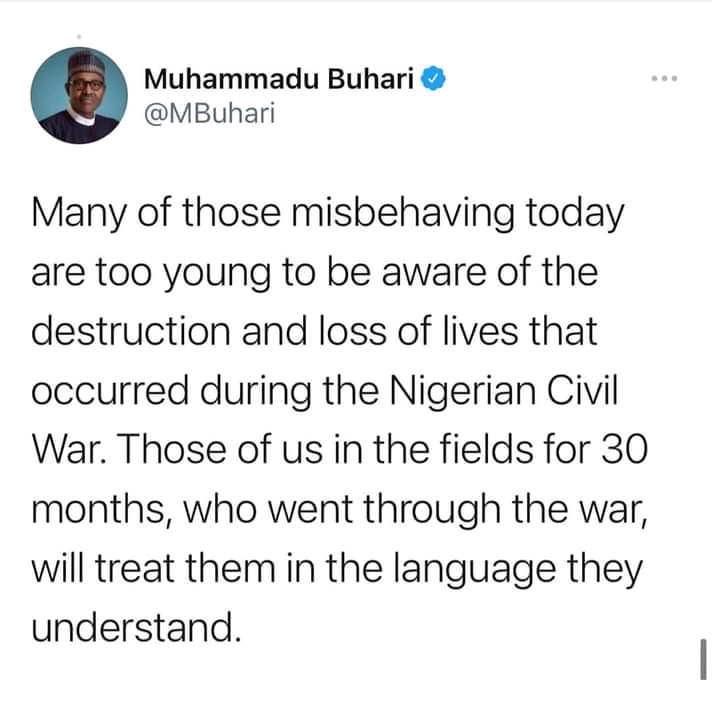 The President had in a tweet shared on Tuesday, cited Nigeria's civil war experience between 1967 and 1970 and noted that most of those "misbehaving" by burning electoral offices were maybe too young to understand the gravity of war.
In the tweet, he also threatened to deal with the arsonists, saying: "Those of us in the fields for 30 months, who went through the war, will treat them in the language they understand."
The tweet, however, attracted millions of comments and widespread condemnation, with many Nigerians criticising the President, especially for making reference to the civil war in which millions of Nigerians, mostly of Igbo extraction, were killed.
Some Nigerians had called on Twitter to suspend his account, claiming the President's tweet "expresses intentions of self-harm or suicide," as stated on Twitter's usage policy.
But Twitter, on Wednesday, deleted the message, stressing that the post violated its rules. The social networking service, on Thursday, also deleted the video of the tweet.
Like Twitter, Facebook has also deleted Buhari 's alleged offensive post.
"In line with our global policies, we've removed a post from President Buhari's Facebook page for violating our Community Standards against inciting violence.
"We remove any content, from individuals or organisations that violates our policies on Facebook," said a Facebook spokesperson.
Meanwhile, Twitter has expressed "deep concern" over government's decision to suspend its operations in Nigeria. Its Senior Policy Communications Manager for Europe, Middle East and Africa, Sarah Hart, who made this known in a statement, said the company was investigating the development.
"The announcement made by the Nigerian Government that they have suspended Twitter's operations in Nigeria is deeply concerning.
Nigeria is not the first country to suspend twitter in the world, Uganda, China, Egypt, North Korea, Iran and Turkey did it before.
In Uganda, government blocked access to social media platforms, including Twitter, just two days before its January 14 presidential and parliamentary elections.
In a January 12 letter, the Uganda Communications Commission (UCC) ordered internet service providers in the country to "immediately suspend any access and use" of all messaging apps and social media platforms until further notice.
The suspension save for Facebook has since been lifted.