Next Media Services has unveiled "NBS Sport", Uganda's first 24-hour dedicated sports channel.
Joseph Kigozi will serve as the General Manager of the new sports channel.
He has been serving as the General Manager of Sanyuka Television. Prior, he served as the General Manager of Nile Post.
Kigozi also doubles as the Next Media Chief Strategy Officer and Deputy Group Chief Executive Officer (CEO).
"Sports is my passion. I have been doing it for a very long time," Kigozi told SoftPower News on Monday.
With a wealth of experience doing sports commentary, Kigozi has also been in management for the last 15 years.
He has successfully managed to build Sanyuka TV while serving as its General Manager from 2017 to 2002 as a go-to TV brand for the mass market.
Previously, he set up Buganda TV (BBS Terefayina) and has become one of the few acclaimed TV broadcast specialists and consultants.
"I have now moved to NBS Sport as its General Manager. I like to start new things. I like starting journeys," he said.
"I have the confidence and experience. NBS Sport is a new channel. You know NBS is the flagship and number one TV in current affairs. So, we decided to start a channel for sports which young people are interested in. We will focus on local sports categories. I'm excited about the challenge but knew I was competent to do it," Kigozi added.
Mbago named Sanyuka General Manager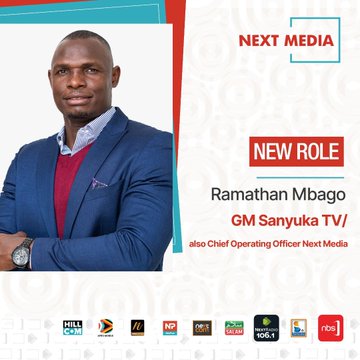 As Kigozi builds the new sports channel, Ramathan Mbago, who serves the company as the Chief Operating Officer, will take up the vacant post of Sanyuka TV General Manager.
Mbago has been part of the Next Media management team since its flagship and premier brand, NBS Television inception.
He was initially the Station Manager, then Chief Operations Officer and was later appointed to the NBS Television board in 2013.
Before this, he was the General Manager of Eastwood Media Production, which was charged with the output of local television content during the transition of Uganda Television (UTV) to Uganda Broadcasting Corporation (UBC).
Meanwhile, Dalton Kaweesa, the new Chief News Editor, will serve as the General Manager of NilePost News.