President Museveni has directed his daughter, Natasha Karugire, to visit the families of the fallen FRONASA freedom fighters and come up with a documentary showing how the fighters were violently murdered for their commitment and braveness in the struggle for a free Uganda.
This was revealed Wednesday by the Minister for the Presidency, Hon. Babirye Milly Babalanda, while speaking at Heroes Day celebrations at Kasaala Catholic Parish Grounds in Butuntumula Sub County, Luweero District.
"Indeed, very few people understood the President's most recent visit to Malukhu in Mbale. Rt. Honourable, if Natasha comes out with this documentary that gives a picture of the liberation struggle and the freedom fighters who lost their lives, it will help to change the mindsets of some of our leaders who go around making reckless statements. This documentary will bring out better the meaning of this day by showing how our heroes sacrificed their lives and also to inspire many of our young leaders who are taking up leadership positions and roles in this country," she explained.
"If we put these together, it will help to build a complete picture of the struggle to liberate Uganda and for the people of Uganda to love their country and understand their history. It is important that our leaders do not take the freedom, the rule of law and the stability that we now enjoy, for granted," she added.
Babalanda expressed concern over some leaders who don't recognise the role and sacrifice made by freedom fighters to liberate Uganda.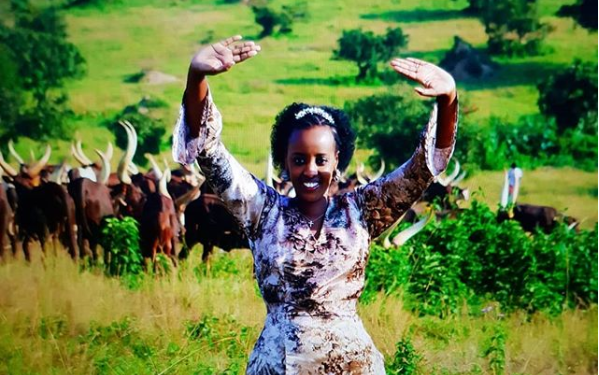 "At times I am deeply distressed when I hear some leaders making reckless statements and not acknowledging the struggle to liberate Uganda where we lost many of our gallant sons and daughters. Rt. Honourable; this is not only a mindset challenge, but it is largely an ideological gap," Hon. Babalanda stressed.
Hon. Babalanda also suggested that as Ugandans remember all the fallen freedom fighters, it was particularly important that they honour and recognize President Museveni's individual contribution, especially during his lifetime.
"President Museveni is not only our hero for leading a bush war that liberated Ugandans from a sad chapter of extrajudicial killings; he has also liberated the economy of this country and set us on a clear path to middle-income status. We may take time to realize this, but we are sure to get there under his wise leadership," the Minister asserted.
"His clear-headed leadership and vision have seen all parts of Uganda expand significantly the physical infrastructures and human capital development, unmatched in the history of Uganda."
Natasha Museveni Karugire is known for 27 Guns (2018) and The Cedric Live Show (2018).
27 Guns is an action, adventure biopic film about Yoweri Museveni and his military colleagues during the Ugandan Bush War. It was directed by Natasha and premiered in Kampala on September 8, 2018 and was later screened in Johannesburg South Africa on September 19.