The National Leadership Institute (NALI) in Kyankwanzi on Friday passed out 101 Uganda Bureau of Statistics (UBOS) participants who completed a one-month Transformation Leadership Course.
UBOS Chief Statistician, Dr Chris N. Mukiza, who was the chief guest, gave the participants a glimpse into what it takes to become authentic leaders.
Emphasizing transformational leadership, he said what they have studied gave them a foundation for being proper leaders.
"To be a leader, you need to be who you are not somebody else. Be yourself. Focus on your life story. Your life story shapes you."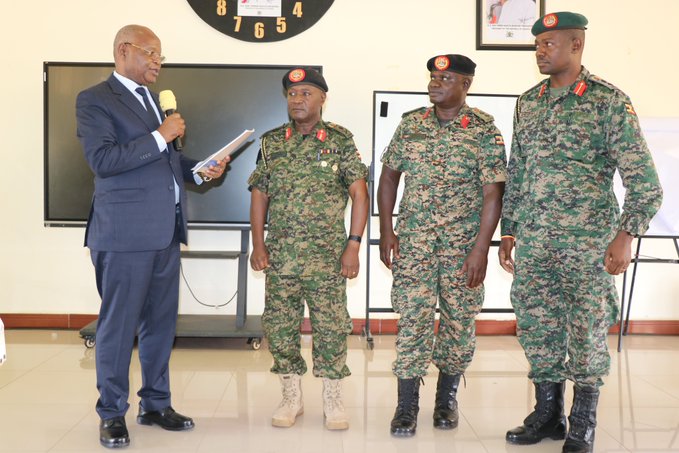 He cited three steps to becoming a proper leader: one's leadership journey, developing an authentic leader and finding one's true north by meeting the world.
"When you meet the world, you become a world leader. The hardest person you will ever have to lead is yourself. Once you have felt comfortable with who you are and feel good in your own skin, leading others authentically becomes much easier," he noted.
The UBOS executive director further explained that a leader is known for having the ability to explain how many people can step in their shoes seamlessly.
"Strategies change and visions change. We have to work together on strategy and work plans by promoting individual value which becomes institutional value. You should endeavour to leave the place better than you found it." He lauded participants for an excellent parade and demonstration exercise.
To ensure increased usability of Statistics, Dr Mukiza offered statistical reports including the Statistical Abstract, The 2019/20 House Hold Survey Report, the Multidimensional Poverty Report and Calendars, among others to NALI leadership.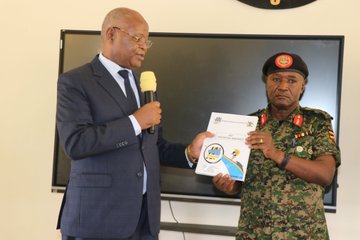 Speaking at the pass-out, UBOS Deputy Executive Director, Godfrey Nabongo, said he was happy to witness the successful closure of the training.
He said the participants will lead teams ahead of the population and housing census exercise in August and September this year.
"After the graduation of these cadres, these disciplined staff will lead teams that will do census mapping. That is where they will be deployed in census preparatory activities," he stated, adding: "Disciplined staff will give us good results."
In her speech, the Course Leader, Atete Annet Bagenda, said the participants received knowledge in patriotism, Pan-Africanism, socio-economic development and democracy.
"They will be able to serve our country by providing quality data for monitoring the progress of vision 2040. They are now physically and mentally fit and ready to handle the tasks ahead of us. Learning self-defence skills has boosted our security," she said.
Being social doctors as learnt at the Institute, the UBOS INTAKE2 course participants addressed the need for an Incinerator at NALI to dispose of dangerous waste.
According to Bagenda, the participants raised Sh8m to finance the project which is yet to be completed.
The project was commissioned on Friday by UBOS ED Dr Mukiza and NALI Director, Brig Gen Charles Kisembo.
Bagenda said apart from the incinerator, the UBOS team will also enrich the NALI website and skill enhancement of its technical team.
On his part, the director of the Leadership Institute, Brig Gen Charles Kisembo, thanked UBOs for being a worthy partner to NALI and the staff for contributing Shs8m to build an incinerator, saying that they identified the need and addressed it.
"Mindset change is key if we are to harness our mental and physical capacities," he pointed out.
He further thanked Dr Mukiza for sending them quality officers who are intelligent, committed and disciplined. "We have done our role to train leaders who are knowledgeable and visionary."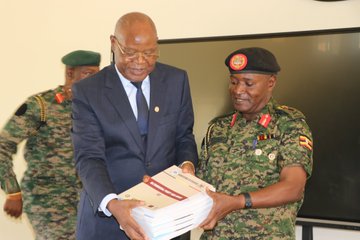 He said the participants now have eyes and minds that can perceive beyond the ordinary and that the knowledge acquired will help them execute their duties.
According to Brig Kisembo, the one-month training covered politics, leadership ideology, pre-colonial and post-independence history, patriotism, drills and physical training, Kiswahili, and revolutionary history, among others.
"Go back and exercise the knowledge and skills you have acquired here. Walk the talk. There is no time for us to joke around. Go back and work. The country looks up to you as we walk towards middle-income status."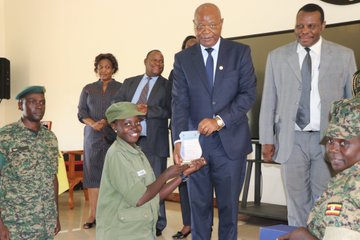 The ceremony saw outstanding course participants being recognised.
The names of the participants who excelled in different disciplines were read out by Lt Col Godfrey Rwabujumbure Mwesigye, the Head of Faculty and Academics.
They include; Ms Joy Carol Mwesigwa who was the best student overall, Mr Wilfred Ocan the second best, Ms Catherine Asiimwe the best in the written test and Mr Isoke Harry the best in Marksmanship, respectively.