President Yoweri Museveni has said the National Resistance Movement (NRM) government will not fail to bring to book all those involved in messing up the Parish Development Model (PDM) in which they have invested a lot of resources to get people out of poverty.
While addressing the gathering at Kaunda grounds in Gulu City yesterday as he concluded his Acholi sub-region tour on investment and wealth creation under the theme: "Securing your future through wealth creation and shared prosperity", the President said the NRM government has always been in direct contact with the people and its leaders and in case they fail then the population is directly contacted to speak out.
"In case the elected local leaders are compromised, I can meet with you directly like today. Therefore, the truth will come out, that's why I came," the President said, adding that his visit was to check for himself by visiting farmers and the ones he saw are doing things on their own and none of them had benefited from the Parish development model.
"I didn't see PDM yet on the ground," H.E Museveni said.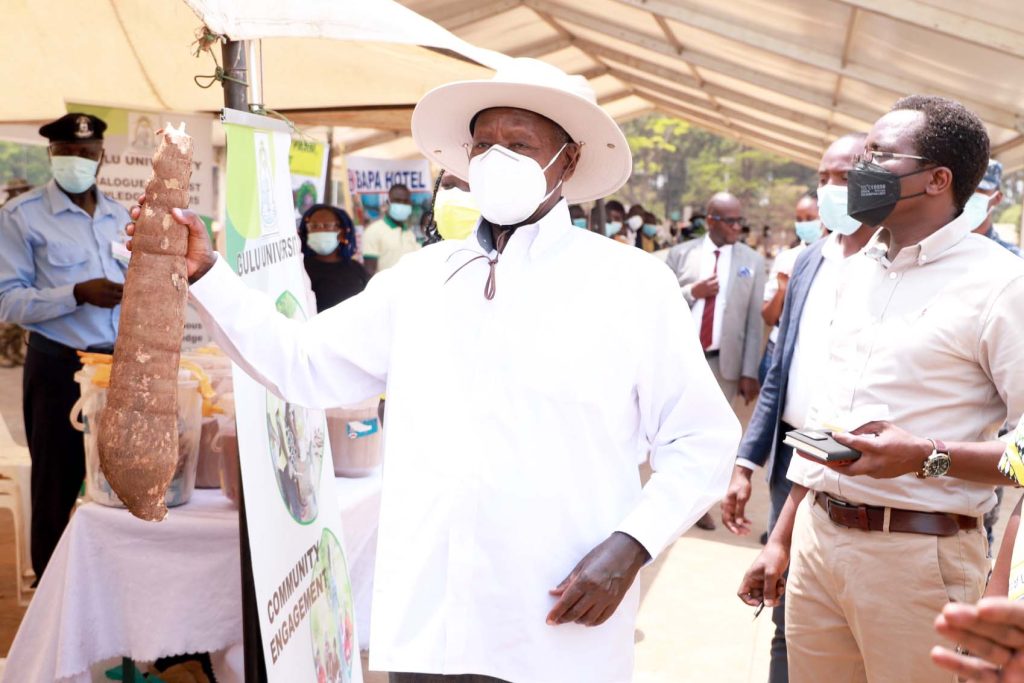 Gen Museveni's warning was triggered by shocking revelations and testimonies from the locals on how the wealth creation programme has been mismanaged in its infant stages, expressing fear that its intended objectives might not be achieved.
Mr. Odongo Alex Okoya who identified himself as the Chairperson of the Parish Development Model committee in one of the parishes in Gulu city decried a team of what he called corrupt civil servants who are misleading the community about the PDM.
"In my parish where they launched PDM last week as a pilot, I have requested for two months to see the list of beneficiaries and as I speak up to now, I have not seen it because I know even landlords have benefited not the subsistence local people you're talking of. I can swear with a Bible before you, I'm not lying your Excellency," Mr. Okoya said, adding that civil servants in Gulu City do not want NRM cadres to be close to this (PDM) money because they will report their bad deeds to the President.
"I'm very happy today. I have got some information which I wanted and I'm going to follow up and sweep the whole garbage. You have helped me to do my work. Thank you for being members of the National Resistance Movement," Gen Museveni told the gathering.
The Parish Development Model project was launched by the President in February 2022 in Kibuku District. Under the programme, each parish is expected to receive Shs100 million to benefit various categories of people to eradicate poverty through the execution of development activities.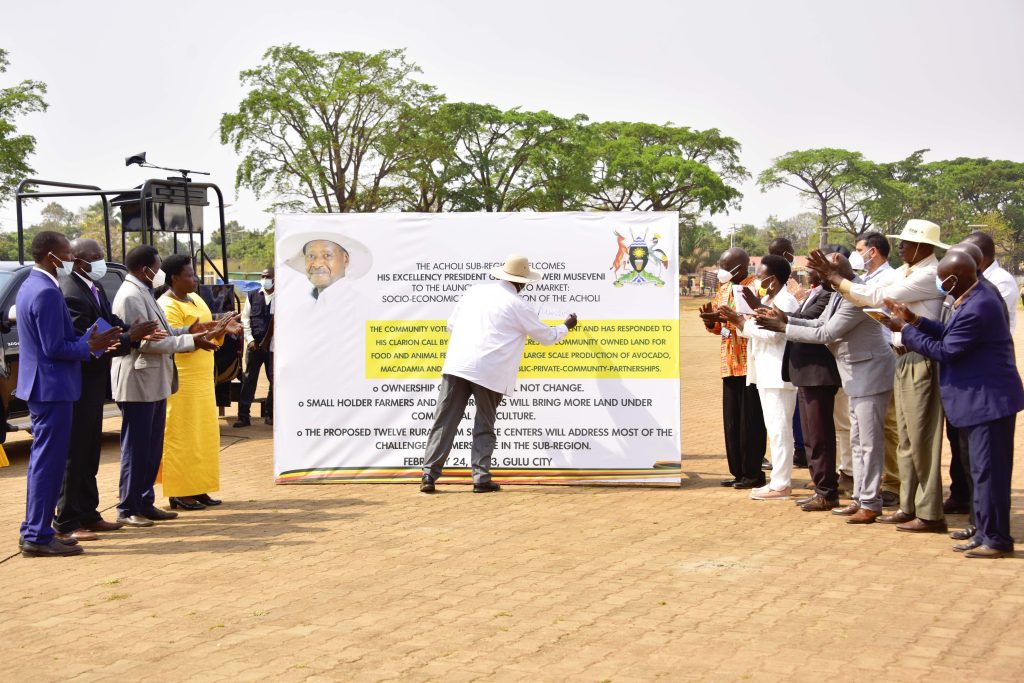 The 490 billion Shillings initiative is an extension of the approach to development as envisaged under the National Development Plan III, with the parish as the lowest administrative and operational hub for delivering services closer to the people and hence fostering local economic development.
On the issue of the nomadic Balalo grazing livestock in the region without requisite authorization, President Museveni promised to deal with them decisively.
According to local leaders in Acholi, hundreds of pastoralists are not only illegally grazing thousands of cattle in Amuru, Pader, Kitgum, Lamwo and Gulu districts but they have gone ahead to use excess force to grab people's land and grazing their cattle in the gardens.
"Because those Balalo are undisciplined, I'm going to write an executive order to deal with them. What they're doing is illegal and I will handle them decisively," Gen Museveni said.
Turning on the contentious issue of Apaa land disputes between Amuru and Adjumani Districts, the President allayed the fears of the locals that a judicial commission of inquiry will soon start its independent work to resolve the matter and ensure peace returns in the area.
"So that judicial commission comes and gets facts as judges and will make a recommendation which will guide us. That is the latest position of the government," H.E Museveni advised.
President Museveni also told the people of Acholi to differentiate between development (dongo lobo in Acholi) and wealth (lonyo in Acholi), saying that whereas the government has improved the infrastructure like roads, hospitals, schools, electricity and other social services, it makes no sense to be proud when the people using them are poor.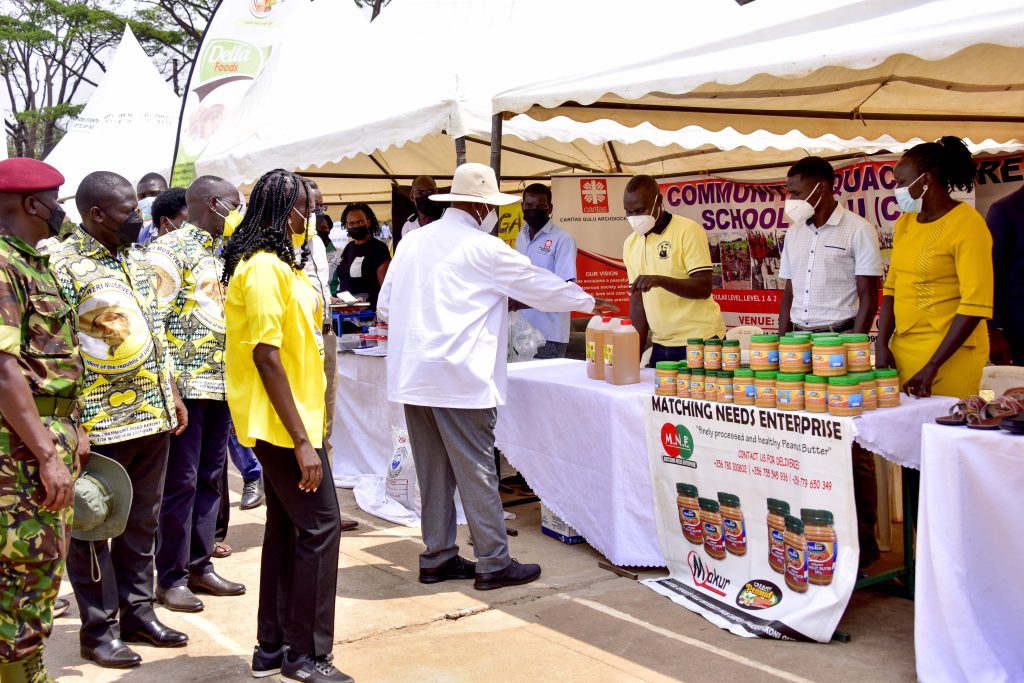 "Therefore, if you don't use the tarmac roads to create wealth (lonyo), your families will not get out of poverty. This is what I have been engaged in and telling you for the last 60 years," H.E Museveni said, adding that in the manifesto of 1986, they proposed a 4 acres model and seven activities for people with small pieces of land to get out of poverty but up to now some are still sleeping.
The seven activities include; growing of coffee, fruits, food crops, zero grazing dairy cattle, poultry, pigs, and fish farming. These according to the President enable the family, with four acres, to be prosperous.
"That was our advice in the manifesto of 1986. The reason we did this is that they give you good money even in the small area because they have a ready market," he noted.
The Vice President, H.E Major (Rtd) Jessica Alupo Rose Epel thanked the people of Acholi for embracing peace after years of insecurity saying this has provided a suitable investment climate to attract investors in the region.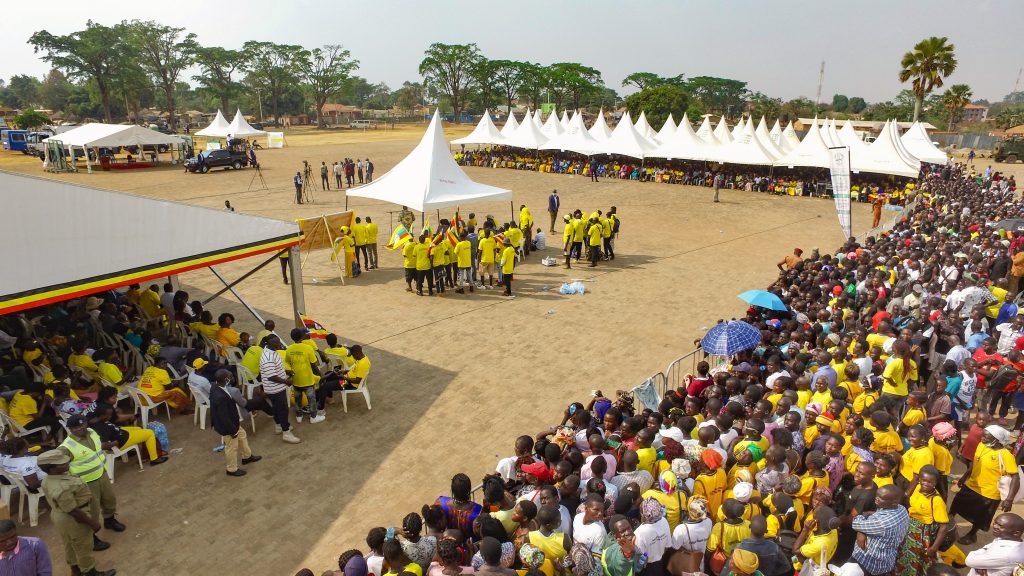 "Your Excellency, this tour of the country which you have started will enable you to connect directly and more closely with the Ugandans at the grassroots to hear directly from them on matters of transformation, job creation, wealth creation and to extend directly your words of wisdom to the people of Uganda on your expectations and the expectations of government from them," H.E Alupo said.
The President on Thursday informed the gathering that the renewed visit to all the 18 zones of Uganda is "to repeat my war (on wealth creation) I have been fighting since 1962."
The ceremony was attended by among others Ministers; Dr Joyce Moriku Kaducu (Minister of State for Primary Education), Hon Obua Dennis (Government Chief Whip), Hon Grace Freedom Kwiyucwiny (Minister of State for Northern Uganda), Hon. Beatrice Akello (Minister of State for Economic monitoring), Hon. Huda Oleru (Minister of State for Veteran Affairs) and Members of Parliament.
Others were NRM Secretary General, Richard Todwong, Resident District Commissioners from Acholi, and cultural and religious leaders.