President Museveni has met and held discussions with Serbian President, Aleksandar Vučić, in the capital Belgrade.
Museveni was Sunday received by H.E Aleksandar Vučić at the Serbian Palace in Belgrade.
He commended the Republic of Serbia for its continued bilateral cooperation with Uganda.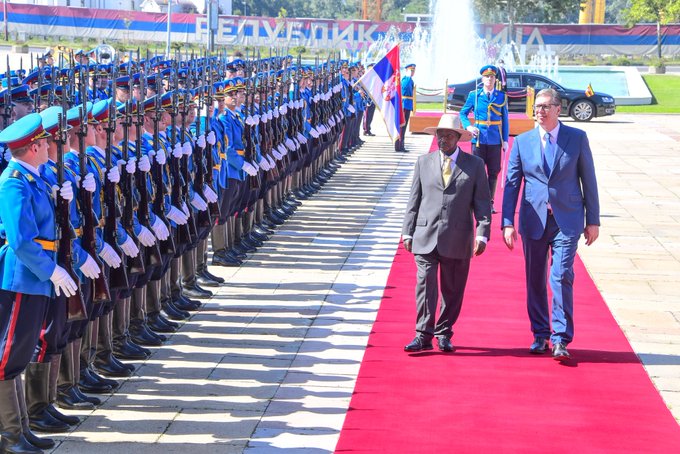 President Museveni said Uganda and Serbia have been having good working relations since the 1950s.
"Yugoslavia [present day Serbia and Montenegro] companies built very good structures in Uganda. There is one good structure which is very famous known as the Nile International Conference Centre and Hotel that was built in 1970. We also bought several things from Yugoslavia including boats which we still have for our marines on Lake Victoria. Unfortunately, Yugoslavia was involved in some internal issues, and there was a little bit of disconnection but now I'm very glad that you are stable and you are developing and I'm back here to resume our collaboration," President Museveni said.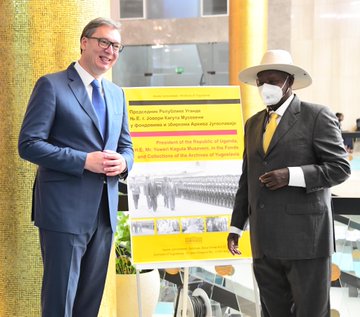 Museveni also lauded the former President of the Socialist Federal Republic of Yugoslavia Marshal Josip Broz Tito for being the champion of the Non-Allied Movement (NAM).
"My delegation and I are very happy to be here at your invitation. We have had very useful discussions and as I have told you, Serbia through Yugoslavia was not new to us. In the 1950s/1960s we had very good relations with Yugoslavia under Marshal Tito, and I told you how we used to follow his stand during that time, especially the neutral position he kept during the quarrel between the Soviet Union and China."
He added: "They were all socialists but they had disagreements. However, Marshal Tito refused to take sides and we admired him for that. Our elders like Mwalimu Nyerere, the President of Tanzania at that time, was our senior person, and he appreciated him so much. Marshal Tito together with Nkrumah and with Nasser of Egypt and Sukarno of Indonesia were the champions of the Non-Allied Movement (NAM)."
On his part, Serbian President, H.E Aleksandar Vucic, thanked President Museveni for loving Serbia and following the history of the European country.