President Yoweri Kaguta Museveni has canvassed votes for Roselilly Akello Nakwera, the Kaboong Woman MP NRM flag bearer.
Speaking to locals  at Karenga Boys Primary School grounds, Museveni said that supporting NRM is supporting peace, health, education and development for the people.
Regarding peace, he said that Kaboong district and Karamoja region as a whole is now peaceful which has enabled other government functions to progress unhindered.
"Once you support peace, we deal with health. For example when there was no peace ,we could not immunise . The infant mortality rate in karamoja was high, but now this has reduced. If you could deal with other things like hygiene , nutrition, we will eliminate most of the sicknesses," Museveni said.
"The young people should know that health is wealth, when you are healthy, you can do a lot."
On education, the NRM chairman  informed the gathering that government is to increase the number of schools in addition to those that already exist.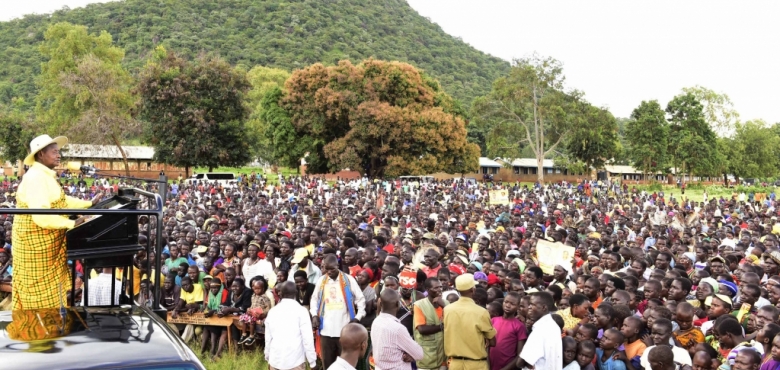 The President also told locals  that for the first time in the history of Karamoja region, they have tarmacked roads unlike before.
"The road from Moroto-Nakapiripirit, is complete. We are now working on the Nakipriprit-Mbale road, Soroti-Napak-Iriri- Moroto and the Moroto-Kotido, Moroto- Kabong roads."
He added," government has also given road construction units to districts."
The NRM Chairman called upon the people to embrace government programs geared towards improvement of household incomes.
He asked them to use Operation Wealth Creation as a spring board for creating wealth in their homes, using the seedlings and livestock that are given out to engage in commercial agriculture.
President Museveni assured the people of Kabong that electricity will soon be extended to Kotido and Kabong districts.