President Museveni on Wednesday met a delegation of eminent members of the Fort Portal Catholic Diocese at his country home in Rwakitura.
As the animating team of the 3rd June Martyrs' Day Celebrations, they briefed him on their preparations and as well discussed developmental and vocational projects.
The leaders from Kabarole were led by Tourism Minister Col. Tom R. Butime and the Bishop of Fort Portal Diocese, Rt Rev Robert Muhiirwa.
Also present at the meeting were; Hon. Frank Tumwebaze, the Minister of Agriculture, Animal Industry and Fisheries, Hon. Alex Ruhunda and Monsignor Isaiah Mayombo, among others.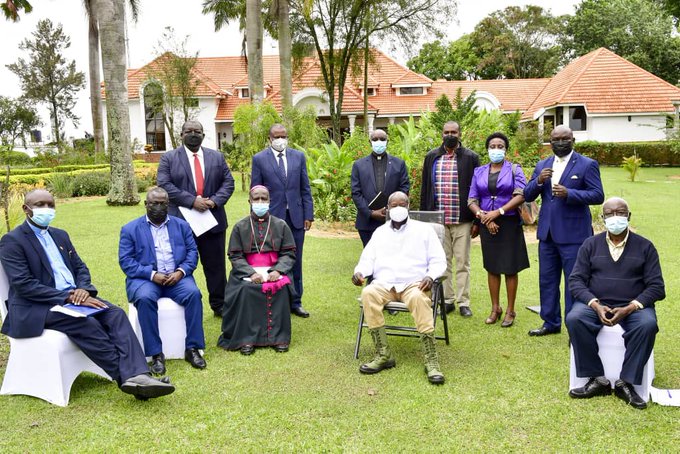 Museveni pledged Shs1bn support towards Martyrs Day Celebrations and Fort-Portal Cathedral renovation.
Uganda Episcopal Conference selected Fort Portal Diocese to spearhead the preparations for this year's Martyrs Day slated on June 3, 2022.
The diocese last led Martyrs celebrations 25 years ago.
"I am going to give you Shs1 billion for the cathedral roof and Martyrs Day preparations," Museveni told Kabarole leaders.
This is equivalent to the working budget the diocese drafted to prepare for the celebrations.
The diocese has a budget of about Shs2 billion to renovate the cathedral roof but first halted fundraising for the roof and embarked on raising funds for the Martyrs Day celebration, according to Bishop Muhiirwa.