President Museveni on Tuesday visited the home of the Mzee Nathan Okori, the grandfather to Andrew Ojok Oulanyah, the NRM candidate for Omoro County MP seat.
He interacted with Mzee Okori before laying a wreath on the grave of the late Speaker of Parliament Jacob Oulanyah.
"I met Mzee Nathan Okori, the father of the Late Jacob Oulanyah at Lalogi, Omoro District on the sidelines of our NRM Campaigns and commiserated with him on the death of our son," Museveni said.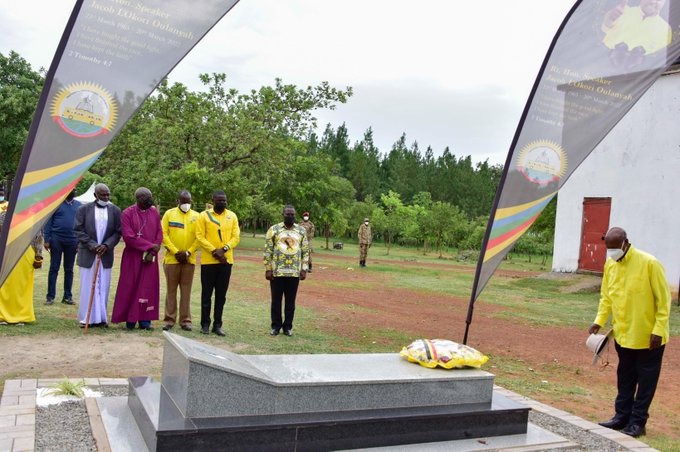 He added: "I am glad to have visited the ancestral home of the Late Rt. Hon. Jacob Oulanyah. I paid homage to him and condoled with our people."
Museveni said Oulanyah was a strong pillar in this country and "a huge loss to us. May his Soul Rest in Peace".
The president campaigned for Oulanyah's son Ojok and reminded him that his father showed good leadership.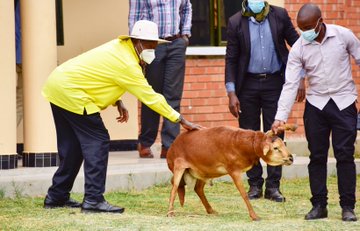 "To my Muzukulu Ojok, these people are not sending you but they are sending Oulanyah back. If you do well, next time they will now send Ojok. I bless you!"
Speaking at Odek primary school playground in Odek sub-county and Opit secondary school in Omoro town council, Museveni first commiserated with the people of Omoro for the loss of Oulanyah and said he was sorry for the loss of a brilliant young man but also happy with the people for what he described as civility.
"You reasoned so well and rationally when you chose Ojok as your candidate because this was Oulanyah's term. This is a term to be finished by his close person like Ojok. If you do it well next time they will send you to parliament as Ojok," He said.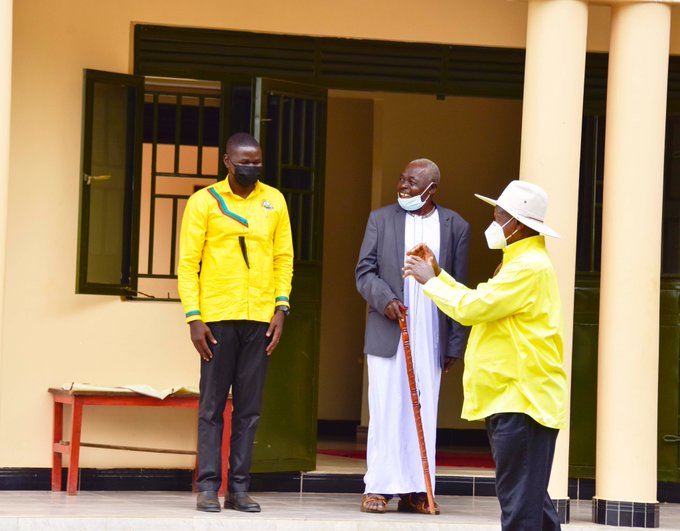 He thanked the six people who had expressed interest in the same seat but later after several meetings and consultations with various leaders not only willingly accepted to step down for Andrew Ojok but have since hit the trail to campaign for him until victory is realized, adding that the by-election was not the end of the world.
Opposition has nothing to tell people
Museveni took a swipe at some leaders in the opposition who he accused of lacking what to tell people and instead start to trade in lies that the government has diverted money meant for compensation of war victims to campaign for Ojok saying the exercise is going on as planned.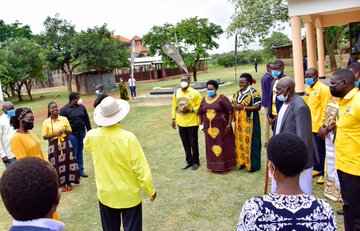 "I read in the newspapers that the opposition was saying the money for compensation has been diverted to campaign for Ojok. So, I am telling you the money for the cows is there. Compensation for victims affected by wars will resume after the verification exercise by the office of the Attorney general is concluded. All the districts whose population was affected will surely get their equal share,'' Museveni said as he assured the people of Omoro district.
After his speech, Museveni handed over the NRM flag to Andrew Ojok as a sign of goodwill to win.
"I take this singular honour to hand over to you the NRM party flag to go and win," he said.