President Museveni has congratulated his son Lt Gen Muhoozi Kainerugaba upon making 48 years on earth.
Museveni on Sunday night hosted H.E President Paul Kagame for a dinner in honour of Lt Gen Muhoozi at State House, Entebbe.
The dinner was attended by eminent leaders of the Government of Uganda, distinguished guests in their respective capacities, family, friends and relatives.
"I want to thank H.E Kagame for responding positively to Lt Gen Muhoozi's invitation and coming to pay a visit to Uganda after years of not coming here," Museveni said.
"I once again congratulate Lt Gen Muhoozi. To the parents, listen to what your young people say, give them your opinion, but don't suppress them.  That's what I have been doing for my children, you may be suppressing something good," Museveni said.
"You, people, call him Muhoozi but I call him Muwooji because while in exile in Dar-es-Salaam, our neighbour was Gen Tito Okello (RIP), he couldn't pronounce the name Muhoozi."
Museveni revealed that Gen Tito would say "Mama Muwooji" while referring to First Lady Mama Janet Museveni.
"Unfortunately, he is not here, but I am happy to be here with his son Okello (Oryem)."
Museveni said Okello was a teenager when Muhoozi was a child and would stay with Muhoozi and siblings while they were away.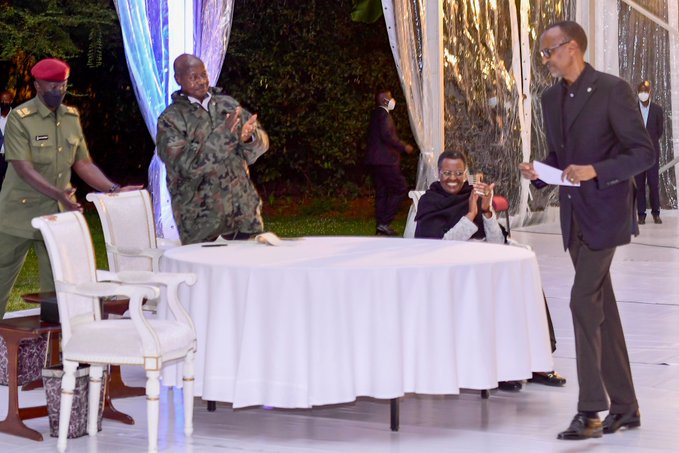 "Lt Gen Muhoozi was a gift to us in our young days of struggle. He was born on 24th April 1974 at Kurasini, Dar es Salam, Mama Janet was driven to the hospital by a Dutch Lady. The following day, I rang Samora Machel to inform him of the news. He was the earliest Kadogo of the Resistance (only second to Julius Kategaya who took another path)."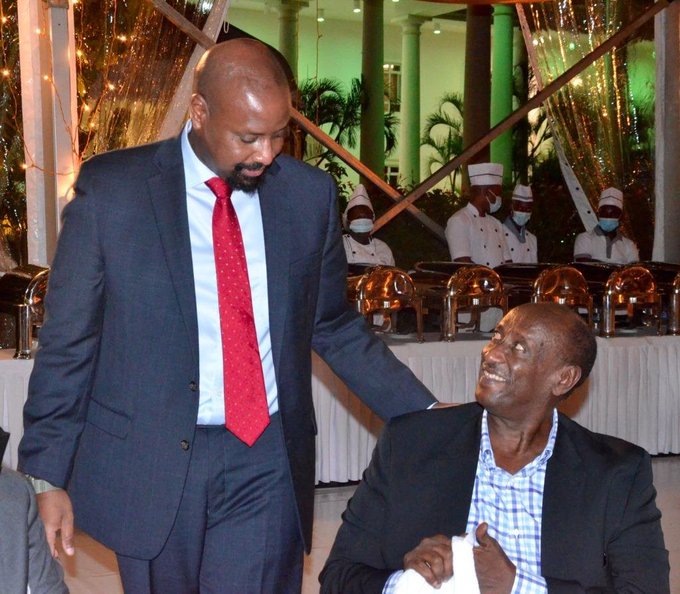 "He is also an early veteran at 5 years when we were arrested in Kireka by our UPC allies, they were planning to send us to God but our force with Kagame and Saleh rescued us. I do not know what impact that scenario had on him, because he was a prisoner of war."
Museveni used the opportunity to thank Mama Janet who looked after Muhoozi and his siblings right all through these situations, even in exile.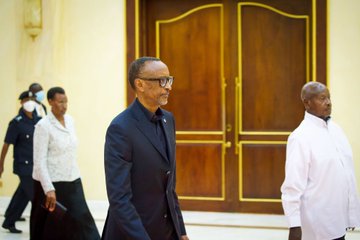 "I would like to thank H.E Paul Kagame, we are happy that you responded to Lt Gen Muhoozi's invitation and came."
Museveni said President Kagame and Muhoozi have a long history together. "They are old friends."
On her part, Janet appreciated H.E. Kagame for having honoured Muhoozi's invitation.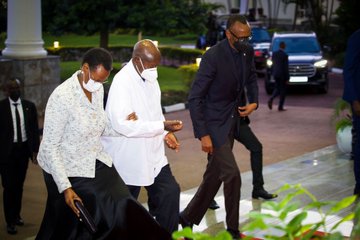 Speaking about Lt Gen Muhoozi at the dinner, President Kagame said "Great Generals are not those who win the war, the greatest Generals are those that win the peace".
"I am happy that you linked our two countries," Kagame noted.
Muhoozi is credited for restoring good relations between Uganda and Rwanda which saw the Katuna/Gatuna border re-reopened this year.