President Yoweri Museveni, has launched the COVID19 laboratories to be used for mandatory Covid-19 testing of all incoming passengers through Entebbe International Airport.
Speaking at the function held at the new terminal extension, the President directed the ministry of health officials to immediately start the process of testing Covid-19.
"These people told me they needed a few days to construct a canopy as well, I have no problem with it, but I asked them to start the process of testing that very moment. The rest can come while testing is going on," Museveni said.
He commended all stakeholders who played a role in making the completion of the laboratories possible.
These include the Ministry of Health, Ministry of Finance, Planning and Economic Development, Ministry of Works and Transport, the Army Brigade and Uganda Civil Aviation Authority.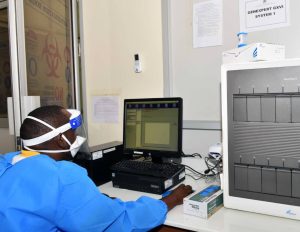 The Prime Minister Robinah Nabbanja on Thursday had informed stakeholders that the measure of compulsory testing of all incoming passengers, is intended to curb further importation of the deadly variants of the coronavirus into the country.
Nabbanja added that the compulsory testing is also set to curb further spread of the disease and guard against the third wave.
She explained that the transfer of the testing laboratories from Peniel Beach where private laboratories were operating to Entebbe International Airport under government was intended to improve on the passenger facilitation process to ensure efficient service delivery.
According to the Health Ministry, the turnaround time for the mandatory COVID-19 test results will be reduced from four hours to two hours and fifteen minutes.
With the installation of the five PCR test machines with capacity to test 300 samples per hour at Entebbe International Airport, the facility will have the capacity to test 3,600 passengers in 12 hours and 7,200 passengers in 24 hours.
Government also reduced the cost of a COVID-19 test from 65 US Dollars to 30 US Dollars.
The Ministry of Health, trained laboratory technicians, data entrants and all the other port-health staff who will manage the laboratories and processes.
The UCAA Director General, Fred Bamwesigye, thanked the President and Cabinet for the various efforts, especially the financial support to the various participating agencies to enable them install the testing facilities at the airport.
Bamwesigye said that the laboratories are expected to enhance the passenger experience in light of the fact that all the processes would be completed at the airport.
He also called for further support to enable the Authority complete on-going projects.