President Yoweri Kaguta Museveni has decried rampant corruption which he says some investors have fallen victim to.
While delivering the State of the Nation Address On Tuesday, Museveni narrated a specific incident where he could not prosecute the suspects due to lack of sufficient evidence.
He, however, said that God is there.
Museveni said so many people took bribes from the Chinese investor of Sukulu fertilizers factory but he couldn't arrest them "because I didn't have enough facts".
He, however, revealed that he knows all those who took the bribes and how "they messed up that Chinese man" .
"So many people took bribes from our Chinese friend of Sukulu fertilizers factory, I couldn't arrest them. But I know them, I know who took which bribe and how they messed up that Chinese man," he said.
The president promised to write to the President of China to get him another investor if the other one got problems.
The $620m Tororo Sukulu Phosphate Project in Tororo District, eastern Uganda, was expected to produce 50,000 tons of fertilisers at the start and grow to 100,000 tons as the demand grew even beyond borders across the region.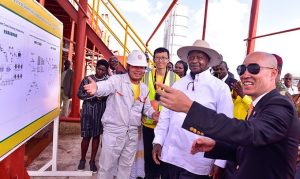 The company anticipated to create at least 1,000 jobs, produce 300,000 tonnes of phosphate fertilizers and 300,000 tonnes of steel annually, while generating some 1.6 trillion Ugandan shillings ($466 million) in revenue a year.
The Osukuru Industrial Complex was planned to include a phosphate and rare earth mine, a fertilizers factory, a steel mill and a power plant worth over $600 million.
Museveni told MPs at Kololo ceremonial grounds that corruption by political actors and public servants is another danger to the country's rapid socio-economic transformation.
"The corruption of political actors and
Public servants who do not only steal government money, thereby denying the population the services that money would have provided, but they also parasite on our business people. Business people and investors do not feel beholden to these parasites," he said.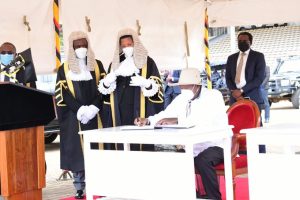 Museveni asked the investors to expose both their requests for bribes and their schemes for frustrating those that do not pay bribes, promising to take action for the benefit of the business atmosphere in the country.