President Yoweri Museveni has Thursday morning expressed his condolences upon the death of Tanzania President John Magufuli, describing him as a pragmatic leader.
Vice President Samia Suluhu Hasssan announced Magufuli's death on Wednesday, 18 March. In a televised address, she said  he had succumbed to heart complications from a hospital in Dar es Salaam where he was hospitalized since March 6.
"I have, with great sadness, learnt of the death of His Excellency John Pombe Magufuli. He was a pragmatic leader who believed in and worked for the economic empowerment of East Africans. We join Tanzania in mourning the passing of a great son of Africa. May his soul rest in peace," wrote President Museveni .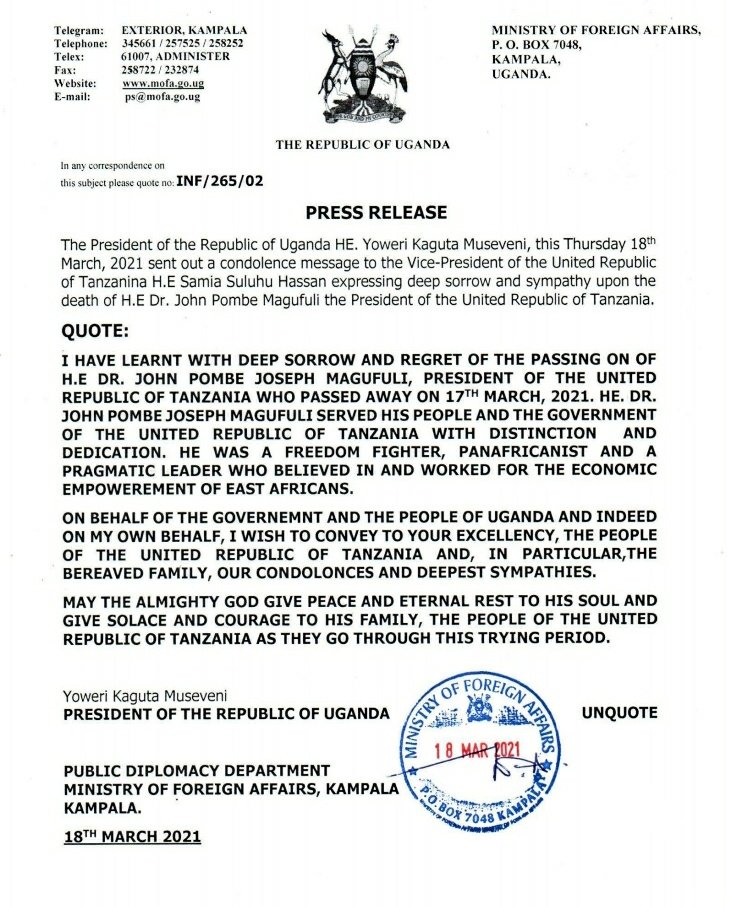 The deceased leader, described by many as pan-african, worked hard to strengthen Tanzania's relations with neighbors as well supported the integration of East Africa  At the time of his death, Uganda's relations with Tanzania have been at the peak as leaders of both countries engaged in several bilateral and regional discussions in the last couple of years.
Presidents Museveni and Magufuli last year signed an implementation agreement for the East Africa Crude Oil Pipeline (EACOP) project, a 1,445KM pipeline that will transport crude oil from Uganda's oil fields in Hoima, to the Port of Tanga on the Indian Ocean.
Magufuli described the event as liberation for the two countries. He said, "This pipeline project is another great liberation for us. After the defeat of Idi Amin in Kagera, this pipeline project is a second victory for Uganda and Tanzania."
While welcoming Amb. Richard Kabonero, Uganda's High Commissioner to Tanzania in 2017, Magufuli said the people of Uganda and Tanzanian are blood brothers with the two countries having shed blood for each other.
Read here: https://www.softpower.ug/tanzanians-and-ugandans-are-blood-brothers-says-magufuli/
He told the High Commissioner that he had an excellent relationship with President Museveni who also studied and lived in Tanzania for may years, thus commiting to maintain the good bilateral relations with Uganda.
Magufuli loved Uganda. It was the only country he visited more than once in his six years in office. The best tribute Tanzania can pay him is to push through the East African Crude oil pipeline as resolutely as he wanted.