President Yoweri Kaguta Museveni who is also the Commander-in-Chief of the Uganda Peoples' Defense Forces (UPDF) has commended Kaweweta Military Training School for training South Africans during their liberation struggle.
Gen Museveni says it's because of this that he was awarded the prestigious 'Order of South Africa' medal in recognition of his contribution to the liberation of the people of South Africa from colonialism.
This was during his recent State Visit to the Republic of South Africa at the invitation of President Cyril Ramaphosa where he also addressed the Uganda-South Africa Business Summit.
"This medal was because of you people here. You remember those South Africans were here in Kaweweta for training between 1989 and when they finally got their independence. The medal they were giving me was not for my Rwakitura cows. It was for you who supported them so I received it on your behalf," Gen Museveni said, adding that "of course, I also made my own personal contribution but most importantly it was you Ugandans who supported them".
President Museveni was speaking shortly after commissioning 782 officer cadets for intake 05 2022-23 Short, at Oliva Reginald Tambo Leadership School Kaweweta in Nakaseke district.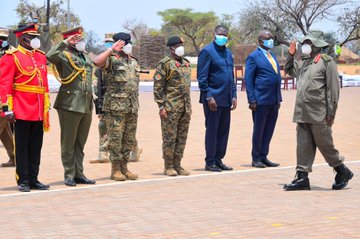 The officer cadets of whom 77 lady officers were drawn from different formations and units of the UPDF received training in officer basic military skills and knowledge. They were also taken through several field training exercises and drills which culminated in combined arms operation exercises according to the school commandant, Brig Gen James Barigye Muheesi.
Gen. Museveni cautioned the commissioned officers to emphasize patriotism in their service, maintain good health and avoid corruption, a vice he said will taint their good name.
"Don't allow any corruption near you because you'll lose your good name, we shall get you and you'll be in trouble. If you see the corrupt and keep quiet, we shall lose trust in you," H.E Museveni said.
On Patriotism, the Commander in Chief of the UPDF called upon the officers to put Uganda and Africa first rather than emphasizing tribes and religion.
"With those, you'll be able to go very far because UPDF is a good army. It is free of those other diseases which have killed other armies," H.E Museveni said, further urging them to emphasize the art of using combined arms while fighting as these will make their work easy.
"Fighting is like cooking. If you cook matooke only and you serve it without vegetables we say olidde maluma (food without sauce), it's not complete food. Food must have sauce – enva (in Luganda) or emboga (in Runyankore) but the source must have salt. That's why we tell you about the combined arms. They make the work easy. Once you master that you'll not fear, especially when fighting a just war which is on the side of the people, not the war of aggression".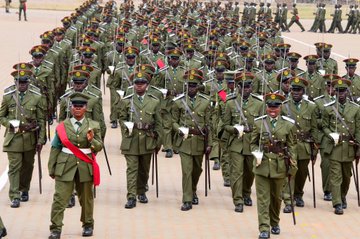 Gen Museveni warned the local people against encroaching and stealing army land. This was after information by the chief of Defense Forces Gen Wilson Mbadi that army land has been encroached on and the matters are before courts of law.
"This is very bad. How can a mwanainchi (local people) steal NRM property?" Gen Museveni wondered.
On his part, Gen Wilson Mbasu Mbadi told the president that every time they train, they follow their purposeful intention of creating a whole personality of an officer who is mentally, physically and combat-ready with the required proficiency and confidence to lead others under them.
He congratulated the commissioned officers and cautioned them against undermining old cadres but instead help them to do their work better.
"Your Excellency, I'm very confident that I'm handing over to you well-trained officers," Gen Mbadi said, further thanking parents and relatives for remaining resilient and for supporting the officers.
The Commandant Kaweweta Military recruit training school Brig Gen James Barigye Muheesi informed the gathering that of the 782 commissioned officers, 3 provisional officer cadets were from the royal military academy of Sandhurst and 2 from the Tanzanian Military academy.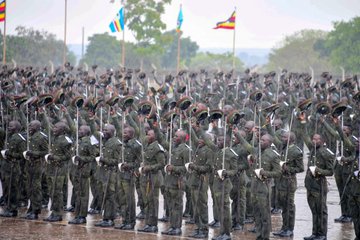 "To the graduands, this is the beginning of the protracted journey in your military career. Training never ends. Expect to have many more other courses that are designed to make you suited for different roles and tasks. You must keep yourself relevant in the service through dedicated personal effort and integrity," Brig Gen Muheesi said, further urging officers to remain loyal.
"It's Your duty to keep the promise (the oath of allegiance) and never disown the flag of your country Uganda," he added.
The minister for Defense & Veteran Affairs Hon Vincent Bamulangaki Sempijja informed the president that his Ministry is seriously taking his advice and directives especially in professionalising the army.
Kaweweta Military training school also known as Oliva Reginald Tambo Leadership School Kaweweta is charged with the core duty of teaching and training the Defence Forces Leadership and preparing them ideologically so as to have the necessary competencies to conceptualize, analyse and understand the Global Dynamics of yesterday, today and project the possibilities of tomorrow.
The ceremony was attended by among others Minister of State for Defence Hon Jacob Oboth Oboth, Members of Parliament, Service chiefs, General officers and Senior officers of the UPDF, Local leaders of Nakaseke and Parents, spouses and relatives of commissioned officer cadets.