Uganda has launched its very first expressway. The Kampala – Entebbe expressway has Friday been commissioned after five and a half years of its construction.
The 49.5 km long expressway was constructed by China Communications Construction Company (CCCC) and it connects Entebbe international airport to the Kampala northern bypass at Busega. It also connects to Munyonyo through Kajjansi.
Part of its features are 4 interchanges, bridges (including the Nambirigwa which is the longest bridge in East Africa) as well as underpasses.
The USD 467 million project was jointly commissioned Friday evening by President Yoweri Museveni and China's deputy Premier, H.E Wang Yang who is in Uganda for a state visit.
The new expressway will significantly reduce the travel time for motorists to Entebbe from Kampala from 2 hours to only 30 minutes. In addition, it will decongest the existing Entebbe road which has become prominent for clogged and slow traffic flow.
While speaking at the commissioning ceremony held at the Mpala toll station along the expressway, President Museveni said the landmark infrastructure project is a symbol of China's enhanced support towards Uganda and Africa as a whole.
"The Chinese government haven't wasted time to come to support African countries, Uganda included. The Kampala – Entebbe expressway is as a result of that," he said.
"We are very grateful for the principled and precisive support from our friends in China," he added.
He noted that Uganda enjoys a mutually beneficial relationship with China, with the Chinese offering financial and technological support while Uganda provides vast market for Chinese products.
"This isn't a one sided relationship. Ugandans are also supporting China by buying massively from that country. In 2016 alone, Uganda bought USD 888 million worth of goods from China," said the President.
He urged China to leverage the potential trade partner that Africa as a bloc has become, particularly following the signing of the Africa free trade deal.
Government is planning to construct three other expressways including Kampala – Jinja expressway, Kampala – Bombo expressway and another that will link Kampala to the western route, said Museveni. All these will be toll roads.
On his part, Wang Yang expressed pleasure for commissioning Uganda's very first expressway whose opening he said "is a result of personal commitment of President Museveni, support by China and the hardwork of engineers and technicians on the project".
He described the project as a starting point of Uganda's economic take off adding that it will enhance the country's capacity of independent development.
"Kampala – Entebbe expressway is something to be proud of. It will shorten the travel time and will give Uganda wings to realize industrialization and its Vision 2040," he noted.
He pledged that China will further its economic cooperation with Uganda without any political strings attached.
Some of the key benefits of the expressway are the 15,000 annual jobs which were created for Ugandans during the construction in addition to enabling locals acquire technical skills for future such infrastructure projects.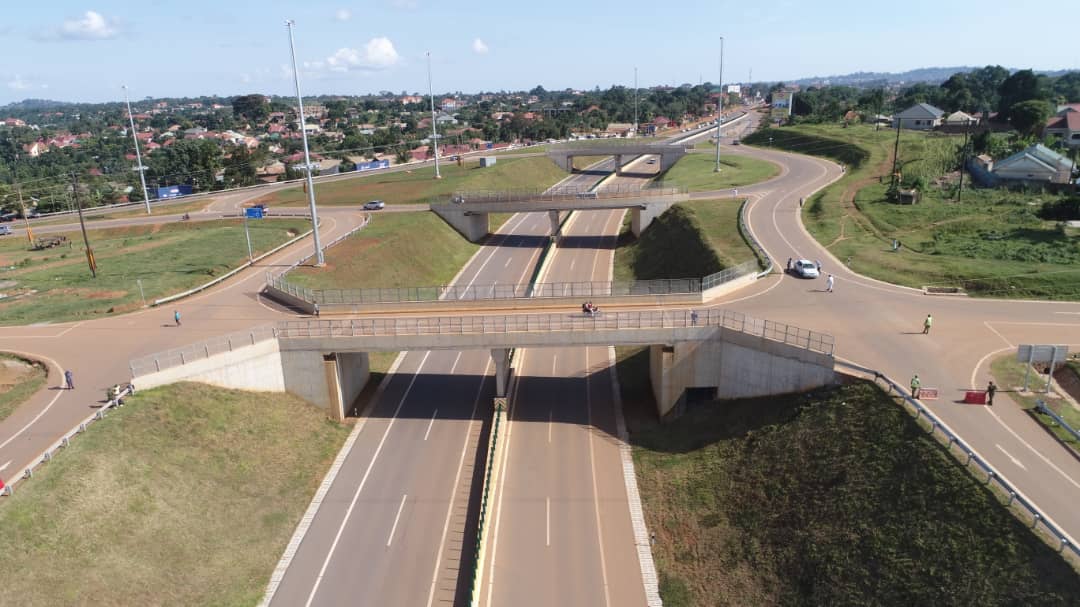 As part of its features, the expressway comprises of three toll stations; at Kajjansi, Busega and Mpala, as it is the first road to be paid for by motorists. It is through these tolls that government will manage to raise the revenue required to service the loan from Exim that funded its construction.
However, while the road has been commissioned, it is not yet opened to users as yet.
The State Minister for Transport, Gen Katumba Wamala explained that for the expressway to become operational, the Road Bill which provides the legal framework for paid-for roads needs to be enacted. However, the Bill is yet to be passed by Parliament.
"Road tolls are a new concept. But now we are going to have many toll roads and we need to have a law. And that's coming in the Road Bill. We have a provision legally toll roads," Katumba said.
Also, Uganda National Roads Authority (UNRA) has not yet contracted the entity that will be responsible for operating and maintaining the Kampala – Entebbe expressway. The Minister revealed that the process is in its final stages.
The other issue that needs to be addressed before the users begin to use the road is the technology for tolling, which Gen Katumba said hasn't been concluded on.
"Among the innovations we are considering is to have a card which the driver will show and automatically the bar goes up. All this is being studied by UNRA," he said.
Friday's commissioning was attended by the Speaker of Parliament, Rebecca Kadaga, Prime Minister Dr Ruhakana Rugunda, Ministers, First Lady, Janet Museveni, MPs, local leaders and the technical personnel that were involved in the project.