President Yoweri Museveni has expressed dismay at Ugandans who take advantage of government development efforts to loot the country.
Museveni yesterday mentioned names of people who have stalled government project such as roads, power lines and dams by demanding for exorbitant amounts of money in land compensation.
He  branded them as looters and extortionists, who he said the proposed amendment of Article 26 of the Constitution targets.
While appearing on Radio West in Mbarara, the president noted that while the market value of land in different parts of the country is known, these people make exorbitant demands for their land when they know that government needs it for its projects.
"You have a man like Charles Kahirwa in Ntungamo district. He delayed a power line project for three years; he wanted to be paid Shs 200million for each acre of land," Museveni said.
"His piece of land, moreover in a rural area, delayed the entire project for three years. Because of the delay the contractor fined government Shs. 19billion."
He said  he himself had firsthand information about the price of land in this particular area.
"I happened to have got some land there and they cheated me 100 percent because I am president. I heard that an acre was five million but the owner when he heard that I was the one buying, he asked for 12 million and I paid 12 million. In this same area, someone is asking for 200 million."
"The power line was coming from Jinja to Rwanda. By Kahirwa's land pricing, we would have paid 780billion in land compensation! What sort of a country is this?"
Museveni went on to name other individuals such as UPDF's Captain David Bashaija who also delayed a power project for three years demanding to be paid Shs. 800million for a piece of land valued at Shs. 240million.
Another Barnabas Kwesiga, Museveni noted, wanted Shs. 28billion from his 2.5 acres of land, while one Gedion Ndabagye, a staunch NRM supporter asked for Shs 17.5billion.
"On the Bujagali project, the people of Kakira Sugar Factory asked for Shs. 28billion. Everyone wants to be paid in billions and billions of money!"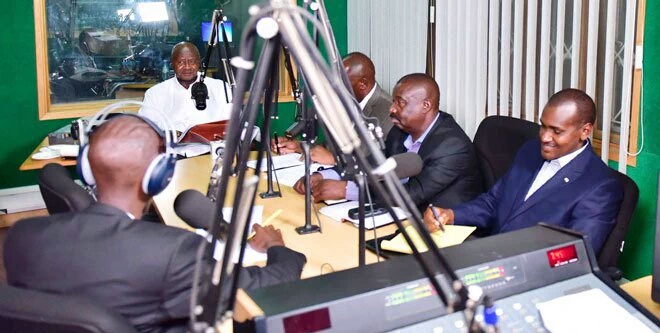 On the talk show, Museveni dispelled claims by opponents of the Land Amendment Bill that government is trying to take away people's land without proper compensation.
He noted that government always pays high and above the known market value for land during compensations.
"We add money for disturbance and other costs. The government valuation is always above the market price. There should be no argument on this," he said.
With the land amendment in place, Museveni said government will continue to pay fair compensation according to government valuation.
"But in case somebody is not happy with the valuation; they can appeal," he said.
"People who say that the law should be left as it is are wrong. We cannot sit back when people are looting and extorting government."
On the talkshow, Museveni was accompanied by Minister of Information Communication Technology (ICT), Hon. Frank Tumwebaze, State Minister for Housing, Hon. Chris Baryomunsi and Deputy Attorney General, Hon. Mwesigwa Rukutana