Former FDC President, Mugisha Muntu is set to kickoff his nationwide consultations in Hoima starting tomorrow, Monday amid attempts by his party to block him.
SoftPower News understands that Muntu was as of today already camped in the Western Uganda town and had met a few FDC leaders in the district.
After losing the FDC Presidential seat in November last year to Patrick Amuriat, Muntu announced that he would embark on nationwide consultations with party structures on issues affecting both FDC and the country at large, before making a decision on whether or not to leave the party.
Muntu acknowledged that FDC was faced with internal problems among them, incoherence, lack of; transparency, honesty and tolerance.
His decision to consult from the grassroots came amid speculation that he intended to quit the party to form another party.
"We need to discuss issues within the party and we don't intend to rush to make any decisions out of emotions or frustration. We must be careful about implications of the decisions we shall take," Muntu told a press conference in November.
The consultations had earlier been slated for December but were delayed for unknown reasons.
"We shall go back to what we were doing before the elections – building structures to empower Ugandans to take back their country," Muntu had said.
He said the discussion would also encourage party supporters to participate in Local Council elections and mobilizing pressure against the move by government to amend the age limit and land laws.
"Some feel that the undeniable issues in our party are irreconcilable but we need a frank open exhaustive discussion not just with newly elected leaders but all party members in Uganda," Muntu added.
But Muntu's efforts to conduct these consultations are meeting stong opposition from within his own party.
Four days ago, the FDC Secretary General, Nandala Mafabi ordered all FDC district officials not to allow activities that are not approved by the headquarters, to take place.
Although Nandala's communiqué did not specifically mention Muntu's upcoming consultations, it largely implied so.
In his letter dated January 10, Mafabi wrote to all district chairpersons and Secretary Generals instructing them that "anyone from headquarters or anywhere who intends to carry out an activity in your district in the name of the party should demonstrate that the activity was discussed by the FDC National Executive Committee".
"This is for purposes of harmonizing the party activities. All the activities of the party will be communicated to you by my office," added Mafabi who in 2012 lost the bid for FDC President to Muntu. The two have since had a fluid relationship.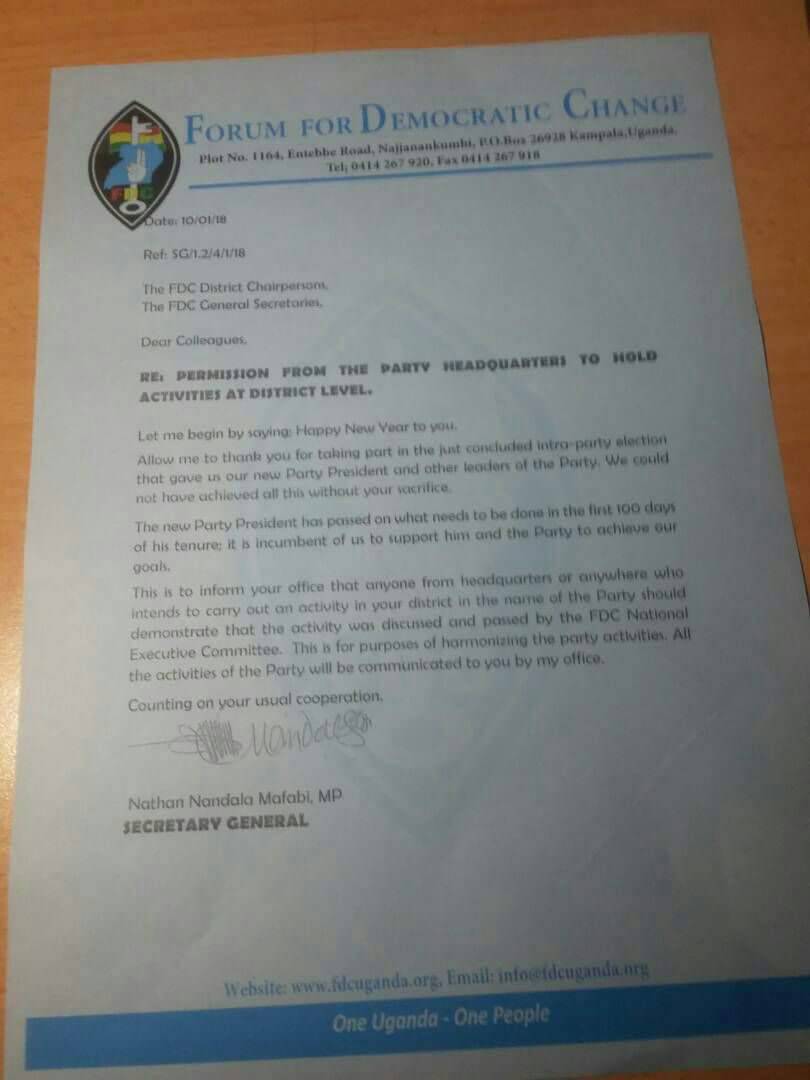 This further points to the deep rift that exists in Uganda's strongest opposition party and the attempts to isolate Mugisha Muntu whom a section of FDC's leadership disapprove for his 'soft approach' towards the ruling government. Others have accused him of being a mole whose motive is to weaken the party.
Among those opposed to Muntu's model of leadership is his predecessor, and Uganda's four-time Presidential candidate, Dr Kizza Besigye whom he (Muntu) recently openly slammed for undermining his Presidency.