The Uganda Investment Authority (UIA) Board of Directors Chairman, Morrison Rwakakamba, has made case for investors to invest in Uganda.
Speaking at the Afro-Indian Investment Summit, also a centennial celebration for the Indian Association in Uganda, Rwakakamba said Uganda has enjoyed political and economic stability for over 30 years, which has fostered a robust business and regulatory environment that facilitates joint ventures between Ugandan and foreign businesses.
He noted that this method combines context, on-the-ground experience, and expertise which strengthens businesses and expands global outreach.
"Investing in Uganda is attractive, profitable and provides significant benefits," he said.
Rwakakamba said that Uganda is strategically located in the heart of Africa, and, therefore, grants immediate access to a large and growing domestic market of nearly 45 million people and an estimated 300 million people in the EAC.
This combined market population includes the Democratic Republic of the Congo which recently joined the EAC, he said, adding, beyond the EAC, through COMESA, investors can access a market of over 700 million people.
The chairman told the congregation that through Uganda, one can access markets from the Indian to the Atlantic Ocean. "It is now the right time to access global markets and more specifically, the Indian market."
Globally, Uganda is enriched with a competitive tax and non-tax incentive regime. Uganda is guided by the triple bottom line of People, Profit and Planet.
Speaking at the same function, UIA Director General Robert Mukiza, noted that a key decision for an investor is the security of persons and property.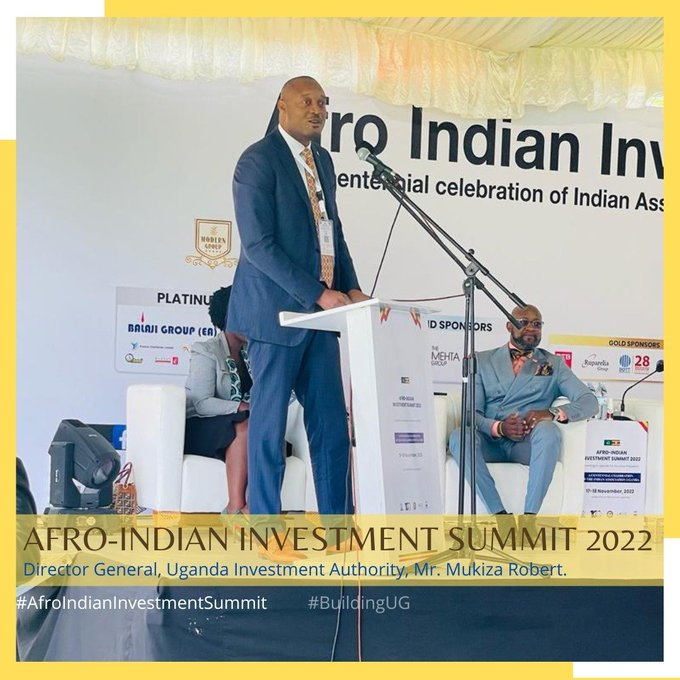 He noted that Uganda is a beacon of safety both for persons and property in the region.
He thanked the Indian Community for its support in Uganda and "for the investment that you have made in the last 100 years and on the trajectory that it is on. Thank you for that".
The Indian Association in Uganda Chairperson, Mohammed Rao, said the event to mark 100 years of the association, was meant to highlight the successes of Ugandan Indian businessmen in Uganda but also act as a platform for networking in anticipation of the undertaking of new ventures.
He said the NRM Government has created a good Conducive business environment, which in turn has encouraged investment.