The Police Director of Criminal Investigations (CID) Oketcho Isaac has issued summons to the Editors of daily newspapers Daily Monitor and Red Pepper for publishing articles on the ongoing contentious Age Limit Bill. Both articles published this week relate to the financial cost of the disputed constitution amendment.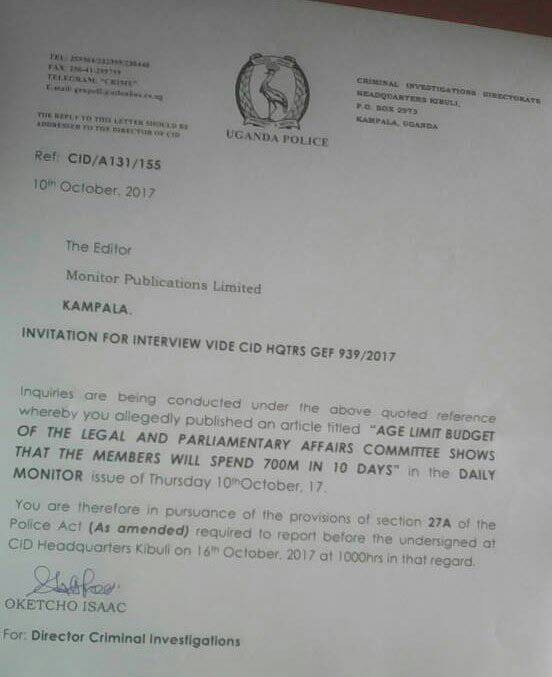 In its issue of Tuesday October 10, Daily Monitor carried a story titled "Age Limit Budget of the Legal and Parliamentary Affairs Committee Shows That the Members Will Spend Shs 700 million in 10 days".
It is this article that prompted Police's CID headquarters in Kibuli to write; "Inquiries are being conducted under the above quoted reference…. You are therefore in pursuance of the provisions of Section 27A of the Police Act required to report at CID headquarters Kibuli."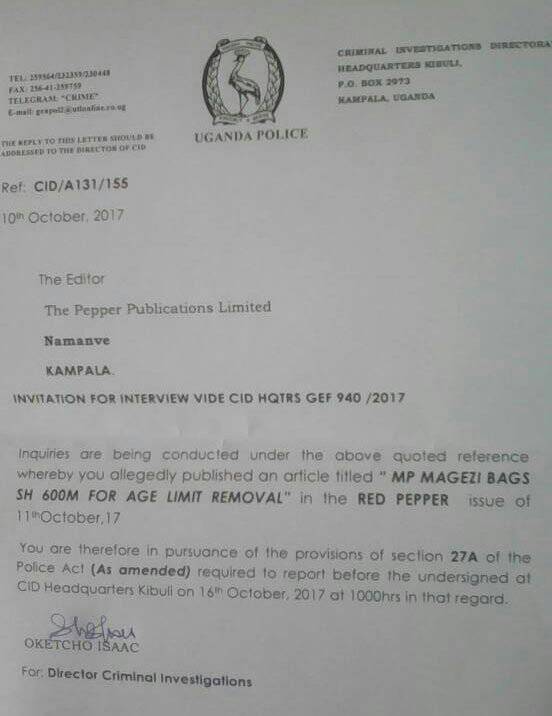 However the summons do not clearly explain what exactly the Police is investigating in the said article.
Similarly, the Editor of Redpepper Publications will appear at CID to provide answers in relation to an article that ran under the title "MP Magyezi Bags Shs 600 million for Age Limit Removal" published on Wednesday October 11.
Igara West Member of Parliament Raphael Magyezi is the chief architect of the Age Limit Bill.
Since the introduction of the Bill in Parliament, government has made several efforts to clamp down on media freedoms including; a ban by Uganda Communications Commission (UCC) on live broadcasting of Parliamentary proceedings. In subsequent days, a couple of media outlets received orders restraining them from giving platform to MPs who had been suspended from Parliament for opposing the Bill.
These actions according to government were measures aimed at preventing public incitement of violence by the press and political actors.
But the media through its umbrella body Uganda Press Freedom Network has since condemned the curtailments that threaten the credibility of the press in the public eye and abuse the cardinal role of journalism to inform the public.