Makerere University on Tuesday, March 8, 2022, celebrated its first five 𝐅𝐞𝐦𝐚𝐥𝐞 𝐆𝐮𝐢𝐥𝐝 𝐏𝐫𝐞𝐬𝐢𝐝𝐞𝐧𝐭𝐬 as the institution marked International Women's Day.
They are; H.E. Norah Njuba Bwaya (1987/88), H.E. Sarah Kagingo (1997/98), H.E. Susan Abbo (2007/08), H.E. Adeke Anna (2013/14) and H.E. Shamim Nambassa (2021/22).
"The change of our Motto in 1945 from "𝐋𝐞𝐭 𝐔𝐬 𝐁𝐞 𝐌𝐞𝐧" to "𝐖𝐞 𝐁𝐮𝐢𝐥𝐝 𝐟𝐨𝐫 𝐭𝐡𝐞 𝐅𝐮𝐭𝐮𝐫𝐞" ushered in a new era of advancement for our mothers and sisters," the oldest institution tweeted.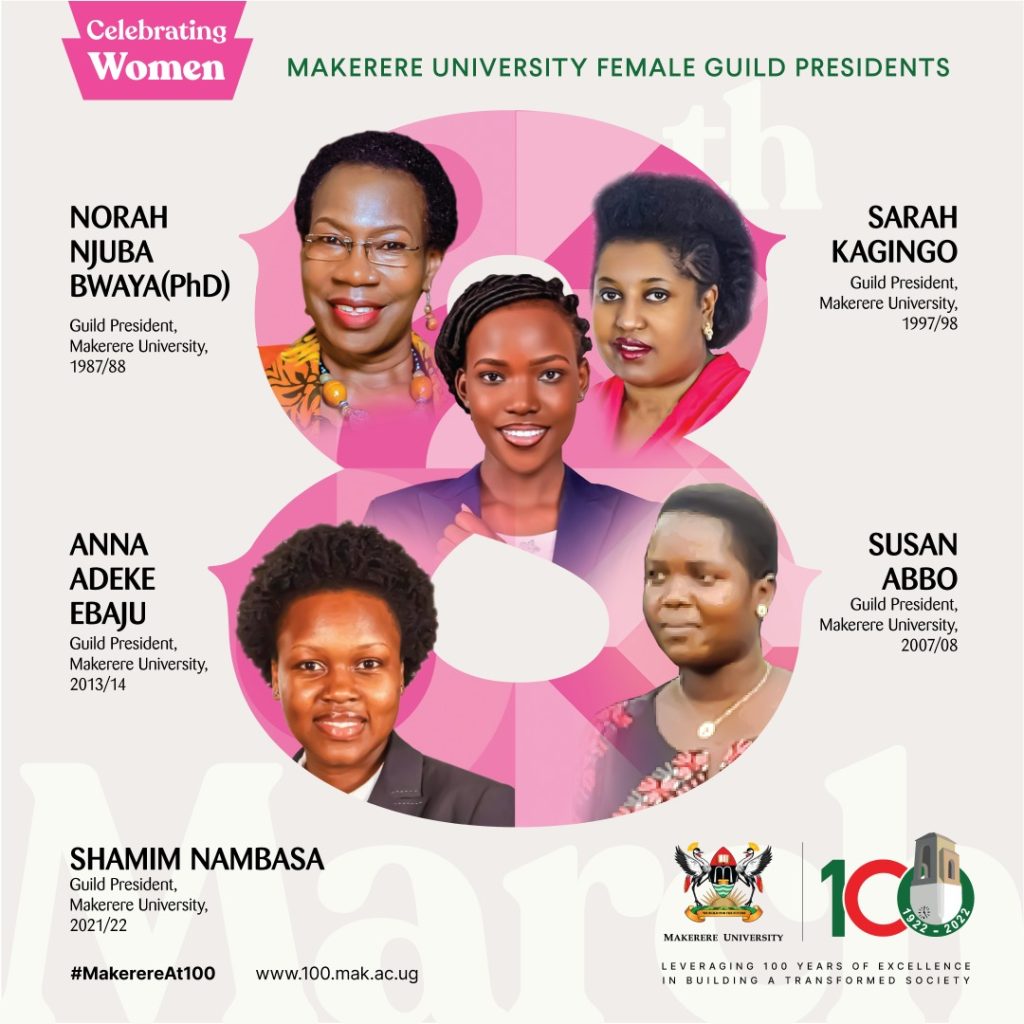 Since 1987, the Makerere University Students Guild has been privileged to be led by 𝐟𝐢𝐯𝐞 (𝟓) 𝐰𝐨𝐦𝐞𝐧, who have been truly committed to the support and promotion of the University's mission, vision and values.
Their legacies have inspired and will continue to remind females out there of the limitless possibilities and support that Makerere accords to help them achieve their dreams, the university said.
"The 5 Female Guild Presidents of Makerere University in 100 yrs. May our courage inspire a world of limitless possibilities for every woman. Thank you, alma mater, @Makerere, one of Africa's oldest universities, and alumni for enabling us. Happy #WomensDay!" Kagingo tweeted.