Drama ensued at Makerere University police station on Tuesday afternoon when FDC mobilizer Ingrid Turinawe and a group of students tried to steal a goat which is being held by police as an exhibit.
The white goat was arrested by police in November last year at the Makerere University main gate as Ingrid Turinawe tried to sneak it into the university for a fundraising event. The fundraising had been organized by opposition party Forum for Democratic Change (FDC) at the campus to mobilize funds required by striking lectures in order to reopen the university.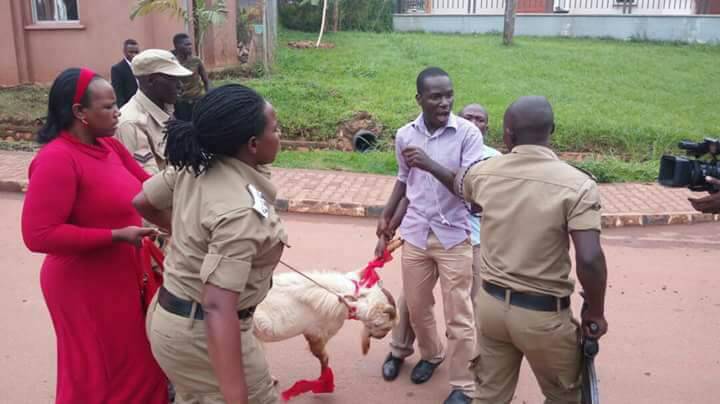 However, police foiled the event and Ingrid was arrested along with the goat.
Today, almost a year after the goat was detained, Ingrid Turinawe returned to Makerere to retrieve it but unfortunately, her efforts yielded no results as police reigned on her.
SoftPower spoke to the O.C Makerere University police station ASP Dennis Kasibante who said Turinawe was attempting to take the goat without following the correct procedure.
"The goat was arrested in November during a fundraiser when the university was closed. Since that time up to now, we have been keeping the goat at the station and procedure is – she was supposed to come, sign for the goat and take it," ASP Kasibante told this website in a telephone interview.
Apparently, Ingrid Turinawe had carried red ribbons with her which were later tied onto the goat. Opposition MPs have recently been adorning red ribbons to protest the proposed constitutional amendment to scrap the Presidential age limit.
ASP Kasibante said "she came in by force and wanted to grab the goat and take it."
"She came with a group of people, some of them students. So, as she was trying to confuse our officers, those people were tying the red ribbons to the goat."
"The goat is treated as an exhibit. She came in like a rebel. Things need to be done in a formal way not how people want them to be done," the officer further said.
On when the owner is likely to take back the animal, police says the matter is before court and the file is still in Wandegeya. "We can't release the goat until we get a release order from court."
No arrests were made according to the O.C station.
Asked whether Turinawe's attempt amounts to a crime, Kasibante said the Criminal Investigations Department (CID) has taken it up and O.C CID will soon summon her (Turinawe) to make a statement.