Makerere University Department of Literature Tuesday hosted the #MakerereAt100 Centennial Poetry Competition Award Event in honour of celebrated African poet, Prof. David Rubadiri.
Held at the Yusuf Lule Central Teaching Facility, the event featured live performances, readings, and recitations.
Prof. Rubadiri was and still is part of the history and experience of the Literature Department and Makerere University.
Speaking at the event, Prof. Josephine Ahikire, the Principal of the College of Humanities and Social Sciences (CHUSS), called it a great honour to be having yet another celebration as Makerere marks its 100 years.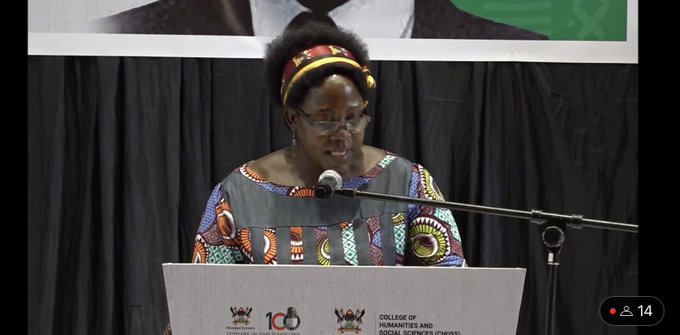 "This award event is one of those that will stick in the memory of those who are yet to come, reminding us of our great University anthem."
She went on: "At CHUSS, we are proud of this rich creative history. Seeing that the shortlisted poets come from all over the University makes it even more important. It shows that humanities are important across all spheres." Prof. Ahikire said the department honoured Prof David Rubadiri to remember that he was part of Makerere's story and "therefore, we are compelled to tell of his contribution to Creative writing, Theatre and Literature at Makerere University".
Prof. Henry Alinaitwe, Ag. Deputy Vice Chancellor of Finance and Administration said Literature plays a great part in this building of heights.
"As part of our vision for building for the future, having students at the centre of what we do is an important milestone if we are to soar to the heights as a University."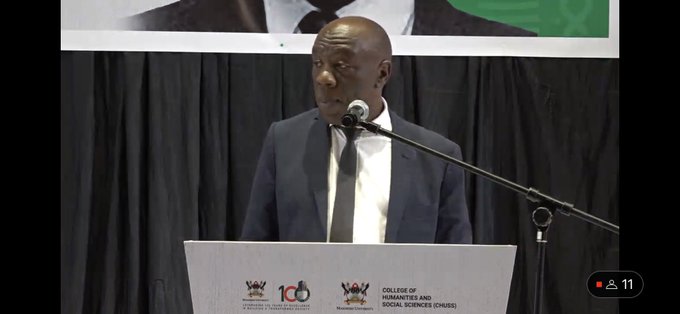 He added: "It also is a celebration of talent, resilience and the engagement we have with the world out there. I have been informed that students from all over the University were involved in this competition. This shows how students are interested in the University and are willing to believe in the power of arts to celebrate, nurture and build for the future."
He said as management, they are committed to supporting student-centred events.
"Most of all, we commit to keep Makerere's name high in light of the humanities and social sciences and their place in the academy not just at Makerere, but the world over."
Dr. Sauda Namyalo, the Dean School of Languages, Literature and Communication, said the Centennial Poetry Competition is one of their indelible marks on #MakerereAt100.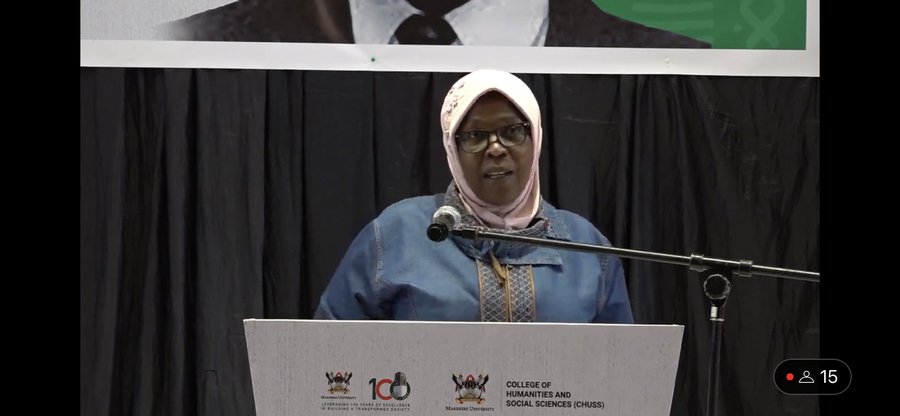 "In it, we rejoice with the Department to show our face in the University. As a School, we are proud of these achievements, and know that there is a lot more to come."
She added: "We thank the family of Professor Rubadiri for making time to come witness this event. It is something we do not take for granted as a School. It shows you still cherish the place he called home for very many years. Thank you so much."
Prof Abasi Kiyimba, a Professor in the Department of Literature, said "Rubadiri was a Makererean.. as Makerere, we rose as he rose".
Natasha Rubadiri … the true legacy is not what you leave for people.. it is , rather what you leave in people. Great lesson from a Dad @MakerereCHUSS @MakLiterature pic.twitter.com/jcFwmMSrRF

— Josephine ahikire (@Josephineahiki1) December 20, 2022
The poet's daughter, Natasha Rubadiri, said "the true legacy is not what you leave for people.. it is, rather what you leave in people.  Great lesson from a Dad".
Prof. Susan Kiguli used the opportunity to recite the "Hill of History" to honour Prof Rubadiri. "Hill of intellect Makerere. This Hill Builds for the future…"
James David Rubadiri lukin Hendricks was a Malawian diplomat, academic and poet, playwright and novelist. Rubadiri is ranked as one of Africa's most widely anthologized and celebrated poets to emerge after independence.
Prof. Susan Kiguli recites Hill of History.. Hill of intellect Makerere. This Hill Builds for the future.. Honouring Prof. Rubadiri @MakLiterature @MakerereCHUSS pic.twitter.com/RqNmUh0T1J

— Josephine ahikire (@Josephineahiki1) December 20, 2022