Makerere University Department of Journalism and Communication has launched two new Master of Arts (MA) graduate programs.
They are; a Master of Strategic and Corporate Communication and a Master of Journalism and Multimedia.
The National Council for Higher Education (NCHE) recently approved two new Master of Arts (MA) programs at the Department of Journalism and Communication at Makerere University.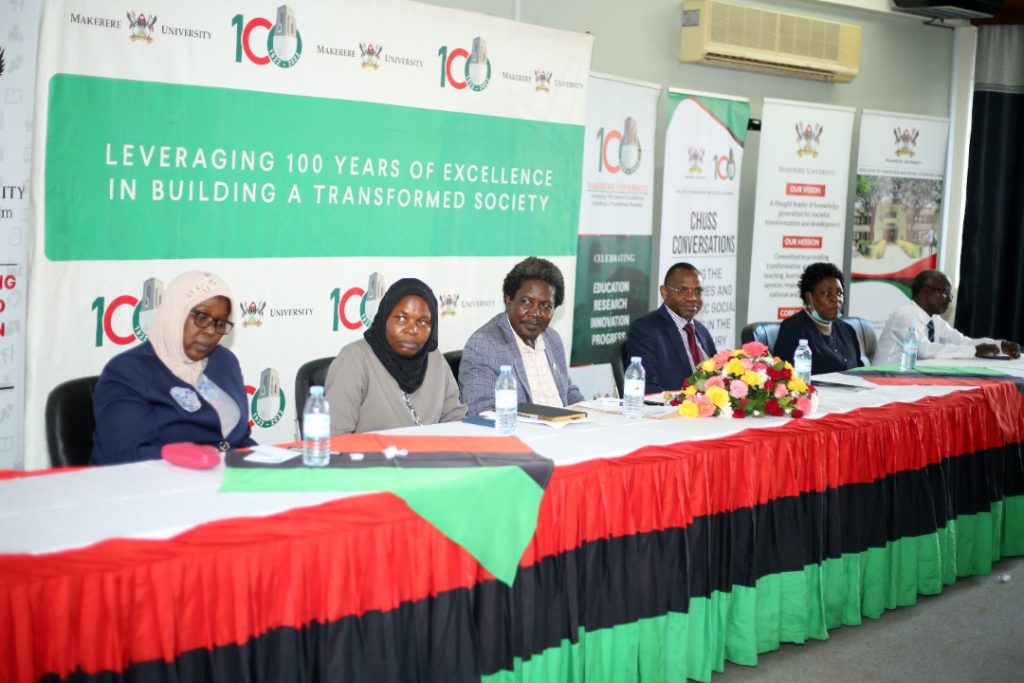 The Department officially unveiled the two programs on Thursday, October 20, 2022, at Makerere University in the Telepresence Conference Hall, Senate Building.
The Master of Strategic & Corporate Communication will offer courses which include Communication for Development, Social Media Management, and Health & Environment Communication, among others.
Dr Aisha Nakiwala Sembatya, the Acting Head of the Department of Journalism and Communication, said the department is currently recognized by the United Nations Educational, Scientific and Cultural Organization (UNESCO) as a centre of journalism practice in the region.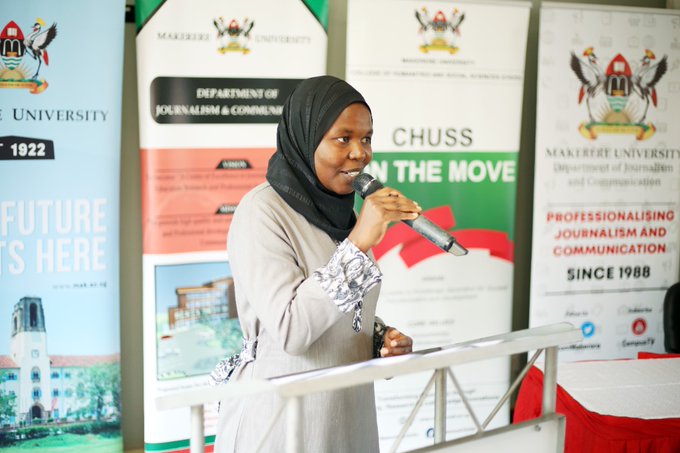 "Our graduates will be able to compete favourably in the Journalism and Communication sectors of work," she stated.
"We are proud to have 13 PhD holders amongst our staff at Makerere. We also want to turn into a School of Journalism and Communication in the next 5 years. We intend to also establish a Television station and Multimedia studio," Nakiwala revealed.
Dr Saudah Namyalo, Dean of the School of Languages, Literature and Communication, said: "I believe that in the next two or three years, we shall have close to 18 M.A programs running in the School of Languages, Literature and Communication. This is in line with the university's vision of being research-led."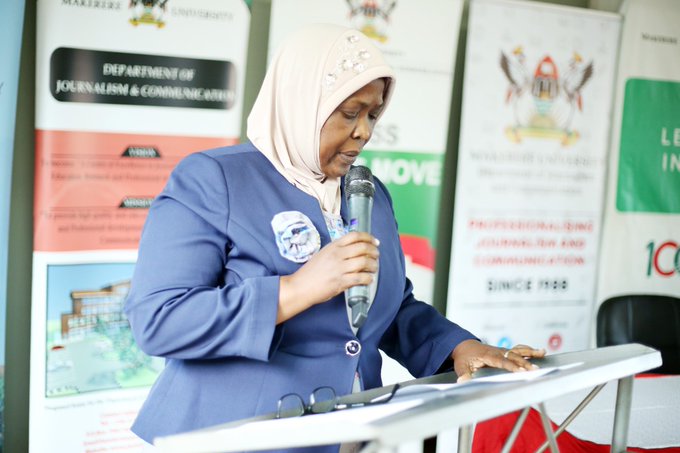 Prof. Patrick Mangeni, the Principal College of Humanities and Sciences, said he was glad to be hearing that there is a commitment to ensure that students graduate within the scheduled time.
"Universities outside complete these courses in one year and there is no reason why we shouldn't do the same" – Prof. Mangeni noted.
He said Uganda is working towards socio-economic transformation under the National Development Plan III and that Strategic Communication serves to translate all these aspirations to reality to break it down for the consumption of the everyday person.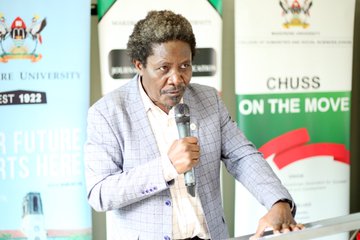 Prof Umar Kakumba, the Deputy Vice-Chancellor (Academic Affairs), congratulated the Department of Journalism and Communication on the visible milestone of introducing two Masters Degrees that speak to the contemporary means of society.
He said the two programs are timely and tailored towards imparting practical skills and specialized knowledge.
He said the field has evolved from traditional journalism to cutting-edge communication.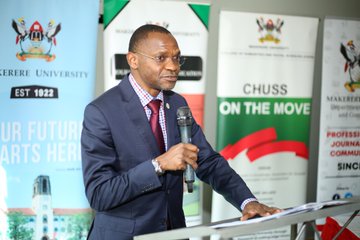 He said Makerere University is at the threshold of becoming a research-led institution and aims to build a community of highly trained researchers and professionals.
Speaking during the launch at the Telepresence Conference Hall in Senate Building, Dr Adolf Mbaine, a senior lecturer, said he was pleased to witness the launch of the Master of Strategic and Corporate Communication.
Dr. Mbaine, one of the longest-serving lecturers in the Department of Journalism and Communication, saluted Sarah Kagingo, who served as a President of the Public Relations Association of Uganda (PRAU), for active participation during the development of the Master of Strategic and Corporate Communication program.
"Sarah Kagingo kept filing petitions saying PRAU needed a program at the post-graduate level. We thank her for her efforts," said Dr Mbaine.
Kagingo, the second female Guild President of Makerere University (1997–1998), graduated from the prestigious institution with a Bachelor of Library and Information Science. She is now one of the few pioneers of this new graduate program.
Speaking at the launch ceremony, Gloria Sebikari, the Manager of Corporate Affairs at the Petroleum Authority of Uganda and a proud alumnus of the Department of Journalism and Communication, said for communication to be strategic, it must always be linked to the mission and goals of the organization or the aspirations of the country.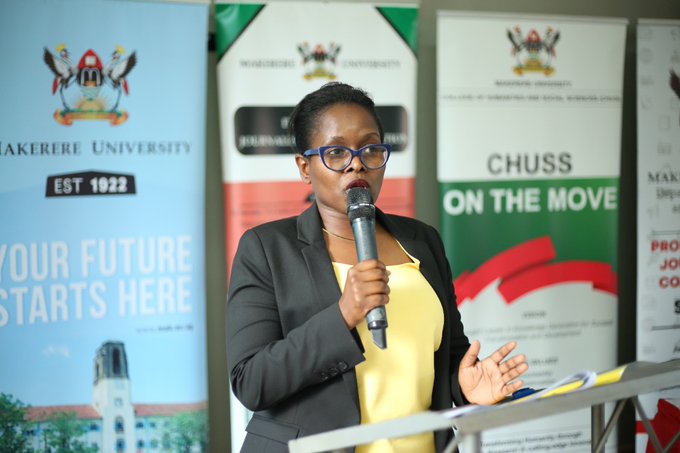 She said strategic communication is key in enhancing corporate communication at a strategic level. "Technology has changed the landscape of communication and we should be able to adjust and use new media to complement our communication," she noted.
She cited other key areas in addition to Strategic Communication as; Public Diplomacy and Environment and Social Governance (ESG).
According to her, Strategic Communication should address issues of information gaps, misinformation and disinformation. "It is important to also link classroom learning to current day work realities."
While delivering his keynote speech, Dr George Lugalambi, the Executive Director of the African Centre for Media Excellence (ACME), said the transformative nature of the technology dictates that journalists are not the first to break news and they should therefore be more intentional on telling & wrapping up the story."
"A journalist worth his/her salt must be obsessed with verification. Newsrooms should strive to do away with journalism sourced from 'he said, she said' which is always easier to fall back on," he noted.
"As a journalist today you need to be a curator of information. We need to maintain the journalistic values of news gathering, packaging and dissemination with the involvement of technology."
While commending Kagingo for being among those who have built trustworthy news platforms, Dr Lugalambi said journalism that weighs on negativity and bad news is detrimental.
"We need to strike a healthy balance in our journalistic work. We shouldn't treat Journalism as a fetish. We should continue to uphold the core values and principles of the profession," he added.