The elective 93rd FUFA Ordinary General Assembly held on Saturday 5th August, 2017 at Kabalega Resort Hotel in Masindi, with a total of 83 FUFA delegates.
Also, all the FUFA staff, officials from global and continental football governing bodies FIFA and CAF respectively, National Council of Sports, Ministry of Education and Sports, different republic of Uganda government leaders, Media and various witnesses and observers from all over Africa, successfully graced the colourful assembly.
FUFA president Eng. Moses Magogo Hassim after going through the statutory requirements of an annual ordinary general assembly, he presented his communication to the congress where he expressed appreciation to the different football stakeholders and took the congress through his strategic working plan for his second term of service in the office of FUFA President.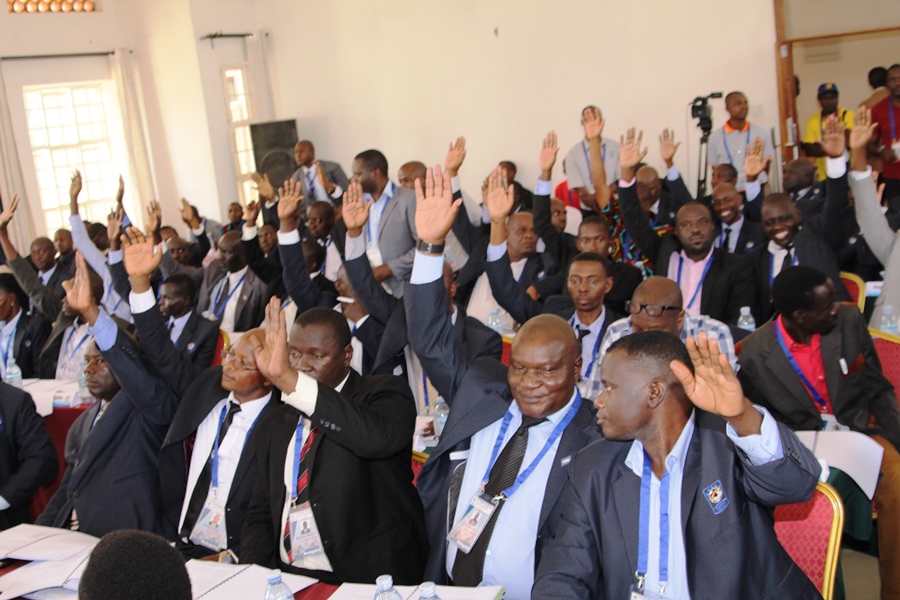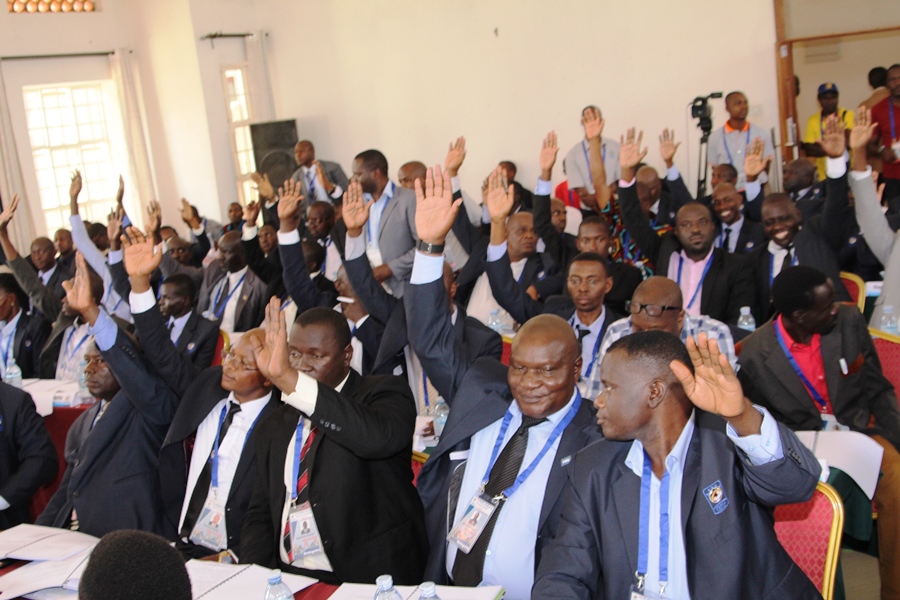 "I thank the FUFA delegates for honouring our invitation and their diligent efforts in service of the game football, the parliament and government of the republic of Uganda for their financial support Rt. Hon. Rebecca Alitwala Kadaga particularly, FIFA and CAF for recognising the Federation's efforts streamlined towards developing the game of football in Uganda without forgetting the tremendous job done by the fourth estate in availing on time updates to our people at the grass roots particularly those who report as ethically required."
He added: "I also take the opportunity to applaud the FUFA legal team who have seen many cases applied against FUFA dismissed lately, we knew this moment would come and took a swift brave decision of having a full-time legal manager at FUFA."
FUFA president hinted on the problems faced by the federation and appealed the government to intervene.
"The Federation is faced with a number of problems in running the game ranging from betting, match fixing, lack of effected commercial laws amongst others and I appeal to the government to intervene and get these problems solved. Special recognition goes to Adoko Nekyon former 1968 FUFA president when the Uganda football league was introduced, Bernard from Ecobank, USPA president Sabbiti Muwanga amongst other vital individuals," FUFA president added.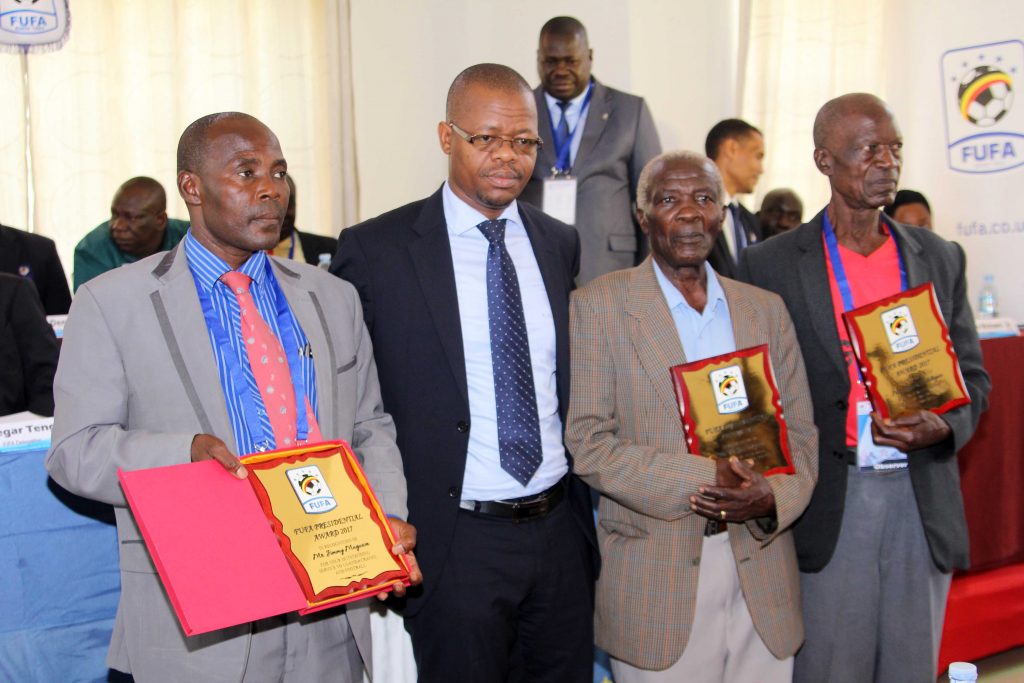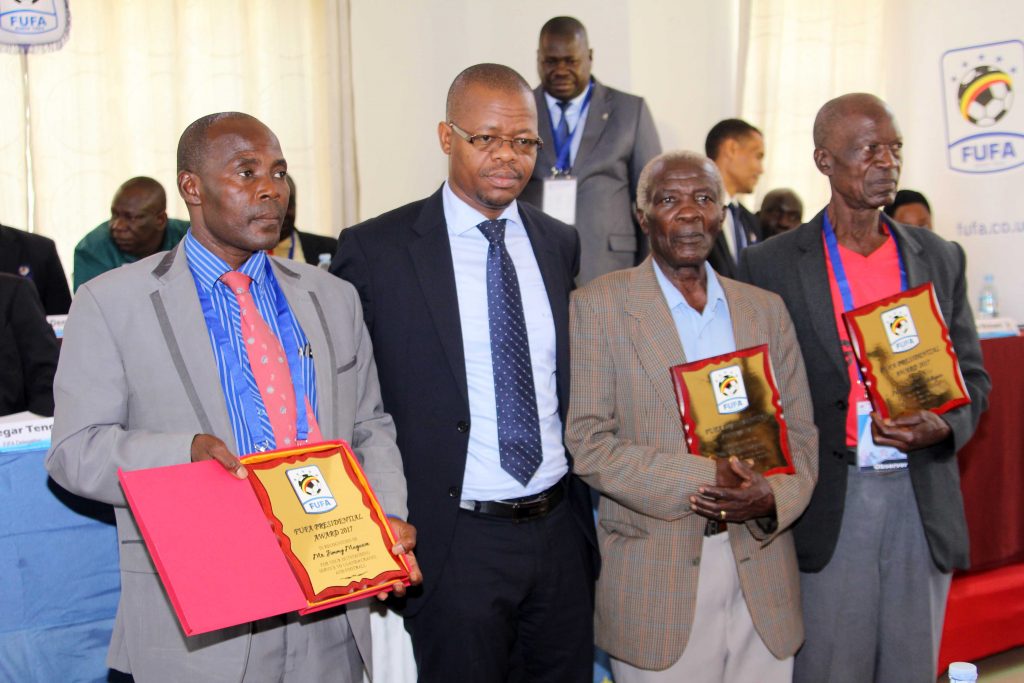 Every delegate is entitled to a republic of Uganda passport and free access to Uganda Cranes matches, Delegates are all entitled to watch free of charge all Uganda Cranes home games.
All the 88 delegates will at least get an opportunity to travel with Uganda Cranes away matches with sitting allowances doubled from 0.5 Million to one million with effect from 2018 financial year and summits will be staged to discuss football matters.
Eng. Moses Magogo Hassim hinted about former Uganda Cranes tactician and head coach Milutin 'Micho' Sredejovic's situation before welcoming Dr. Bernard Ogwel who conveyed the message on behalf of National council of Sports, Ministry of Education and Sports and the government of the republic of Uganda.
"The market and economic competition on the continent could not avail us room to retain him even when FUFA offered to double his salary," said FUFA president Eng. Moses Magogo Hassim.
"Formulation of physical activity sports bill is on its course and a committee is in place, this will ensure sports is given a priority to blossom in Uganda and, football in particular. I thank FIFA and CAF for supporting the development of the game of football in Uganda and ask FUFA through FUFA president to see Uganda Cranes gel at the continental level and the government is ready to support you in anyway. I also the efforts of the media in bolstering football development because, they play a vital role in taking the game to our people to the ground level possible," Dr Benard Ogwel, who represented the National Council of Sports and Government noted.
CAF representative and Chairman CAF referees committee, CAF Executive member and Djibouti FA president Mr. Soleman Waberi couldn't wait to express how he feels being in Uganda.
"I am very happy being here, I really feel at home, Uganda is my second home where have been as a CAF instructor, Match assessor amongst other responsibilities, CAF president is proud of FUFA's tremendous job done towards football growth and development, he's by far pleased with the trend taken under the stewardship of FUFA president Eng.Moses Magogo. CAF president is proud of you," said CAF representative Soleman Waberi.
FIFA representative, Honorary chairman CECAFA and former president Tanzania football federation Mr Leodega Tenga on addressing the congress applauded FUFA's hospitable reception and vowed on behalf of FIFA to facilitate football development in Uganda.
"We were warmly received and welcomed with open arms on arrival in Uganda, I thank FUFA for the hospitable reception. I personally follow every move by Uganda FA streamlined towards football development and reliably aware of their tireless efforts geared towards the cause. I only urge FUFA to continue the good work, CAF and FIFA altogether will continue to avail all the necessary backing and support," FIFA representative Leodegar Tenga remarked.
The 93rd FUFA ordinary General Assembly involved reading the audited books of account as at 31st December 2016, the previous FUFA's financial year and approval of the FUFA budget presented to the congress by FUFA finance director Kiiza Decolas, whose passing was a motion proposed by Mr. Ngobi Jamal and seconded by Tabu Santos and Kiiza from Kitara region.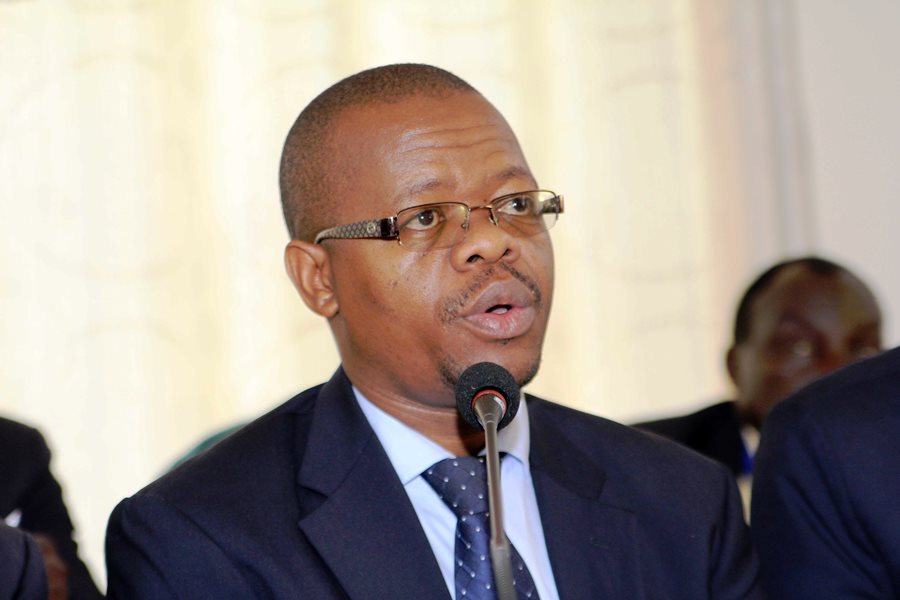 FUFA president Eng. Moses Magogo recognised Uganda Cranes' legends Baker Kasigwa (1956), Francis Kulabigwo and Jimmy Mugwa with (1978) with Plaques and Shs 1million each.
Then the FUFA electoral committee took the August assembly through an electoral process where incumbent FUFA president passed unopposed for another four (4) years of service of the amazing game football in the office of FUFA president.
The FUFA President tallied 69 votes out of the 72 total number of votes cast. 2 were invalid and 1 against.
Florence Nakiwala Kiyingi was voted third Vice president with a total of 64 votes, 7 against and 1 invalid.
Express Chairperson, Florence Nakiwala Kiyingi shortly after being voted as 3rd Vice President
The new executive committee officially takes office on 31st August 2017.