Clad in white and black, Madoxx Sematimba awakened the Ugandan reggae roots among the revelers with performances to his timeless jams at the Bell-sponsored Roast and Rhyme Reggae Raga edition at Jahazi Pier Munyonyo.
Dembe, loosely translated as peace, kick-started his live performance with his band, getting most of the attendees at the front to catch a glimpse of the Ugandan reggae icon, not forgetting to record the performance.
To differ from the usual, revelers didn't wait long for the main act as Madoxx came on stage a few minutes to 9pm, and delivered a wholesome hour-long performance to his considerably lengthy songs which left the crowd contented.
He was later joined by Benon and Vampos for a short freestyle session, summed up by everyone's old-time favorite Namagembe.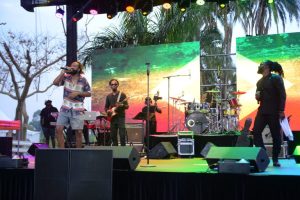 Commenting on the event, Bell Lager representative Justin Agaba noted that as the main event sponsor, Bell Lager is, and will always be excited to be part of the picnic-themed Roast and Rhyme experience to unpack Mpola enjoyments to consumers as they deliver an unforgettable experience at the event.
"Bell Lager, once again presented the Mpola park with some laid-back board games, cards, a comfortable seating area, and a cocktail bar for convenience to consumers during the experience," he said.
This edition which doubled as the 17th edition of Roast and Rhyme also featured performances from Double Black band, Rickman Rick, and Nutty Neithan including a surprise appearance from Bella, Njagala Faasi!
For an anticipated live music experience, not even the dark clouds could stop the reggae at the recently concluded Roast and Rhyme Reggae Raga Edition, last Sunday.