Having had an overly successful 2018, it seems Ugandan gospel musician, Levixone is still counting his blessings and 2019 has begun on a high note already.
His 2018 release 'Turn the Replay' got major airplay on radio, TV as well as popular hangouts in Kampala and he would later make history when he staged his concert at the Lugogo Cricket Oval. The vast cricket pitch had become a monopoly of either international singers or the local big names, especially those that do secular music, until he set a new record.
The same concert earned him, a Mercedes Benz, a gift he got from a colleague.
Now, two months into the new year, the singer has landed a collaboration with internationally acclaimed American gospel singer, Don Moen. The two were in studio on Thursday and recorded a song, Levixone confirmed.
Don Moen, 68, arrived in Uganda on Wednesday ahead of the Kampala Praise Festival at Kololo Independence Grounds on Friday where he was the headlining act.

Levixone happened to be among the entourage that picked the 'God Will Make a Way' singer at Entebbe airport. It appears, it was that very moment that Levixone leveraged to get Don Moen, a musician he says inspired him a great deal while growing up, into studio.
The former street hustler who grew up in the slums of Kosovo in Lungujja later posted that Don had told him he was interested in the duo collaborating.
"'We need to do a Song together'. Levixone said in a post quoting Don Moen. I tell you, I have grown up in church worshiping to his songs , little did I know that there will come a day when  I will be standing in front of him Don Moen. Whom am I Levixone?" a seemingly excited Levixone wrote.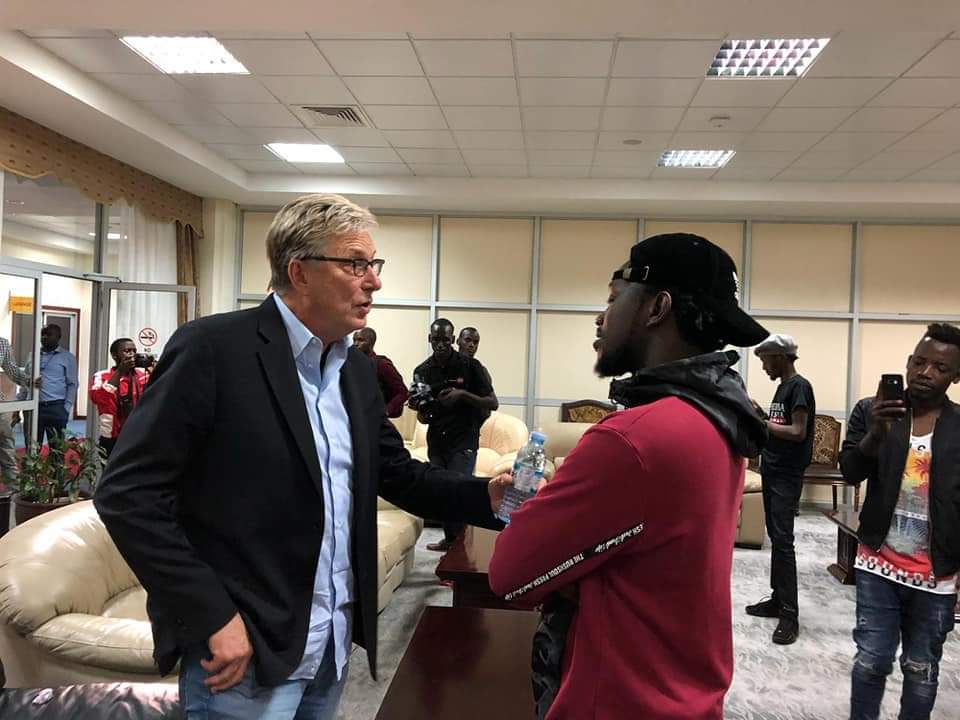 On Thursday he confirmed while performing at the weekly comedy show, Comedy Store, in Lugogo, that he and Don Moen had been in studio.
"It started yesterday when we picked Don Moen from the airport. It happened. Right now, I have just come out of studio and things are working out," Levixone told the audience at Comedy Store Thursday.
At a news conference held prior to the Fest, Don Moen had said "we have come together with the same heart and the same vision, to uplift the name of the Lord in praise, in this great nation". He added that "we believe that when we do, God will visit us".
After the Kampala Praise Fest, the 'Noonya Omu' singer joined Don Moen on his first trip to Rwanda where they performed.
Don Moen is an American singer, songwriter, pastor and producer of Christian worship music. His music career spans over three decades.
The Dove Award winner has written over 100 songs, recorded numerous albums and toured the world to earn global acclamation. His first album under his own name, Worship with Don Moen, was released in 1992.