Gianni Infantino and President Paul Kagame were present as Rwanda became the latest country to follow the FIFA President's call for every member association to name a stadium after Pelé, following his passing in December 2022.
President Infantino made the call for the global football community to join together in solidarity to forever remember the three-time FIFA World Cup™ winner earlier in 2022 – and at the inauguration ceremony in Rwanda, gave a speech to acknowledge the gesture.
"I would like, sincerely, to thank you from the bottom of my heart that we are currently here in this beautiful stadium, which is, as we see, the name of the Kigali Pelé Stadium," the FIFA President said.
Mr Infantino continued: "Pelé is football, Pelé is the world, Pelé left us much too early, but Pelé is always with us. He is with all of us, all those who love football, and it is so important that every girl and every boy all over the world can remember who Pelé was. So, thank you for this great gesture, to name this beautiful stadium after Pelé, and congratulations again."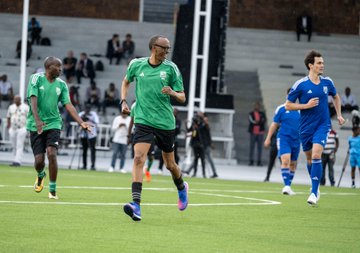 Rwanda follows the examples of Panama, Colombia, Cape Verde and Guinea-Bissau in taking up President Infantino's call to recognise the game's first true global icon.
In January 2023, FIFA also announced that the Home of FIFA football pitch is to be named after Pelé. The newly named 'Kigali Pelé Stadium' has recently undergone a large-scale renovation project.
With the work on the stadium itself funded by the government of Rwanda. Meanwhile, FIFA contributed funding for the upgrade of a brand-new pitch.
President Infantino ended his address by praising the work carried out by President Kagame and his government. "I have been in this stadium some years ago, and the transformation of the stadium is incredible," the FIFA President continued.
"I know there are many more projects here in Rwanda to boost football and to develop football. "Dear President, thank you very much, we will have time to play football, we will have time to speak about football; we will meet today, tonight, tomorrow, and I'm sure everyone who is here will come back to Rwanda with their families, with their friends, because they saw the incredible, incredible warmth of this beautiful country."
Source: FIFA