Kenyan marathon King Eliud Kipchoge notched up a record fifth victory at the World Athletics Platinum Label road race in the German capital on Sunday (24).
The distance running legend won by 31 seconds in 2:02:42, the fifth-fastest time of his illustrious career.
Kipchoge may not have improved on his own world record, but he added to his legacy on the streets of Berlin by achieving a record fifth win, clocking 2:02:42.
The two-time Olympic champion eventually won by 31 seconds, but for most of the race he had company in the surprising form of Ethiopia's Derseh Kindie.
The duo made an early break from the rest of the field, reaching 5km in 14:12 with a 15-second margin over the rest of the elite men. By 10km, reached in 28:27, they were operating at exactly 2:00:00 marathon pace and more than half a minute ahead of the seven-man chase pack.
Kipchoge and Kindie continued to run together at world record schedule through the half-way point, reached in 1:00:22, but the pace started to drop soon after.
By the time they got to 25km (1:11:48), they were no longer on schedule to break Kipchoge's record of 2:01:09 set last year in Berlin.
But records weren't Kipchoge's main concern; he had company in the form of a relatively unheralded runner up to 30km (1:26:25), so his attention was primarily on securing victory.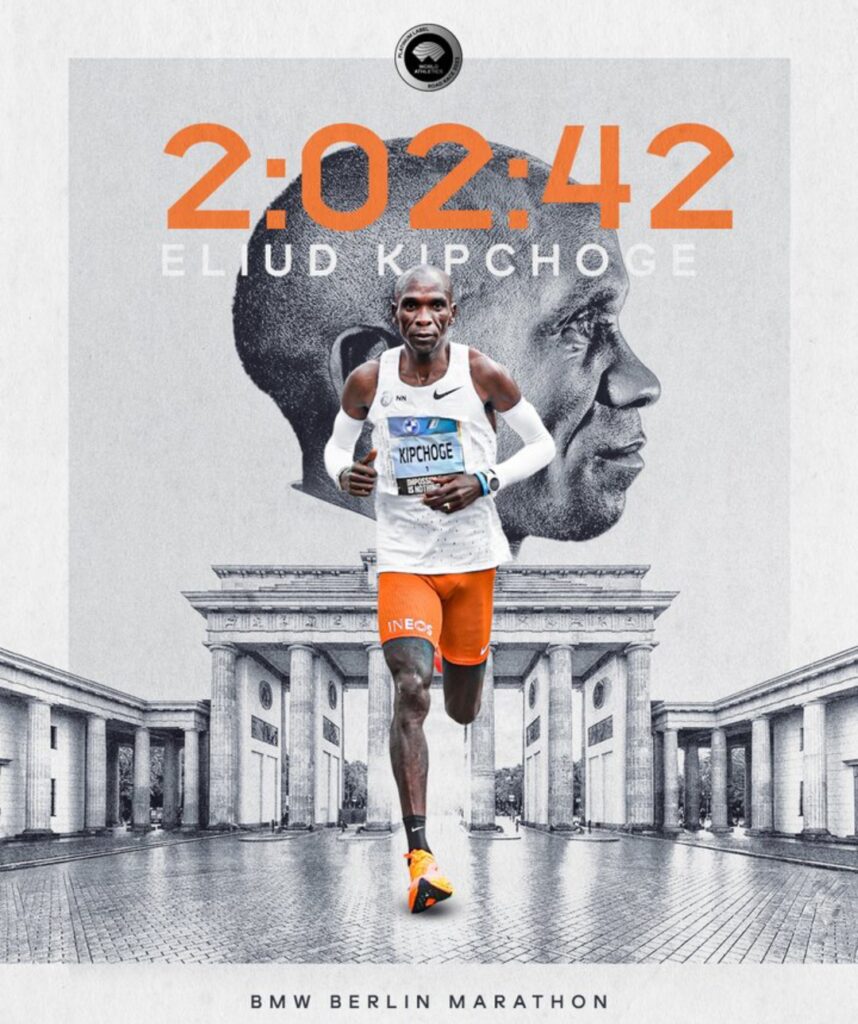 At about 31km into the race, Kipchoge increased his tempo and, with a cursary glance over his shoulder to see if Kindie was able to follow, knew it was enough to see off his opponent. The Kenyan great was alone in front at last, while Kindie continued for another minute or so before stepping off the course.
Kipchoge still had more than 10km to go, but his lead was comfortable and his form was controlled and relaxed. He went on to win in 2:02:42, while a fast-finishing Vincent Kipkemoi came through to take second place in 2:03:13. Ethiopia's Tadese Takele was third in 2:03:24.
A record nine men finished inside 2:05 and 15 finished inside 2:06, making it the deepest men's marathon in history. There were national records for Germany's Amanal Petros (ninth in 2:04:58) and Switzerland's Tadesse Abraham (11th in 2:05:10).
Leading results:
Men
1 Eliud Kipchoge (KEN) 2:02:42
2 Vincent Kipkemoi (KEN) 2:03:13
3 Tadese Takele (ETH) 2:03:24
4 Ronald Korir (KEN) 2:04:22
5 Haftu Teklu (ETH) 2:04:42
6 Andualem Shiferaw (ETH) 2:04:44
7 Amos Kipruto (KEN) 2:04:49
8 Philemon Kiplimo (KEN) 2:04:56
9 Amanal Petros (GER) 2:04:58
10 Boniface Kiplimo (KEN) 2:05:05
By World Athletics