KAYUNGA – Police has said that it intends to dig up the yard near a witchdoctor's shrine in Kisoga Village, Nazigo Sub-county, Kayunga district with hopes of exhuming three more bodies suspected to have been buried there.
This comes after security agencies including Chieftaincy of Military Intelligence (CMI) and Police in an operation on Saturday dug up five bodies which are suspected to have been murdered and buried by Owen Ssebuyungo, a witchdoctor. Ssebuyungo, 27, together with three other witchdoctors have since been arrested.
The other three are Juniro Kibuuka, Fred Kiiza Semanda and Muhammed Wamala.
The yard where the body were recovered had been cemented with concrete, according to Police.
Kampala Metropolitan Police Spokesperson, ASP Luke Owoyesigyire said on Monday that Police is still searching for three other bodies also believed to be burried at the site.
A suspect (Ssebuyungo) confessed to security that a woman whose whereabouts CMI had been investigating, was buried near his shrine. He had been arrested by CMI in connection with the disappearance in May of a one Zulayika Mirembe.
Upon interrogation, Ssebuyungo led security to his shrine where Mirembe's body along with others were recovered.
When another of the suspects, Wamala (witchdoctor who works closely with Ssebuyungo) was apprehended on Sunday, he revealed that he had carried eight bodies in total to the burial area. It is his revelation that has now led Police to continue the search for the remaining three bodies.
Police now is in the process of using bulldozers to exhume the remaining bodies suspected to be women.
"According to the statements by Wamala, he alleges that he ferried eight women. So we suspect there could be other bodies in that same place which we haven't reached," ASP Owoyesigyire said.
"We are yet to get a bulldozer so it does further digging. May be, we shall get other bodies," he added.
He said that the four suspects in custody face murder charges.
The five bodies which were exhumed over the weekend had one female and four males.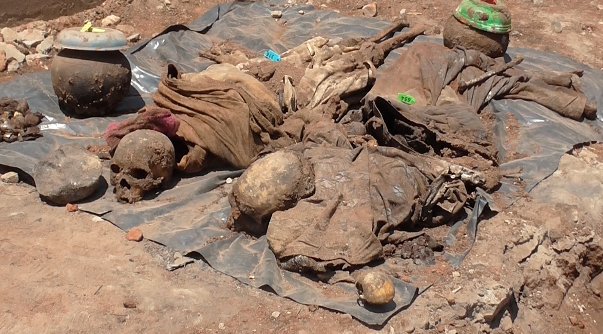 The Naggalama Division police commander in Mukono, Jesca Naawe told Daily Monitor that each body was buried with a Shs 5,000 note.
Police also recovered spears, and pots containing what is suspected to be human blood.
The bodies are currently at Mulago hospital where DNA testing is being conducted.
Meanwhile, Owoyesigyire has called on members of the public who could have had cases of missing persons to reach out to Police and assist in identifying the bodies.