The Katikkiro (Prime Minister) of Buganda, Owek Charles Peter Mayiga, has paid his respects and signed the condolence book in honour of former Speaker, Rt Hon. Jacob Oulanyah.
Katikkiro Mayiga was Friday morning received by the Speaker Rt Hon Anitah Among, Deputy Speaker Rt Hon Thomas Tayebwa, the Leader of the Opposition, Mathias Mpuuga, and several ministers and Members of Parliament.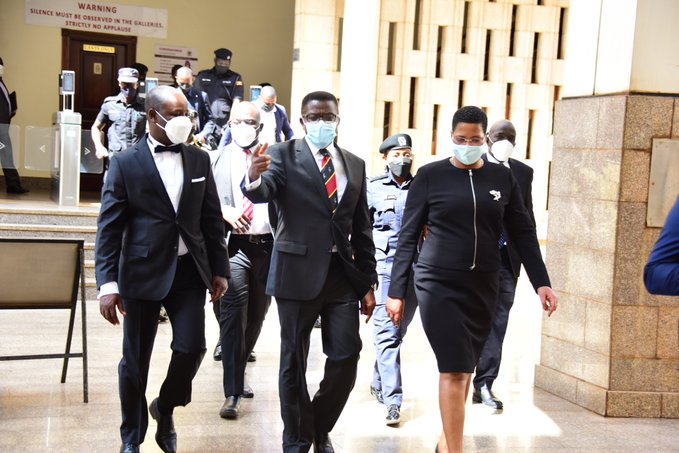 Mayiga later held a brief meeting with Speaker Among.
The Deputy Speaker Tayebwa and Leader of the Opposition, Mpuuga also attended the meeting.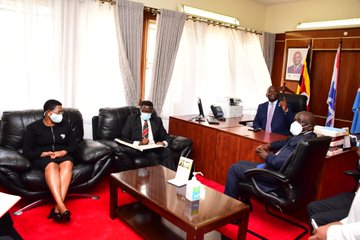 The Speaker and her Deputy then led the Katikkiro to the office of Hon Mpuuga where he held another meeting.
Mayiga also met some Members of Parliament from Buganda.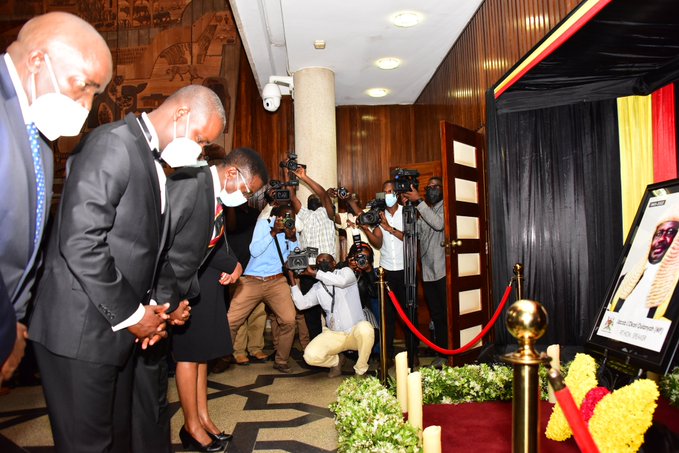 After the interface, the Katikkiro was then seen off by Mpuuga and some members of the Shadow Cabinet.
The visit comes a day after Mayiga and Chief Justice Alfonse Owiny-Dollo mended fences in a historic meeting at Bulange, Mengo.
Dollo visited Bulange to officially and physically apologise for his remarks that the king was airlifted for treatment in Germany in a presidential jet.
"Him coming here is an expression of humility which we appreciated very much. I commend him for being courageous. For him to acknowledge something that didn't go well with others requires a lot of coverage," Mayiga said.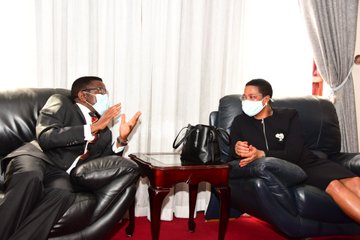 "In Buganda we say friendship follows a fight (Omukwano guva mu Ngabo). He came as a friend and he is going as a brother," he noted.
According to Mayiga, the people of Buganda and those of Acholi have more in common than what divides.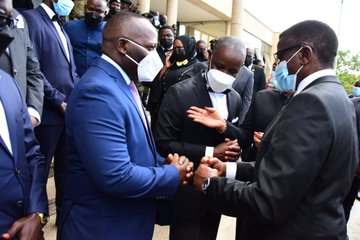 "We should give Rt Hon Jacob Oulanyah a befitting send-off next week well knowing that we have undertaken this process. There is nothing more that needs being done. We just need to move forward."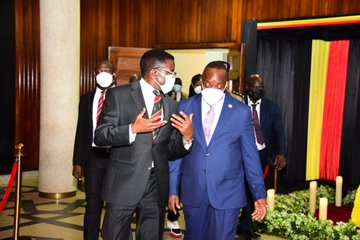 He cited the need to deepen friendship and unity amongst all Ugandans.
Dollo, on his part, thanked Mayiga for giving him the opportunity to sit down with him and talk out issues.