Two of Uganda's most influential women have been recognized with a continental Award for their outstanding service.
Jennifer Musisi, the Executive Director for Kampala Capital City Authority (KCCA) was rewarded by the African Virtuous Women Award.
She received the Award over the weekend at the Women Development Centre, in Abuja, Nigeria.
"@KCCAED scoops African Virtuous Women Award for the African Agent of Change Category in Abuja – Nigeria. The awards recognized different Ladies who have excelled in different spheres of service delivery across the continent," KCCA tweeted on Saturday.
The Award distinguishes outstanding personalities on the African continent who have contributed enormously to development in Africa through their selfless efforts.
Dr. Sandra Madaha, Secretary of the Awards, recently said that it is for vital women in the continent who have written their names on the sand of time with humanitarian and leadership achievements in the society.
"For the last seven years we have been working to rescue the city of Kampala and I receive this award on behalf for the team that has worked tirelessly to make sure Kampala is where it is today," Musisi said during the Awards event.
Other awardees included former Malawian President, Joyce Hilda Banda, Risa Lavizzo-Mourey, a former President of U.S philanthropy (Robert Wood Johnson Foundation) as well as organizations like Bill and Melinda Gates, and CNN Africa.
At the same event in Abuja, Uganda Revenue Authority (URA) Commissioner General, Doris Akol also received the African Virtuous Women Award.
"Congratulations Uganda: The African Virtuous Award goes to @URA_CG from UG. She has been recognised for exemplary selfless services & projecting good leadership qualities in Africa and beyond," URA said on twitter.
"Doris was awarded today 1st Sept 2018 at Women devt centre Abuja. Congs Doris".
Akol was awarded for demonstrating exemplary selfless services and projecting good leadership qualities on the continent and beyond.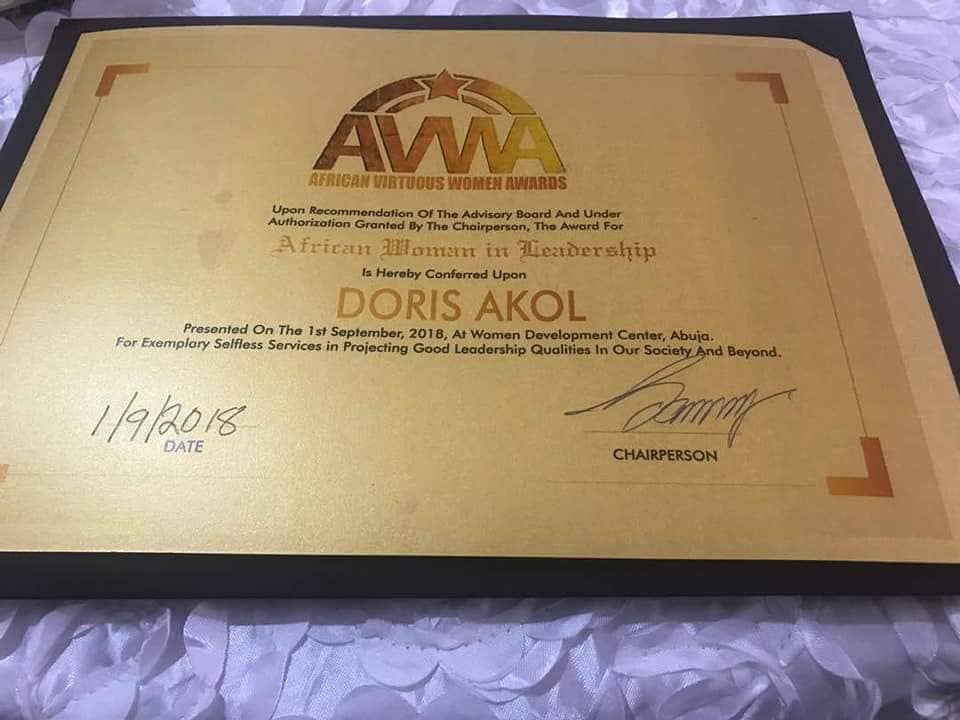 The accolade comes six months after Akol received the Person of the Year Public Service Excellence Award 2018 from African Leadership Magazine (ALM).
According to the ALM website, the Persons of the Year Award is received by the continent's best political, diplomatic and business leaders contributing to growth and development.
Akol, formerly the Commissioner for Legal and Board Affairs at URA has been at the helm of the tax body for four years now, while Jennifer Musisi has been managing Kampala city for the last seven years. Her contract has been renewed twice so far by the appointing authority, the President.
In 2015, she received the golden European award in public administration which celebrates the most innovative, forward-looking public initiatives which benefit citizens, firms, or the education and research sector.
A year before, Musisi had scooped the best Quality Leadership Award by the European Society for Quality Research (ESQR).
Both women who have a legal and administrative background have registered significant achievements in their respective dockets which is perhaps why their recognition transcends Uganda.