At face value, Nicholas Bamulanzeki presents a very calm and reserved persona, but beneath that is an enthusiastic and aggressive photographer whose work speaks so loudly. And his work has not spoken as loud as it did in the year 2018. If you've been reading The Observer newspaper or even active on social media, chances are you've encountered one or more of photos taken by him which wowed you.
It could be a photo of; enchanted Uganda Cranes fans in Namboole stadium, former Bank of Uganda executive director, Justine Bagyenda wearing an i-dont-care facial expression while appearing before the Parliamentary probe committee, or a beautiful yet sad shot of the MV Kalangala in an effort to drag the wreckage of MV Templar from the Lake Victoria bed.
Alternatively, it could have been the eye-catching moments captured during what some termed as the 'kuhingira' of the year – when daughter to ex-Ugandan Prime Minister was given away for marriage to son of South African President. All these photos had Bamulanzeki also known to some as 'Bam' at the centre of them.
Bamulanzeki, 30, is a photojournalist with Ugandan weekly newspaper, The Observer. He says his love for photography began way before he sat into journalism class at Makerere University.
"Before I joined university, I used to look at journalists as people who are high up there. I used to hold them in high regard. I couldn't be a Doctor because I was doing Arts. So, I looked to my choices and said 'Let me be a journalist'," Bamulanzeki tells me in a recent interview.
He also drew inspiration from the works of Pete Souza (official photographer of former U.S President, Barack Obama). "Every time I looked at his photos, they were telling. I said to myself, 'I want to be like him'," he says..
His journalism career began four years ago when he joined the Observer having studied Mass Communication and majored in photojournalism at Makerere.
"I had a colleague at The Observer called Racheal Ninsiima who knew that I needed to practice. When an opportunity availed itself, she called me and that's how I got there". Before then, he was into commercial photography, weddings.
A colleague of his had a photo studio at Namaganda Plaza in Kampala city where Bamulanzeki worked when he wasn't in class. While his classmates settled just for the theoretical classes, for him, passion had driven him to exploit the opportunities to do actual photography. Since then, the story for Bamulanzeki has been one of growth, highs and lows like any other career. But he has also managed to make a name for himself as being among Uganda's aces when it comes to telling the story through the camera.
"It's challenging, but when you are there, you learn how to fit in," Bamulanzeki says when I ask what his experience in journalism has been so far.
The year 2018 is coming to a close and the 30-year-old has had remarkable highlights that have propelled his career to another level as well as open up new windows.
"Honestly, this has been a good year for me," he says.
2018 was the year when he took a decision to be more aggressive by sharing his works on social media, and fortunately, it paid off. He also became more deliberate in protecting his work. This is because he had come to realize that much of the work he did prior to 2018 could not be traced back to him.
"People think I have just started photography. Many of the photos I took have been making rounds on social media but they go without a trail, because the editorial policy at The Observer is – when they put pictures online, they don't want to put a watermark. So, [this year] I chose to do it myself as a marketing tool," he tells me.
One of such photos is that of a miserable and perplexed looking former Inspector General of Police (IGP), Gen Kale Kayihura sitting at Kibuli mosque with a wrapped fist on his chin in the wake of an assassination of another Muslim cleric. This photo would later be recycled by several media outlets whenever the Gen was embattled or faced with a new crisis. But not many knew this was Bamulanzeki's photo.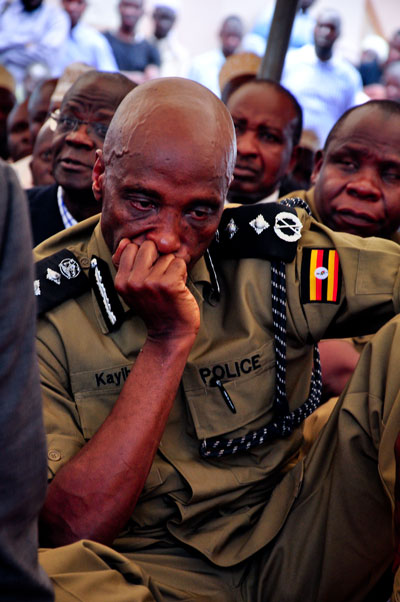 The other was a photo of female Police officer helping an elderly lady at Namugongo during Martyrs Day in June this year.
His biggest highlight this year has been his coverage of the boat accident in December in which over 30 people died.
He was in Gulu district when the incident happened but he had to return to Kampala on a Sunday evening, a day after the boat capsized. The shock was still fresh in everyone's mind but details of what exactly had happened or the magnitude of the catastrophe were still scanty. Obsessed with being where the news is, Bamulanzeki went to Mutima beach the following morning. At Mutima is where Police and army marine units had pitched camp for their rescue efforts.
"I want to be where the news is. I want to be there and tell the story in my own way. When I got there, I started tweeting as usual. I realized people were following me and asking me. I used my social media platforms and WhatsApp to inform the public because most Ugandans and the world over had an interest in the story".
Although he initially wanted to get done with the story and move on to other things, the demand among his audience for timely updates overshadowed his personal interests. And for five days, he hang in there despite challenging circumstances.
"I remember waking up every morning and finding a canoe to take me to the other side of Mutima beach. Sometimes, you come back late in the night because you are following the story. You can't leave before the people doing rescue have finished. Sometimes, you receive calls from people scheduling meetings but you can't be there because there is an unfolding story".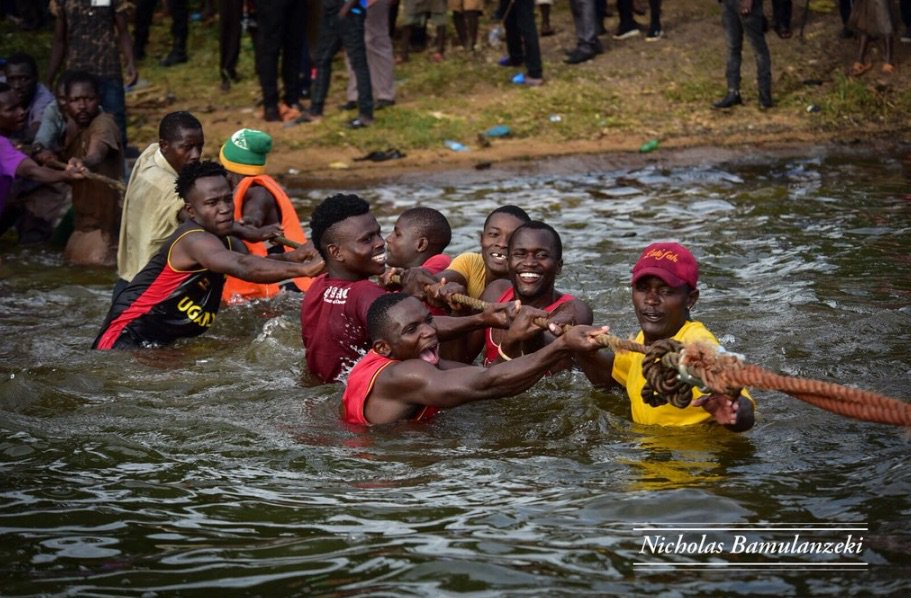 He finds satisfaction in the fact that he was there and captured the whole story. But the greater satisfaction was the feedback from those following his updates.
"If you followed the feedback, some were saying as much as it was a tragic incident, I gave it a beauty of sorts".
A perfect example was a sunset shot capturing the MV Kalangala vessel trying to pull the capsized boat. Even amid the somberness and hopelessness, he had spotted a window of positivity, and it paid off.
"When the sun is setting by the waters, it is beautiful. We were lucky we were on the side opposite the sun, so you would get a silhouette and rays falling on the water surface. I knew it was going to be a good photo but I didn't think it would be worth the buzz it got".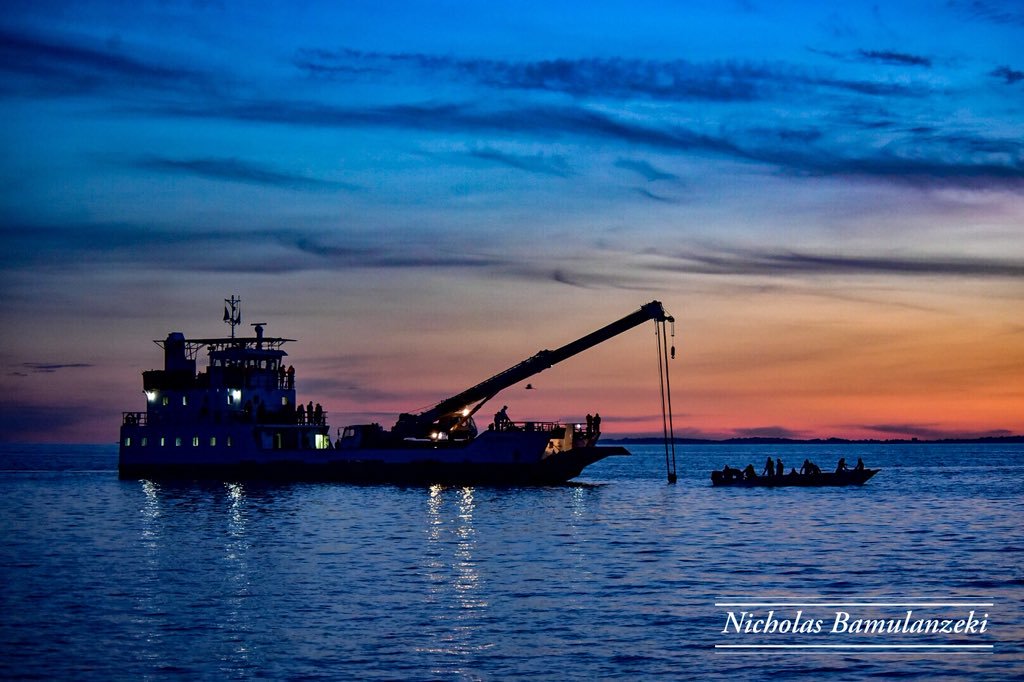 In a space of just 5 days he spent covering the incident, Bamulanzeki had managed to grow his Twitter following by 1,000 more followers.
"I remember people flocking my inbox thanking me. Someone sent me US$ 50. I have also got many gigs because of my coverage of the boat story".
In April this year, UPDF took the media to a guided familiarization tour of operations under the AMISOM peacekeeping mission in Somalia. Bamulanzeki happened to be part of the team. The visit to Somalia, ranked among the worst places in the world to be a journalist lasted a week. Luckily for Bamulanzeki and his fellow Ugandan journalists, they were under full protection of the UPDF.
"All the places they took us were protected but in some communities, you can't know because Al-Shabaab is an enemy that even those that are fighting them are not sure of. It was a bit challenging".
A photo he took while there won second place in the latest Uganda Press Photo Awards (UPPA) in the environment category.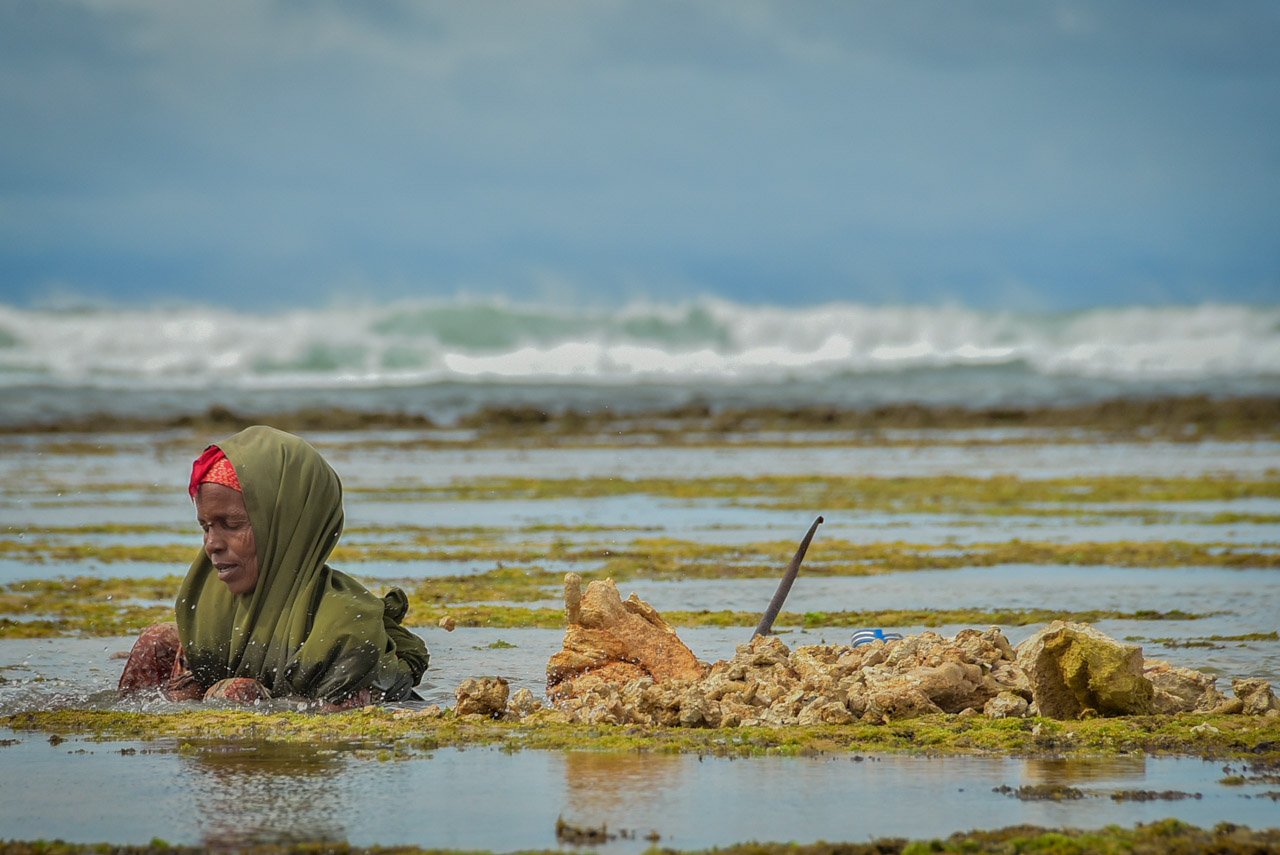 The month of October saw him represent Uganda at an Anti-corruption conference in Denmark. He was picked by Transparency International, and eligible candidates (writers, photographers) had to have had done some work in line with corruption. His five-day trip, all expenses paid, was an opportunity to network and it opened other opportunities.
On a sunny Saturday afternoon in August, the plush locales of Kololo hosted one of the most luxurious traditional parties this year has had. An affair that brought together Uganda's cream of the affluent on top of two sitting Presidents. Bridget Birungi, a niece to former Prime Minister, Amama Mbabazi was being given away for marriage to Andile Ramaphosa, son to South African President, Cyril Ramaphosa. Little wonder, the ceremony was the buzz on social media, in fact it was trending at Number 1 on Twitter. Nicholas Bamulanzeki was part of this high class event – as the official photographer. And he has luck to thank for what is perhaps the biggest gig he has executed in his career.
How did you get this gig, I ask. The story goes back to a previous event still at Mbabazi's Kololo home where Bridget was introducing Andile to her parents, he tells me. Since the event was open to the press, Bamulanzeki happened to be assigned by The Observer to cover.
"When I got there, fortunately or unfortunately, the person who was meant to take their pictures didn't come. So, Nina [daughter to Mbabazi] and Maggie [family friend] asked me to chip in and help them take photos as an official photographer.]," he said.
"So, I helped them and everyone was impressed including JPAM himself. I remember they called me for a meeting and they said 'This is impressive. We are not going to look any further for a photographer for the kuhingira'".
And just like that, a random journalist who had showed up for another of the many work assignments that characterize his daily schedule had landed a major gig. The kind that makes careers.
"Andile actually told me the work was better than the kind of photos they pay for in South Africa".
Not that the day (kuhingira) was a smooth sail. It began with a feeling of nervousness coupled with the inconvenience that by default presents itself where two Presidents are under one roof. One of such inconvenience was the restrictions in mobility given the Presidential security detail. Since the jammers had interfered with the internet connection, he had to alternate between the compound where the party was held, and inside the house where he would quickly download the photos, share them on social media before dashing out again.
All media outlets in Uganda many of which were posting real time updates of the happenings in Kololo were relying on his photos. He says he had talked to his bosses about it and they had given him the green light. Some of his photos made it to the Bride and Groom magazine, one of them on the cover.
"It was a big achievement. There are very many acclaimed glamour photographers but I was chosen. Glory be to God. It was a big event for me," he recounts.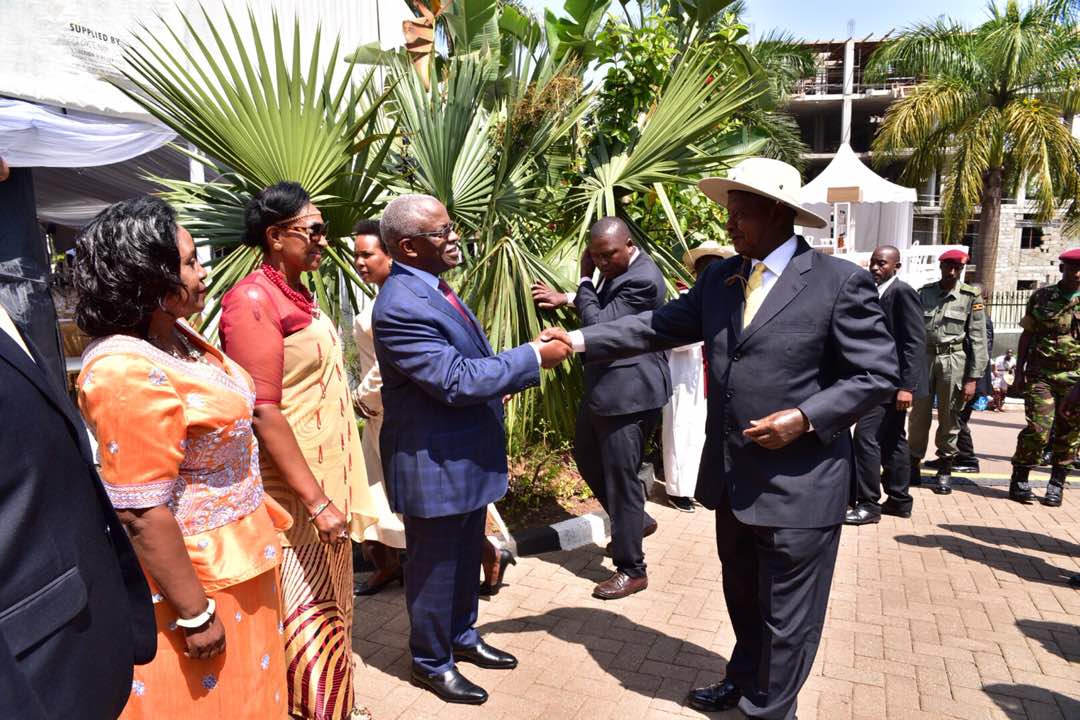 The internet
The internet continues to transform life as we knew it, but the field of photography is perhaps the most impacted by this wave. And Bamulanzeki concurs that it (internet) has become the biggest marketing tool. Unfortunately, with the advent of social media where everyone wants to inform, another sticky issue – denying photographers the credit for their work – has become prominent.
"I have been a victim so many times. It is a very big problem because it disenfranchises you of your patents as a creative artiste. There are so many pictures making rounds on social media, you could pick on those. If you have to pick on mine, please respect the patents and leave the watermark there. It happens quite a lot".
He believes the problem is due to the obsession Ugandans have with taking all the praise. He says watermarking ones work is the solution.
I ask Bamulanzeki, "Between the paper and your social media platforms, what has been your biggest marketing tool?"
"Of course you can't rule out the paper. We are currently only 2 photographers at The Observer, so it gives me the opportunity to be at almost every event or every part of this country. So, they believe in me, but then, social media has given me the boost".
He is contemplating opening a gallery where he can display some of his outstanding work. Through this, he hopes to reach an audience that neither reads newspapers nor is online.
What makes a good photojournalist?
Contrary to the opinion held by some – that anyone with a good camera is a good photographer, he says this isn't true. That's not to say he has ordinary equipment. His camera, a Nikon D750 whose body cost Shs 6.5m and each of his two lenses Shs 4m, is WiFi enabled and therefore enables him to download a photo instantly and be able to tweet it in a matter of minutes.
"Yes, a good camera will help you at some point, but not entirely. The images I took of the Pope when he visited Uganda were taken using a basic camera, but I knew exactly what I wanted to get, how I wanted to communicate. I use anything in my means to put something out there and communicate a story. Sometimes, I use a phone".
He also implores aspiring photojournalists to make use of the internet and to keep themselves acquainted with the latest trends. He adds that he has managed to grow his skill by exposing himself to other people's works even on the global scale.
I sought to peep into the psychology of a photojournalist especially in circumstances where the world surrounding them is happening very fast but their priority is to get the perfect shot.
"If I go to cover a riot, safety comes first. No picture is going to be worth your life. But you want to come off the field with images that will paint a picture for a person who has not been there. A person should be able to look at whatever you've gathered and be in the same place that you were".
It's important, he says, for a photographer to capture every detail.
"It is important to pay attention to the mood of the story you are covering. If you are covering a soccer match and Uganda is qualifying, put it at the back of your mind that if Uganda wins, the coach is likely to be carried or there will be hugging. You have to be ready for everything".
Press freedom
The year 2018 wasn't rosy for journalists particularly in regard to their freedoms. Security agencies (Police and the military) at numerous occasions brutalized members of the press for no clear reason. A photographer working with Reuters news agency was clobbered by stick wielding soldiers while he was covering a riot in downtown Kampala in August. Like several other of his peers, Bamulanzeki condemns the violation of press freedoms.
"It's very unfortunate that in our line of work, we are regarded as enemies especially by security forces. These people should know that we are also human and we are going about our business".
"We don't deserve to be beaten. We don't deserve to be manhandled. We don't want to create biases between us and the Police because we both need each other. We are only there to tell the story – that is our obligation to the society".
He says the press checks the actions of the Police. For him, the fact that journalists can be brutalized in the full glare of the public implies that worse could be happening where there are no cameras.
But he challenges journalists to take the initiative to safeguard their lives by purchasing teargas mask and a helmet.
I asked him whether him being an all-rounder (covering almost all news bits) is because he is still trying to identify a niche.
"Am not finding a niche," he says.
Instead, he says he believes he can do anything photography.
At a personal level, Bamulanzeki is in a relationship and has a child. For a career like journalism which many say isn't well paying, fending for a family requires one to put in 100 percent. And his experience has been different, he shares. He says that true as it is that the media industry isn't good for the pay check, it serves as an avenue through which to find more sources of income.
"Personally, I get some of my money from my journalism work, but also from the people that call me because they have seen my work and want to give me a gig".
One will part with at least Shs 2m for Bamulanzeki's photography services at a wedding. On a good day, he will be paid about Shs 800,000 to shoot a seminar in Kampala.
I discover as we interact that he has often been mocked by some peers for being a photographer and therefore perceived to be a low income earner, but is unbothered. For now, he is more concerned with growing his brand, optimistic that time will prove those who underestimate the potential of his career wrong.
He's planning to pursue further studies as a contingency plan.
Exceptional works like that of Bam notwithstanding, the bulk of the photojournalists in Uganda still lag behind when it comes to the work they produce. One has to expose themselves to international media to appreciate how much catching up local journalists still have to do. To a greater extent, he apportions blame to the journalists themselves.
"You have to know how to use your camera settings. Cameras have different settings so you have to know your gadget properly. When you are taking images, don't take the obvious. Think of a way of portraying it in a different angle. You want to take images that have a lasting impression," he tips aspiring photojournalists.
Bam admits there are few trainings of photojournalists but insists the individual photographers needn't sit and wait for these trainings. Internet will teach you anything, he says.
"If you enclose yourself in the Ugandan space, you will lag behind. You have to see what happens elsewhere and that's the only way you will stand out".
Online, Bam follows the works of photographers, photography tutorial sites for exposure.
His aspiration is to break out into the international space, win more awards.