Motion Analysis Research Laboratory (MARL) is a research-driven Innovations laboratory of the Islamic University in Uganda (IUIU) located at its Kampala Campus in Kibuli. MARL is leveraging sensing technologies and artificial intelligence in the design of state-of-the-art innovative solutions to real-world problems. As IUIU's flagship Innovations Laboratory, MARL is currently fully funded and supervised by the University.
A robot is a machine—especially one programmable by a computer—capable of carrying out a complex series of actions automatically, replacing human effort.
By extension, robotics is the engineering discipline dealing with the design, construction, and operation of robots. MARL is a sight to behold. These are some of the robots that Mwaka Lucky, a Senior Research Assistant at MARL, showed us.
Smart Robot
This is a robot for kids to play with. The smart robot, as its name suggests, can follow someone or go away from them when they come closer to it. "It is a perfect toy for children to play with at home," Mwaka explains.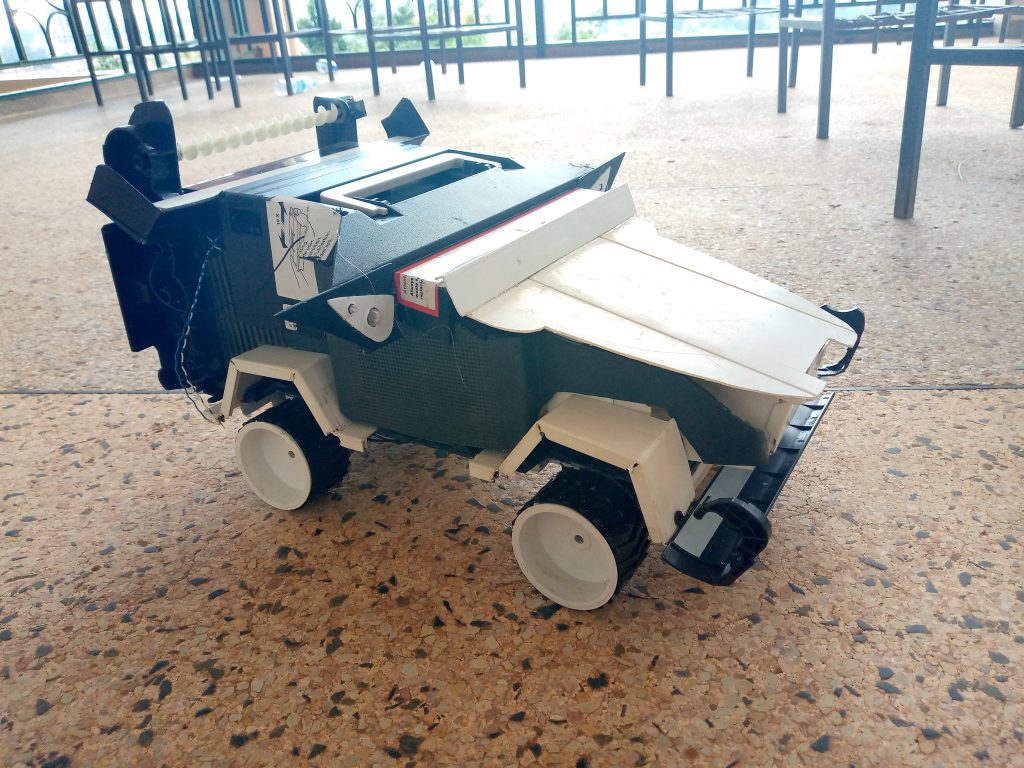 Wireless Power Transmitter
It transmits electronic power to the bulbs without connecting to any wires. The transmitter converts electric current (through wires) into a magnetic field (through the air) to the bulbs.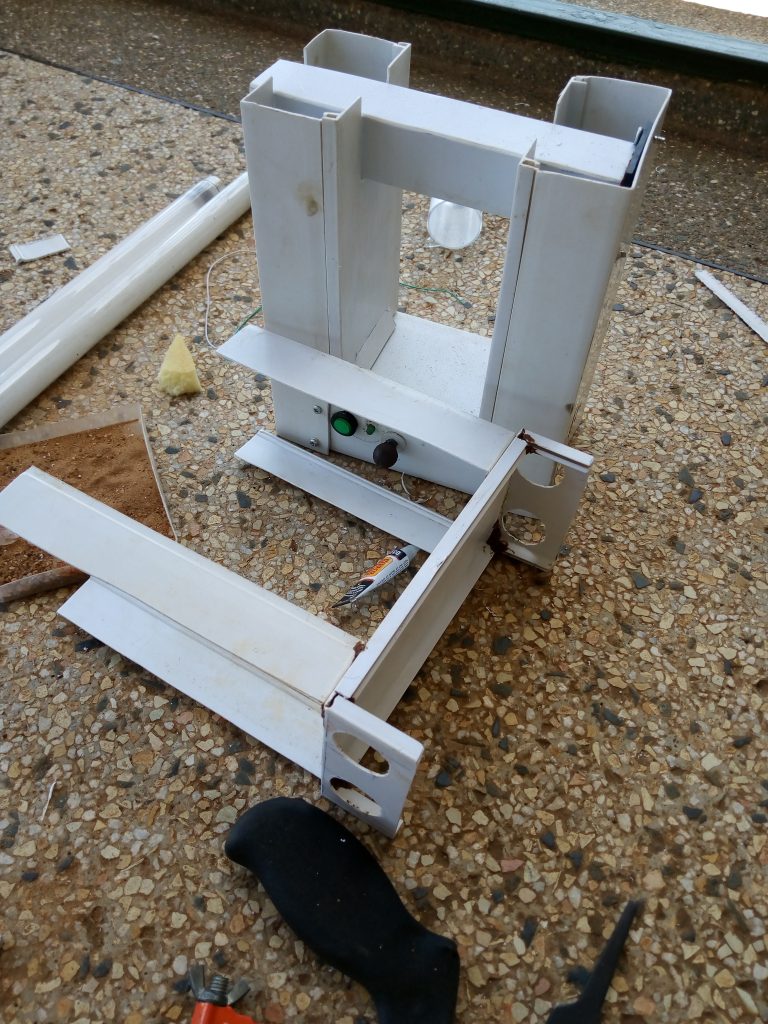 When it reaches the bulbs, it makes them light. It only works with fluorescent bulbs.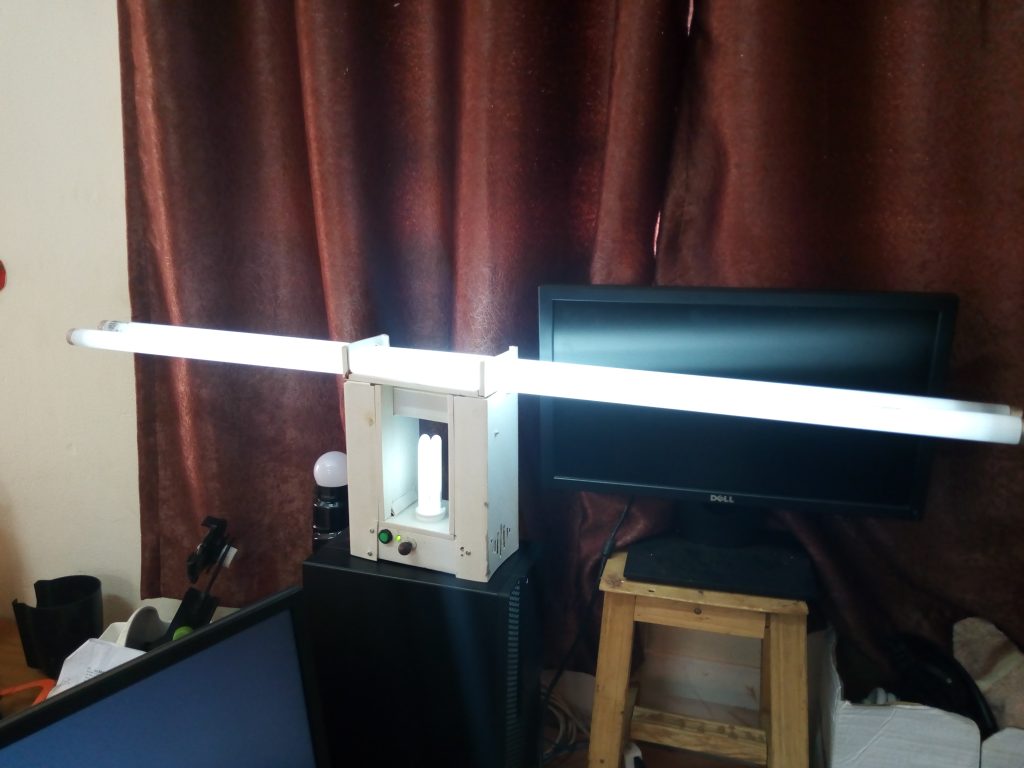 Audio Production System
This is an audio recording system used for music production. It has an amplifier with transmitters, capacitors and a transformer. It converts sound signals to higher sound. It operates the speakers which work as studio monitors. 
Mwaka has already experimented with song recording on it but he says the microphone sound is still poor and very low. "It doesn't come out well. I will have to buy an amplifier for the microphone to boost the signal," he explained.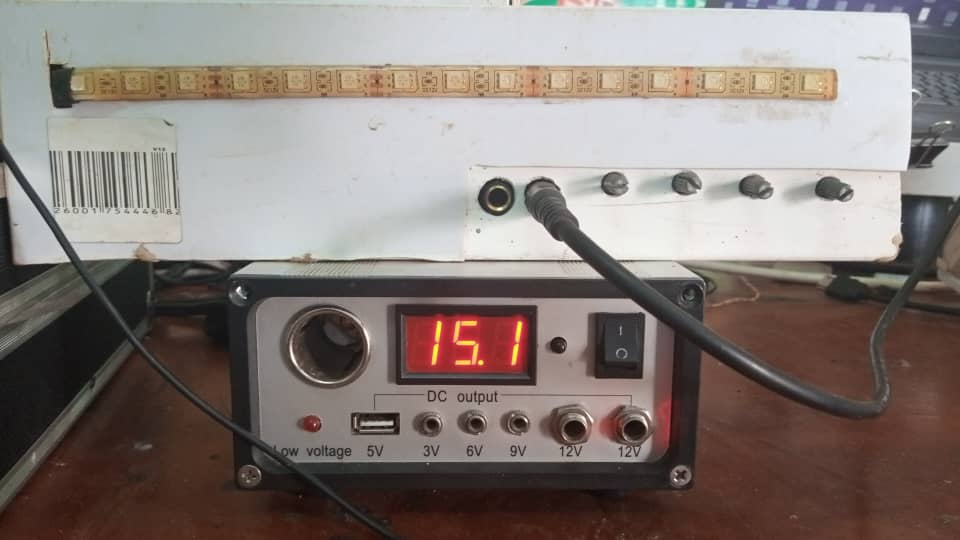 Coin Sorting and Counting Machine
This invention not sorts but also counts coins. It has currently been configured to count and sort only Ugandan coins, but it can be adjusted to do so for any coins. You put mixed coins inside it. It sorts and separates them. It then counts them and gives you the total amount. This is a much-needed invention since the available alternatives on the market only count same-denomination coins and are unable to sort mixed coins.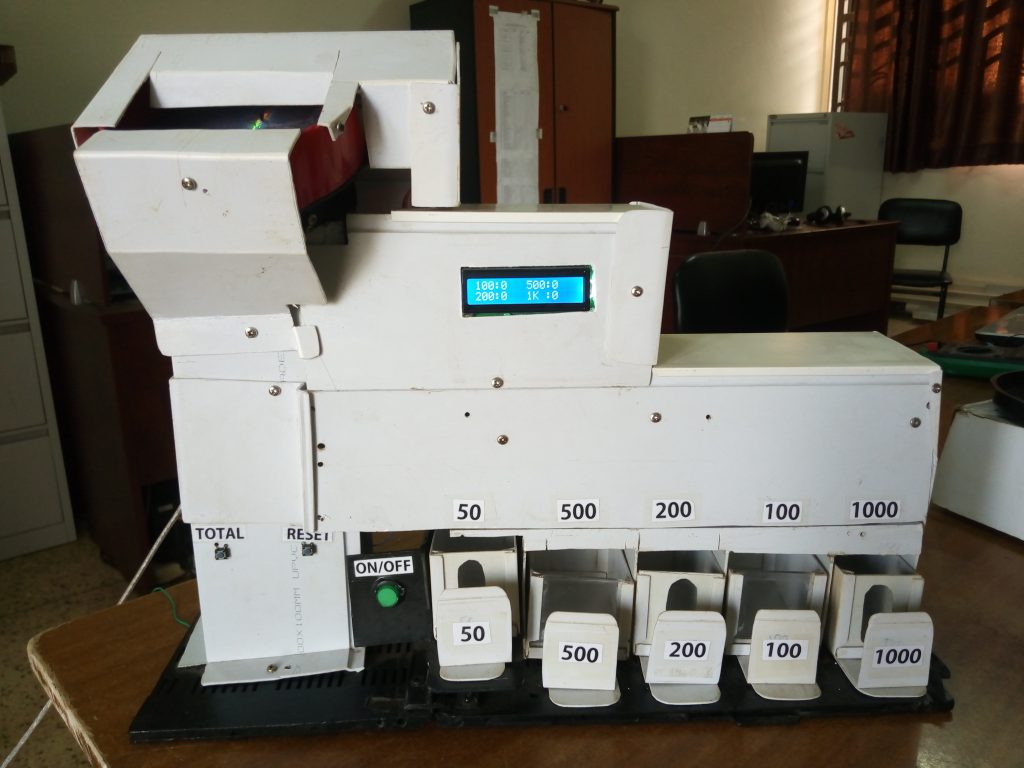 The machine has a compact disk used to pick coins. The LCD screen shows the number of coins counted and displays the total amount. It has sensors inside that count every coin that passes. It uses different techniques to sort different dimensions of coins.  
PlayBot 
This robot was made for playing football with kids. It helps kids "kill boredom" at home and keeps them occupied. Instead of children wandering to places where they may be endangered, this robot keeps them busy at home.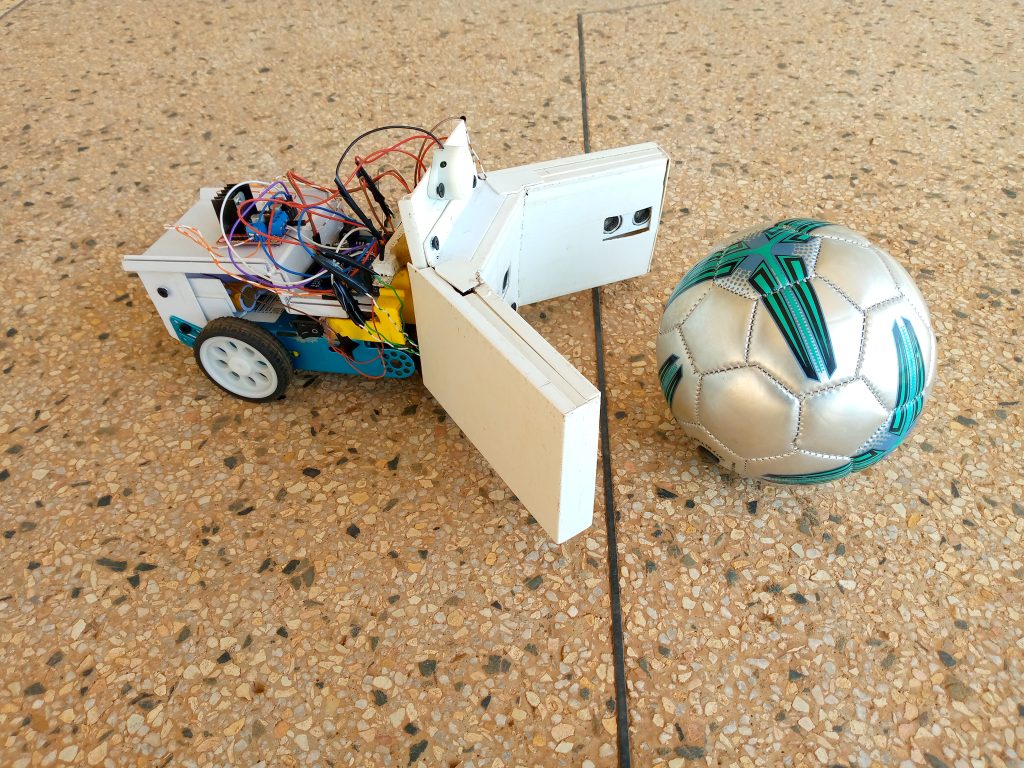 PlayBot uses three sensors which work as its eyes. When it sees the ball, it comes and pushes it and then goes backwards waiting for the child to kick the ball. 
My Social Home
"My Social Home" is a gadget made to provide home security solutions.
It uses social media for home security and remote control of home devices. It has an ESP32 Camera programmed in four languages; Runyankore, Luganda, English and Swahili.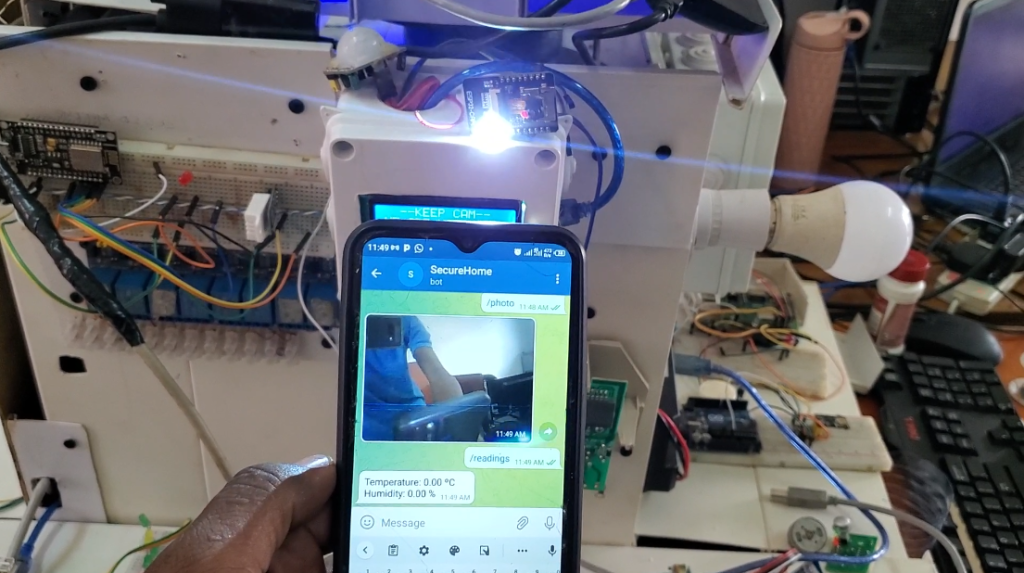 "You can chat with it on social media apps like Facebook, WhatsApp and Telegram. You use a language of your choice and the camera will respond to you accordingly (in that same language)," Mwaka elaborates.  
"It takes pictures and sends them on a social media account when it sees a person it doesn't know. It can remotely switch on and off devices at home like lights, security lights, fans, water heaters, cookers etc."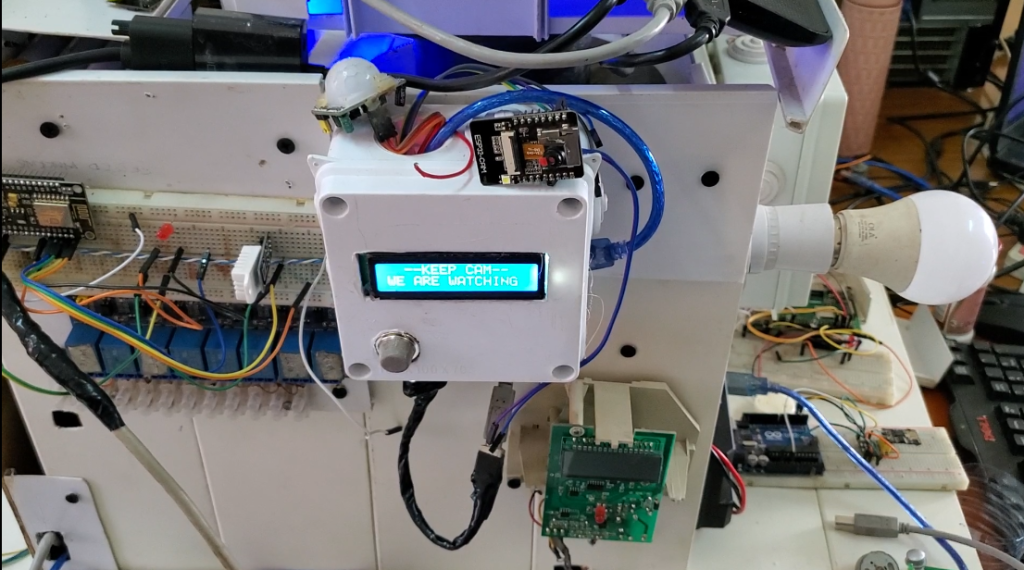 My social home can detect temperature and humidity around the house and send you a message when the temperatures are high. It also takes the picture for reference.
It has a smoke sensor and switches on an alarm when it takes in smoke or fire and then sends you a message.
Automated hand washing dispenser
In 2020, during the peak of the Covid-19 pandemic in Uganda, IUIU's MARL developed a hands-free hand-washing dispenser that uses sensors to automatically dispense water and soap for handwashing.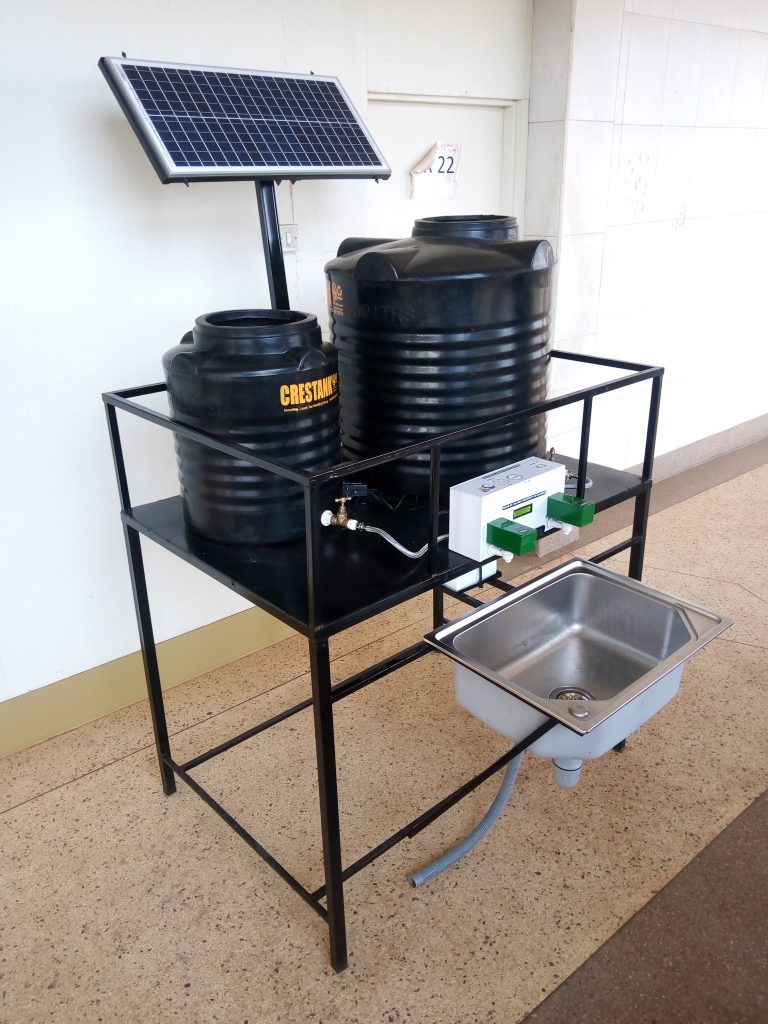 The prototype of this project, together with the Instant hand sanitiser made by the Habib Medical School at IUIU, shortly after receiving a scaling grant of US$ 20,000 from ICESCO.
Several handwashing dispensers and instant hand sanitisers were produced using the grant and distributed freely to several public places in East, Central and Western Uganda.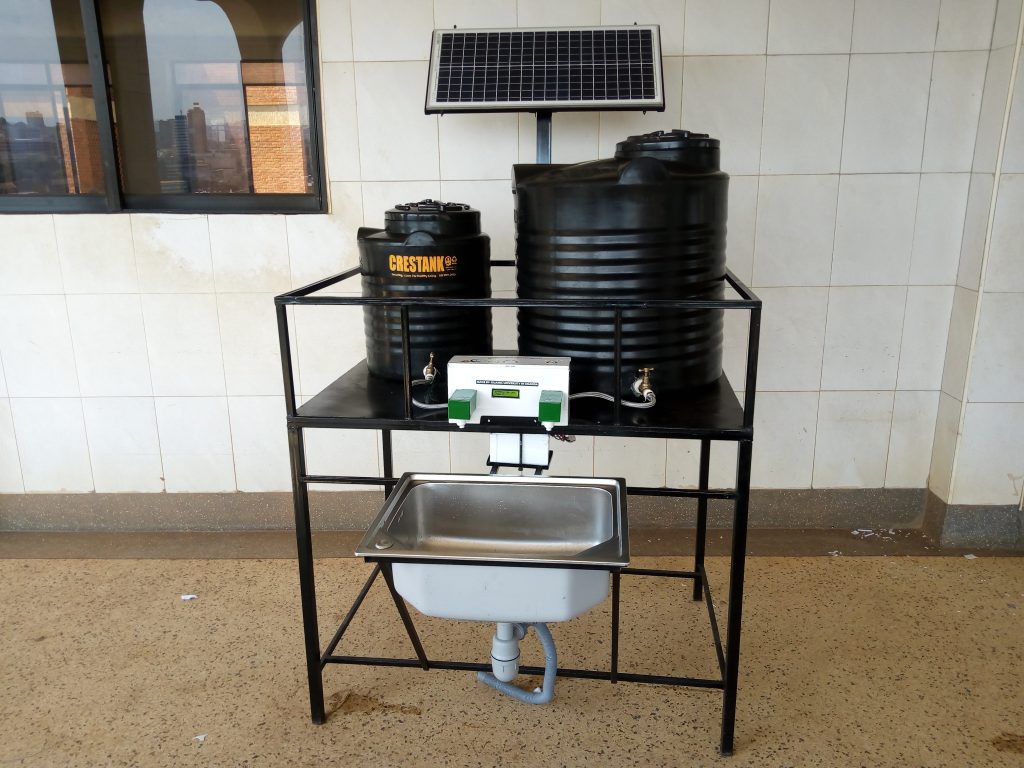 The dispenser has a hybrid recharging capability (i.e can be recharged both using Solar as well as the usual AC).
Autonomous Floor Cleaner
A robot that can sense water spills on the floor and autonomously dry the spot. Additionally, it can be remote-controlled to do the mopping. This invention will reduce the common falls and slips on wet floors. It will enhance efficiency in the way commercial buildings are managed and maintained.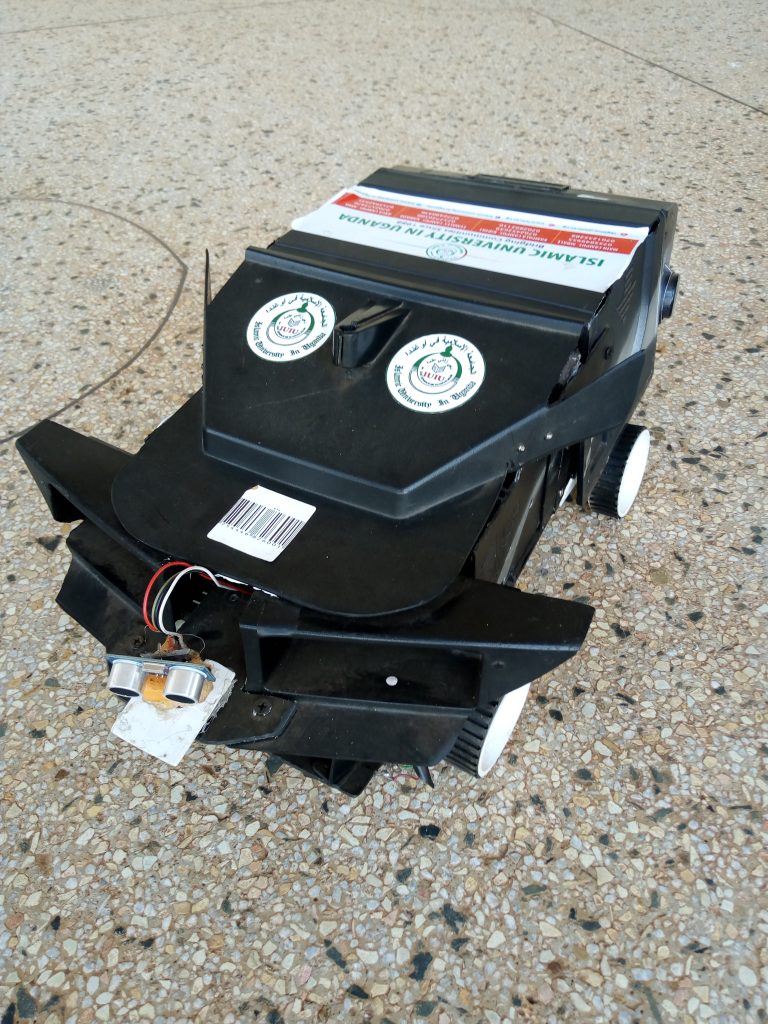 Floor cleaner
Autonomous Pothole Mapping Agent
This technology can be mounted on a vehicle to allow automatic capturing of potholes along its path which is then used to generate a pothole map that can be shared by road users intending to use that very road.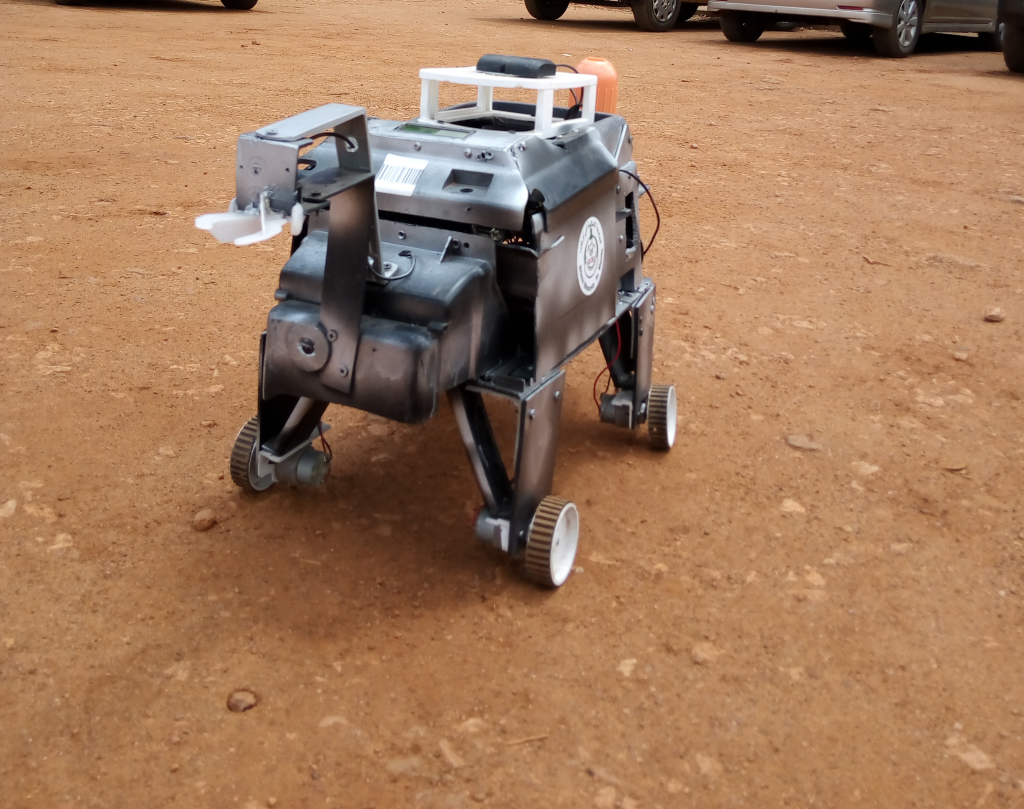 This invention also records the depth of the pothole alongside the GPs coordinators of the pothole. This invention allows for improved user experience on roads, thereby minimizing accidents arising out of potholes. 
About Mwaka
Mwaka Lucky is one of the few fulltime Staff at IUIU's MARL. His interest and innovations in Robotics started way back as an undergraduate student at Kyambogo University when he made a spy robot which could detect any metals. The project was motivated by the rampant bomb detonations by terrorists, and therefore a form of bomb detection mechanism.
He also developed an agricultural robot in early 2019, a robot that has now been upgraded and named "IU22 Mantis Robot". This robot can intelligently spray specific portions of crops infested with pests and diseases.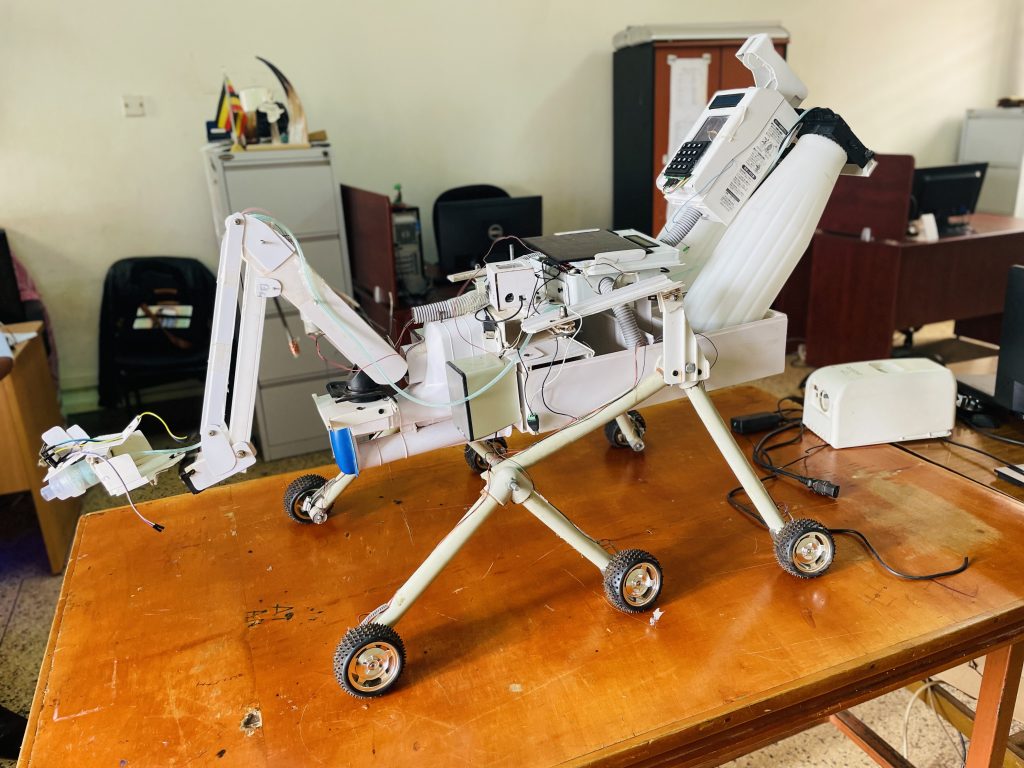 It was recently showcased during the 11th annual National Council for Higher Education (NCHE) at UMA show grounds, Lugogo in Kampala, and is scheduled to be exhibited at the forthcoming National Science Week Exhibitions at Kololo Independence grounds from 6th to 10th November 2022.
Besides being a staff member, Mwaka Lucky has also just completed a Bachelor of Information Technology at the Islamic University in Uganda – Kampala Campus. This was completed on full scholarship from IUIU, for his exceptional innovative talent and potential. The Islamic University in Uganda under its broad research and innovations agenda fosters different research and innovation initiatives by both staff and students.  Earlier this year, IUIU has been designated as Africa's Regional Centre for Science Technology and Innovation (STI) by the Organization of Islamic Cooperation Standing Committee on Scientific and Technological Cooperation (COMSTECH).